Dig into this Apple Spice Bundt Cake with decadent cream cheese frosting and a drizzle of maple syrup .
Apple Spice Bundt Cake
So, I have a confession to make. This stunning bundt cake starts off with a Spice Cake Box Mix. But I've dressed it up so pretty and added some great flavor to it so that your guests will never know! I love zhushing up a box mix and making it special. It's so easy to start with a great base and then create a masterpiece with it! This lovely cake was decorated with some simple flowers right from my garden and that added an extra layer of elegance to this dessert. I know that you and your family are going to love this Apple Spice Bundt Cake with cream cheese frosting and a drizzle of maple syrup. It's like Autumn on a platter!
I had so much fun baking this cake with my daughter's friend. She just wants to come over for playdates now when I'm baking, just so she can bake with me. My kid would rather play video games on the computer and stay away from me. The nerve! So, it's was really refreshing to have a little one excited to bake with me in the kitchen. And this recipe was so easy for her to help with. I was able to prep all the ingredients and then she helped put it all together.
She was also super excited to find out that I was recording it all for a video!! She thought that was super neat-o! And then I told her that just her hands were going to be in it and not her per se, but that didn't dissuade her. She said next time that she wanted to paint her finger nails so that they were pretty in the next video 🙂 She's so cute, I wanna keep her!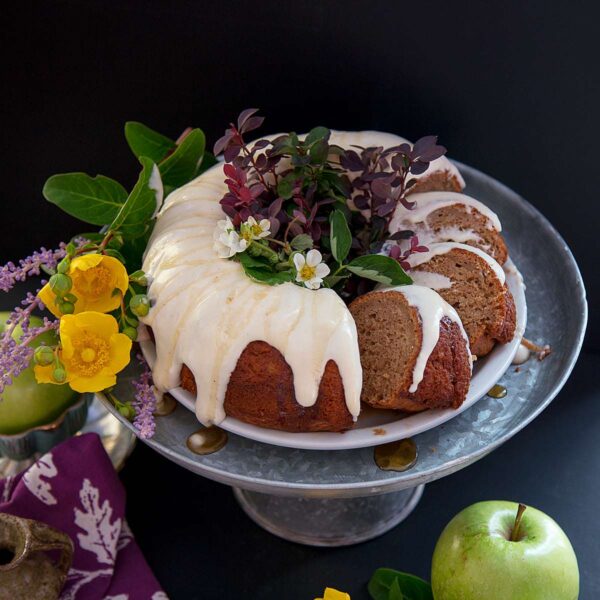 So, it was baked and cooling by the time her mama came to pick her up so she didn't get to finish decorating the cake. I hope she's pleased with how I decorated it for the photos. They did come back a day after the pictures were taken to gobble it all up. Everyone in the family said it was delicious and was so proud of their little girl for helping me bake this apple spice bundt cake!
So this fall, I hope that you take some time during the weekend or after school and bake this cake with the kids. They are going to be so proud of their baking and be happy to have contributed to the family meal.
Like all bundt cakes, this easily serves a crowd, so it's perfect for parties and gatherings.
What are you waiting for? Pick up some fresh apples, a cake mix, some cream cheese and I'm sure you have the rest of the ingredients at home already. It's so easy and delicious. You'll totally thank me when you bake it!
I love Apple Desserts! Here's a few more that you may love!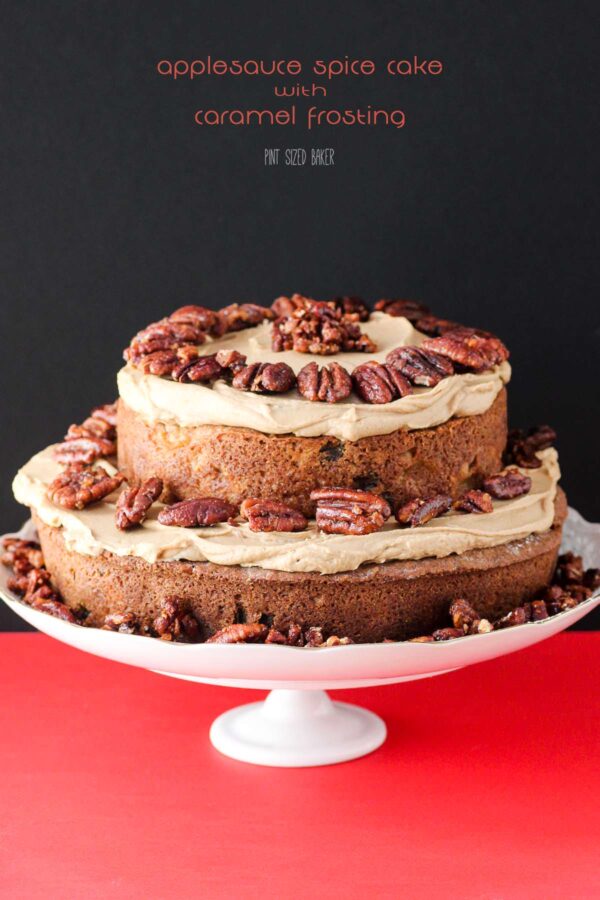 Apple Cake with Caramel Frosting