This amazing breakfast pastry is perfect for large parties. Baked Strawberry French Toast can be prepared the night before and baked in the morning. It serves a crowd.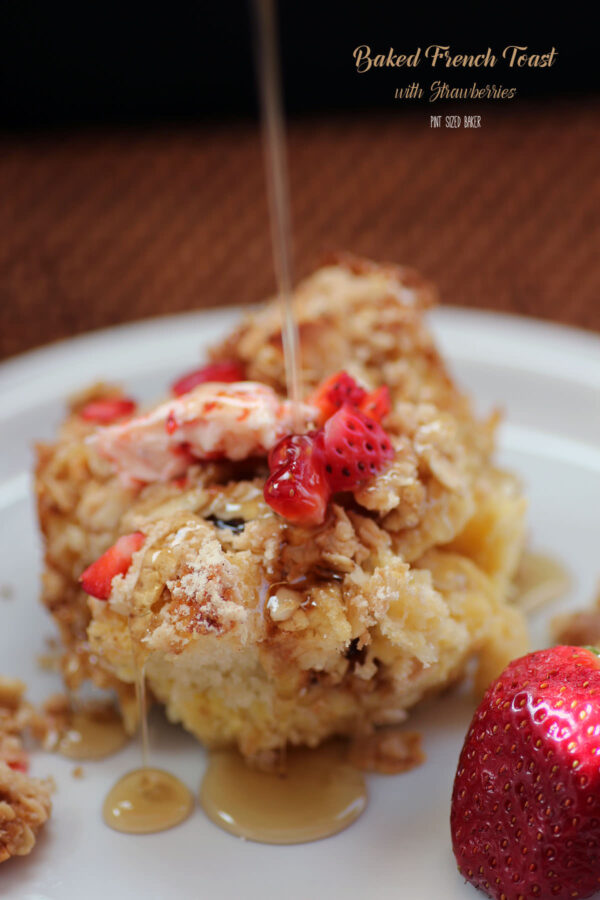 Baked Strawberry French Toast
I'm sure that you have enjoyed your bread and butter… you sure do have enough to eat now.
Today we are bringing it all together for breakfast tomorrow. Yes, tomorrow… I'm sorry to say that this is an OVERNIGHT recipe.
You have to make this the night before and then bake it in the morning. This is kind of a good thing. When you have guests staying the night, this is a simple breakfast that won't keep you in the kitchen. In fact, if you have one of those fancy ovens with a timer to start it, you can preheat the oven, get up and pop the tray in, then go back to snuggling for another 30 minutes. It easier than cold cereal!
I liked the addition of the almond crumble strudel-like topping. It added some crunch and texture to the soft bread. I did see a lot of recipes with the fruit baked in the french toast, but I decided to add it after for the sake of my marriage. (Mr. Quart is not a fan of strawberries and if they were baked in, he would not have eaten it.) Feel free to add the fruit before baking it. It adds so much more flavor to the casserole.
I hope that you and your family enjoy your homemade breakfast treat.
This recipe is part three of a three part series – including Easy Strawberry Butter and Homemade Challah Bread.