A quick and easy recipe for Banana Nut Muffins with a delicious chocolate chip crumble topping. They are perfect for breakfast, snack and dessert.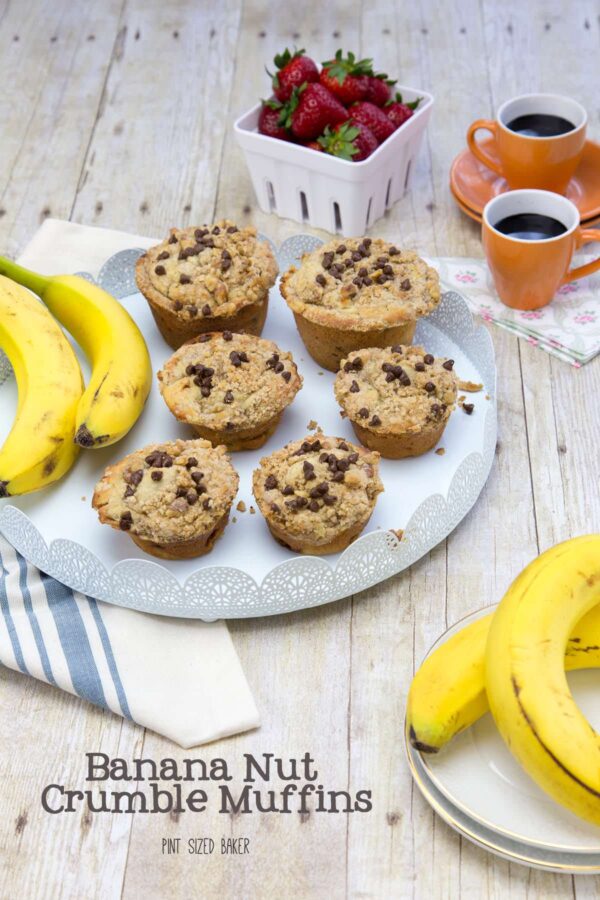 Banana Nut Muffins with a Chocolate Crumble Topping
I love muffins. I really don't know why I don't make them very often. I guess it's because my family won't eat them which leaves me to eat a dozen muffins all my own. Oh well, it's a good thing that I love banana treats and these Banana Nut Muffins with an easy chocolate chip crumble topping are so delicious! I seriously ate my fair share and then I HAD to put them into the freezer to keep me from eating all of them over the weekend. I decided to leave the banana sliced instead of mashing them so that I would have big chunks of banana mixed in. And then, I made the crumble topping just to add a little extra texture to the sweetness.
Seriously, I loved these muffins and I know that you will too.
I made six in a jumbo muffin tin for some impressive bakery-style muffins. These are one cup muffins and you'll get about 8 muffins from the mix. Of course the standard sized cupcake pans are perfectly good and if you're making them for the entire family to enjoy, you'll get a dozen for everyone to share.
Want to have perfect muffins? Here's a few tips –
Use yogurt or sour cream and not milk in this recipe. A thicker batter will result in a rounded top with some crumble. A thinner batter will result in a muffin looking more like a cupcake.
Don't use paper liners. Grease up the muffin pan with shortening and flour so you can enjoy ALL of the banana nut muffin.
You can skip the crumble topping and instead, dip the tops in melted butter and then dip them into cinnamon sugar.
They are best served warm.
Did your mom teach you to fill the empty cavities of the muffin tin with water? That's really just an old wives tale and you don't need to do that. There's no problem with leaving the empty cavities empty if you just have enough batter for a few more muffins. If you're pan warps because of this, you really just need to invest in a better pan.
For more Banana Treats, check out some of these recipes