Chocolate Donut Trifle with White Chocolate Pudding and Tart Cherries
Oh WOW! This dessert was amazing to eat and a pain in the you-know-what to photograph.
First off, it's not as easy as it layer a trifle and make it pretty. I give lots of credit to those who have done it. This was my first trifle and there was a huge learning curve to making it pretty. I feel like I fell very short from pretty.
I later heard that freezing each layer would help with the photos, but that's really not very realistic for people and I really strive to photograph REAL food, the way that you would make it at home. So, I did my best to make it presentable.
I really hope you think it looks presentable… I'm feeling very unsure with this post. It really didn't turn out the way I wanted it to.
However, I think a well placed cherry can save the day!
I ended bring this behemoth of a dessert to my daughter's school for an after standardized test treat. The owner of the school is a very clean eater and just completed a very strict vegan cleanse a few weeks ago. This is something that she avoids at all costs and even she could not resist the pull of the chocolate magnet! All the teaches and aides enjoyed it.
This desserts feeds a lot of hungry mouths. It's a great dessert to serve when you have a large group to feed.
If you make this dessert, I hope that you enjoy it as much as we did! I hope you enjoy the twist of the donuts in place of pound cake and the white chocolate pudding in place of plain Jane Vanilla.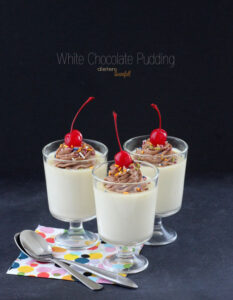 Find the recipe for the White Chocolate Pudding HERE.
Find the recipe to the Chocolate Donuts HERE.