Red Velvet Cupcakes with Cream Cheese Frosting topped with Marshmallow Fondant and Sugared Cranberries
Oh! I loved these cupcakes! Aren't they just so elegant??
I thought they were and my Thanksgiving dinner guests thought so too!
That's right! I made cupcakes for Thanksgiving dessert. No pie. I just could not bring myself to make a dessert that I couldn't photograph. The final dress up and photo shoot was done at noon on Thanksgiving when I really should have been cleaning… oh well! It all got taken cake of.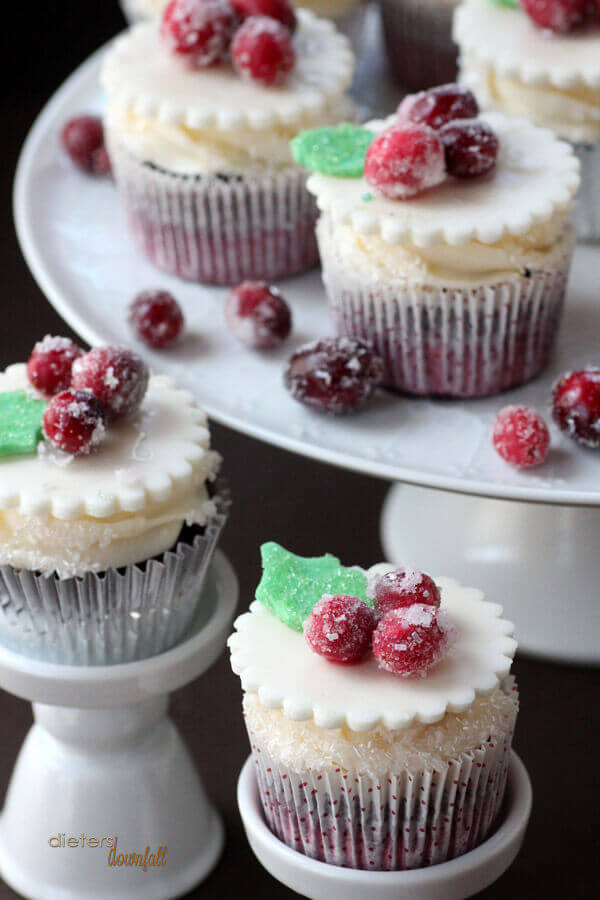 Christmas Cupcakes
Beautiful Red Velvet Cupcakes will be the hit of the dinner party!
Ingredients
For the Red Velvet Cupcakes
4 eggs
¾ cup superfine sugar
1 tablespoon oil
2 tablespoons buttermilk
1 teaspoon vinegar
1 teaspoon vanilla extract
1 ounce (2 tablespoons) red food coloring
¾ cup cake flour
¼ cup cocoa powder
1 teaspoon baking powder
½ teaspoon salt
For the Frosting
8 oz Cream Cheese
1 cup powdered sugar
4 tablespoons butter
1 teaspoon vanilla
Sugar Crystals, optional
Instructions
Bake the Cupcakes
Begin by preheating the oven to 350. Place liners into the cupcake pan.
Beat eggs with whisk attachment for 5 minutes.
Slowly add oil and sugar, beating well then add buttermilk, vinegar, vanilla, and red food coloring.
Switch to the paddle attachment and add dry ingredients, beating until combined.
Using an ice cream scoop, measure the batter into the cupcake liners.
Bake for 15 minutes.
Set aside and cool.
Prepare your frosting.
Combine all ingredients until desired consistency is reached. Put in a pipping bag fitted with a Wilton 1M tip. Frost the cupcakes and decorate with some white sugar sprinkles. Set aside.
Prepare the fondant topping.
Take your 2" fondant circle and add a touch of corn syrup. Attach 3 sugared cranberries and a leaf. Place the fondant circle on top of frosting.
I hope you love cupcakes just as much because
I'm giving away some of My Favorite Cupcake Supplies Giveaway!
Sorry the giveaway has ended.
You can find the recipes for the White Chocolate Marshmallow Fondant HERE and the Sugared Cranberries HERE