Dedicate a day to baking bread and reap the rewards when you remove this Homemade Challah Bread from the oven. The smell is divine!
Homemade Challah Bread (or Jewish Egg Bread, whichever you prefer)
Today is the day we WORK! We are gonna get our hands dirty, our counter tops dirty, and if you are like me… your pants dirty… I get so messy in the kitchen, especially when it comes to flour and in this homemade Challah Bread, we use a lot of four. Flour in the dough, flour on the counter tops, flour on your hands and it ends up all over the place. I just want you to know that it's okay to make a mess as long as you're having fun doing it!
Baking bread is sometimes a "feared" event. I don't claim to be any bread genius, I just follow the recipe. But I do know that using the right ingredients helps to bake a great loaf.  For example, you need to use fresh yeast. I bake with yeast often, so I buy it in the little jars and store it in the fridge.  If you are just experimenting with yeast, buy the packets and see how you do.
Plan on this bread taking the better part of your day. There are three rises that the bread had to go through, but it's so worth it.
If you are scared of making your own bread, don't be. The ingredients aren't expensive. Yes, it may be a lot of flour to test with, but it's not like flour is that expensive…
Play with the dough. Get the kids involved in the kneading. They will love to squish it. Just don't let them put holes in the dough. Teach them about yeast and how it grows. The yeast eats the sugar and then gives off carbon dioxide. It's this reaction that causes the bubbles to form. It's the yeast and the carbon dioxide that makes the bread rise. Watch their faces in amazement. It's totally worth it.
If you can't make the braid, just do the best you can. It took me a few tries to get the correct.
Enjoy your fresh bread with your family for dinner and breakfast. Eat your homemade Challah bread fresh, freeze a loaf, and save a loaf for the Baked French Toast we are making.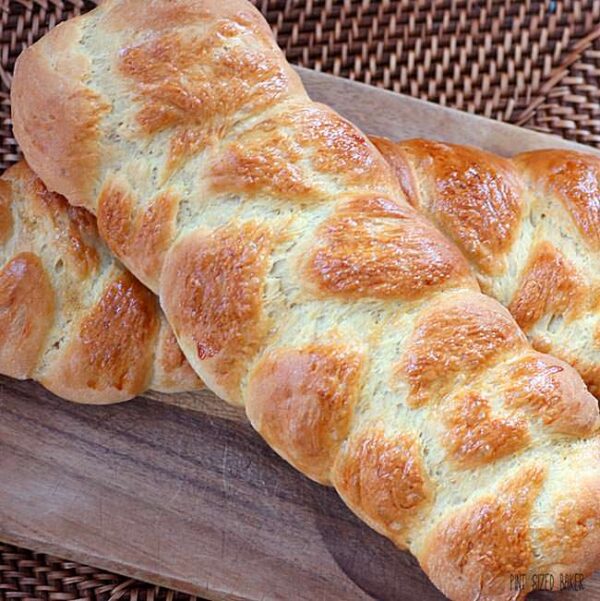 This post is part two of a three part series for Strawberry French Toast – including Strawberry Butter.