You can make small batches of Homemade Jam with fresh, seasonal fruit in under an hour. It's not difficult and you can add as much or as little sugar as you want.

Homemade Jam – Mixed Berry and Stone Fruit Jam
I am in LOVE with fresh fruit this summer. I seriously bought bags and bags of fruit and have been turning to them more than cookies. I figure it's got to be a better choice and you can't beat the yummy goodness of fruit!
This week, I'm making breakfast. Stuffed French Toast to be exact. Your weekend will thank you for making these wonderful recipes.
A few days ago I decided I was finally going to conquer my fear of making Jam. I was nervous about the amount of sugar, about the amount of fruit, about boiling water for the jars, about it tasting good… But, I found little packets of Ball Low or No-Sugar Needed Pectin
 and because it just makes a cup of jam, I figured I wouldn't be out of too much fruit.
One packet only needs two cups of fruit, so that's not a total waste of my precious berries.
The first Jam I made was a mixed berry jam that was made with Strawberries, Blueberries, and Wineberries. You can use raspberries if you don't mind the seeds, but I would strain out some of the seeds first. I still have wineberries from my Galette that I froze, so I used those.
I decided not to add any sweetener to this jam, however, the strawberries were a bit tart and the jam wasn't very sweet. I wish I had added a least a tablespoon of sugar or honey to it. Oh well, next time.
The second Jam I made on a whim. I had just bought a bag of Nectarines and a bag of Pluots.
Never heard of a Pluot. Well, my mother hadn't and thought I was crazy! A Pluot is a hybrid of a Plum and an Apricot. They are sweet and juicy like a plum, but with the extra character of an apricot.  They are so good!
I found them at my grocery store in a bag labeled "Dino Eggs". I guess they are targeting kids to get their parents to buy these strange Dino Egg fruits.  Whatever it takes I guess…
For the Nectarine and Pluot Jam I did add a tablespoon of sugar, just to see the difference. Everyone liked this jam much, much better.
oh, and also, I left the skins on. It's your choice to skin them or not. I liked the extra pulp in my jam.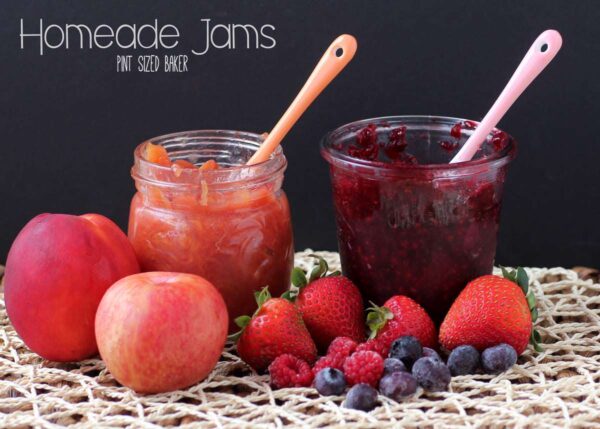 This recipe is part one of a three part recipe series for Stuffed French Toast with Homemade White Bread.