This fall make some Homemade Salted Caramel Marshmallows for your hot chocolate and dessert recipes. It's busting with sweet flavor!
Homemade Salted Caramel Marshmallows
Fall is in full swing in the Mid-Atlantic. It's time for layers of sweaters, fuzzy socks, and scarves while enjoying the wonderful fall flavors of cinnamon, caramel, and cardamom. I love all the deep aromas that fall brings to baked good. It's also time for all the warm cozy drinks like hot chocolate, mulled cider, and pumpkin spiced coffee. These Homemade Salted Caramel Marshmallows are perfect for topping your favorite hot chocolate. Made with stove-top caramel and egg-free marshmallows, these are sure to be a perfect addition to your autumn sweet treats!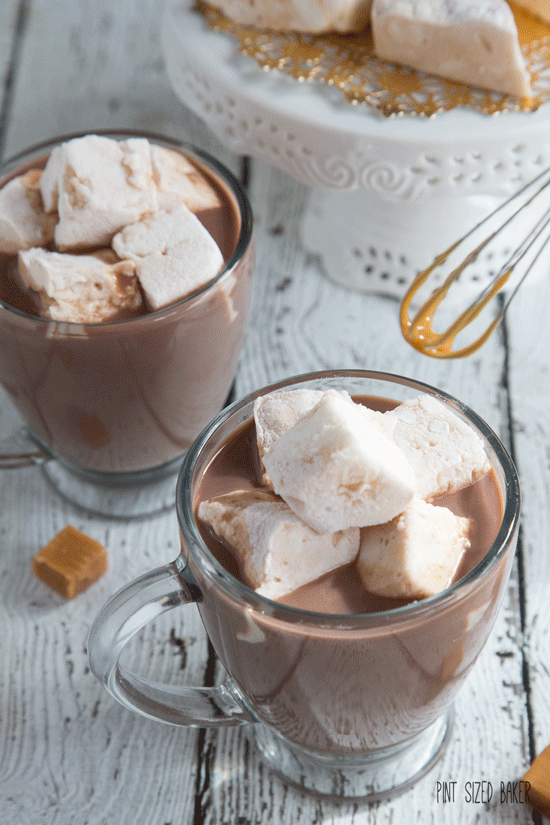 Here's a few tips on making homemade marshmallows –
Read the directions over and over again! Be 100% familiar with the process because things can move quickly.
Grease everything. Marshmallows are super sticky and will get on your hands, clothes, countertops, utensils, and equipment. When in doubt, lube up!
Get a good quality candy thermometer. I ended up tossing my first batch because things got TOO hot and it just didn't turn out.
Use a sturdy stand mixer. You can getaway with a hand mixer, but it will take longer to get to stiff peaks.
I have to tell you how many times I made these marshmallows… The first time I had three little girls "helping" me in the kitchen and I got all the way to whipping before I realized that I forgot the gelatin. The second time around, I put all of the corn syrup into the sugar on the stove and didn't realize it until I went to the mixer. The third time, I thought I would try to get the marshmallow fluffed first and then get the caramel in, but by the time the caramel was ready, the darn marshmallows were too thick for smooth folding. UGH! This recipe took me forever to get done. But it was so worth it!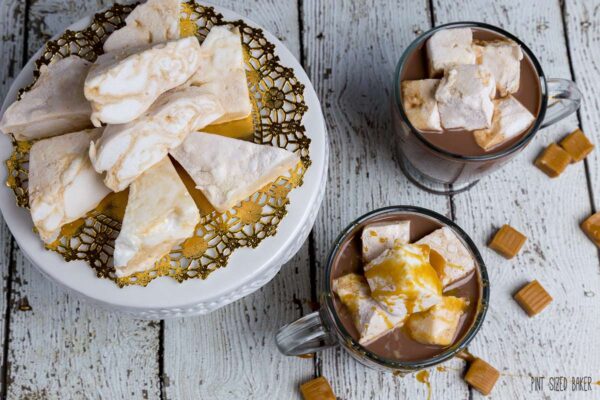 If you don't want to take the time to make your caramel on the stove top, grab a jar of salted caramel at your store. Yes, a general brand will do fine, but I suggest you  look for a high quality, small batch of caramel from a gourmet store. I used jarred caramel for my drizzle topping on the hot chocolate. YUM!
For more Marshmallow Yummies – check out these recipes