A decadent homemade Hummingbird Cake made with pineapple and walnuts, topped with pineapple frosting & dried pineapple flower decorations. It's impressive!
Hummingbird Cake Recipe
I love everything about this Hummingbird Cake! First of all, it's full of pineapple chunks, bananas, and walnuts! Then it's covered in a sweet and yummy pineapple frosting and decorated with dried pineapple flowers. The entire cake is just stunning if I do say so myself!
The "flowers" are what draws you in, but the flavors are what keeps you coming back for more! Yeah, this cake was that good!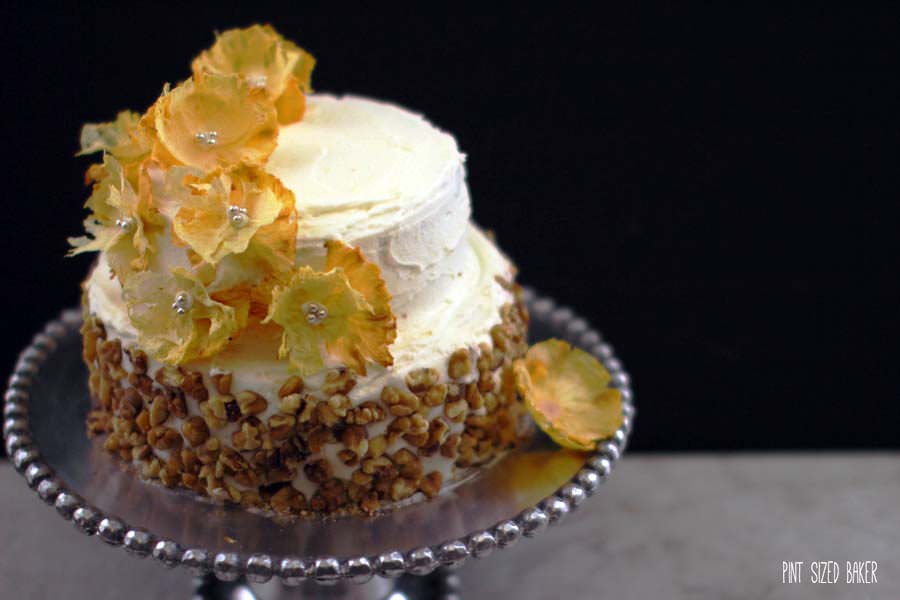 The flowers are really the main attraction to the cake.
I love them cascading down the side of the cake. I thought about putting them on the top, but then changed my mind when I was looking at the cake. What do you think?  Do you like them asymmetrical like this?  If you weren't already in love with the pineapple flowers from the first tutorial, here, I hope you are now!
I'm just blown away each time I look at the photos. I love how imperfect they are. They each have their own character and whimsy-ness. They just make me happy.
And a happy baker is a happy blogger.
Enough about the outside, let's get to the inside of this cake! It's packed with pineapple chunks and bananas. Toss in some toasted walnuts and it's just wonderful!
The original recipe made three 9″ round cakes, but I don't have three pans… so I made two 8″ cakes and two 6″ cakes. It worked out great. I just used one smaller cake on top – the second one is carefully tucked away in my freezer waiting for summer day to be consumed!
Frankly, I think any day is a great day for this cake!
This recipe is part three of a series including the Pineapple Flowers and the Pineapple Frosting.
This recipe was featured on Better Homes and Gardens in their 15 Ways to Enjoy Tropical Recipes at Home.  Check it out!