Celebrate a special occasion with a Lemon Meringue Crepe Cake! 15 Crepes layered with lemon cream and topped with meringue! Enjoy!
This post is brought to you on behalf of Lucky Leaf Premium Pie Filling. All opinions are my own.
Lemon Meringue Crepe Cake
I hope that you are looking for the perfect lemon dessert. One that is delicious to eat, easy to make, and – most importantly – stunning to serve! Well, you've come to the right place because this Lemon Meringue Crepe Cake is the be all – end all of Lemon Meringue desserts. Sure, a traditional pie is traditional, but who wants to be serving the same pie over and over again when this is just so much MORE! I mean, just look at it and tell me it's not amazing.
Layers and layers of crepes with lemon cream and then toasted meringue on top! WOW!
The secret ingredient is Lucky Leaf Premium Lemon pie filling. It totally saves me the time, effort and energy from making my own lemon curd which would have to be made a day in advance. I also "cheated" by using Cool Whip. If you are totally anti-Cool Whip, I've got ya covered.
Simply make sweetened whip cream with 2 cups of cream and 1/4 cup of powdered sugar. You can reduce the sugar of you want, but I liked this dessert more on the sweet side and less on the tart side. However, it's totally up to you and your taste buds.
Homemade meringue needs to whipped to stiff peaks! When you are whipping the eggs, make sure that your bowl and whip attachment are clean. Like, super duper clean! Any oil, grease or fat (butter, cream, or egg yolks) in the bowl and the egg whites will not aerate correctly. They will fall flat and never get the volume and peaks you want.
I would suggest making and serving this Lemon Meringue Crepe Cake on the same day. You can pop it into the fridge and add the meringue before serving. I found the crepes to be a bit gummy the next day. I still ate it, but it wasn't as good.
So, sing "Happy Birthday" to your loved ones!  Belt out "Auld Lang Syne" for New Years. Puff out your chests and sing "Born in the USA" for the 4th of July. This dessert stands the test of an all American Dessert that you can be proud to serve!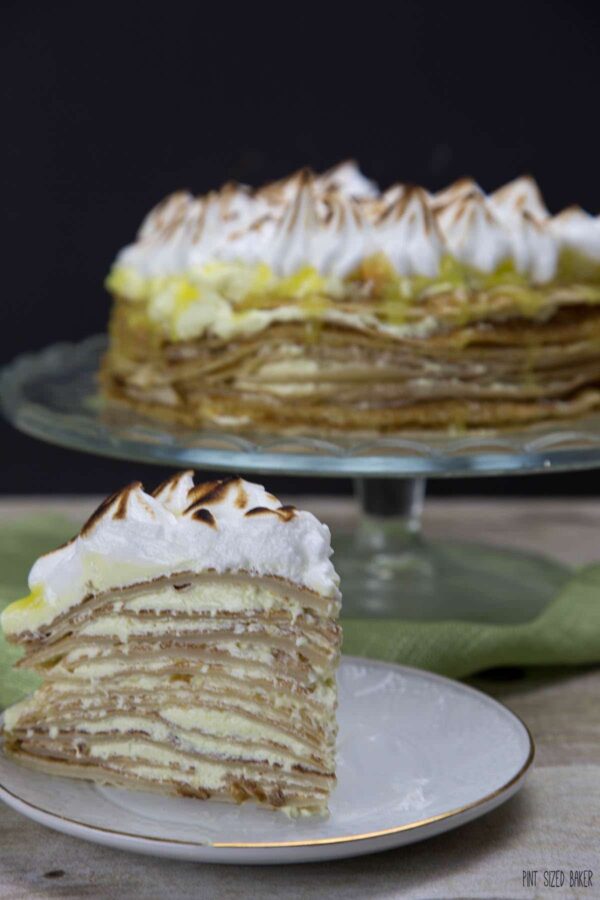 Learn more about Lucky  Leaf at Facebook, Twitter, and Pinterest and find more of their recipes on the Lucky Leaf site.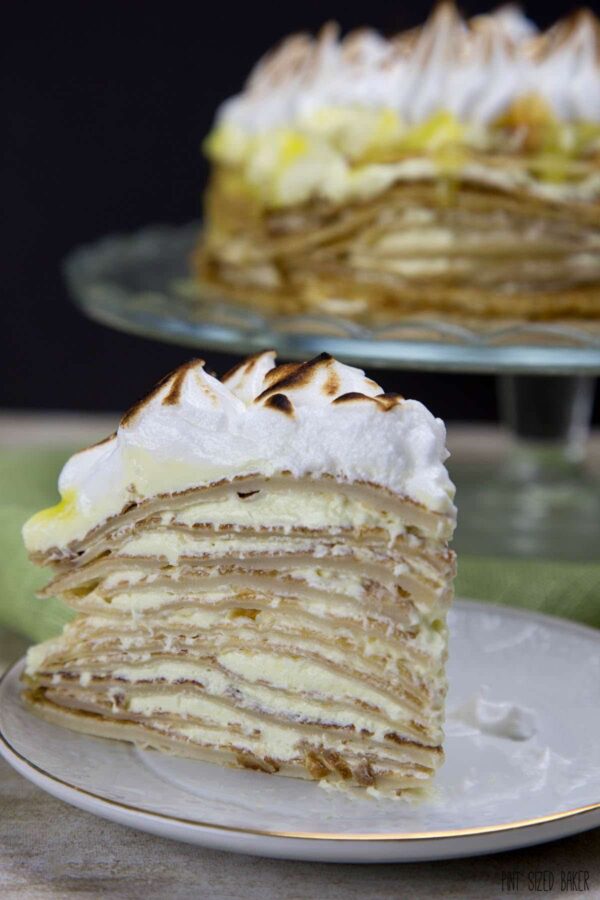 Here's a few more Lemon Desserts for you to enjoy!