Lemon Ricotta Pancakes made with Homemade Ricotta Cheese and Blueberry Butter topped with a Mixed Berry Compote
I've got some EXCITING NEWS!!! But you have to wait to the bottom of the post to hear about it. (Sorry)
In just awesome news, I think I've made my best batch of pancakes ever! I'm normally a pancake mix kinda gal. I prefer Bisquick because it tends to cook up thicker and fluffier pancakes, in my humble opinion. I like my flapjacks with butter and syrup. If I go out for breakfast, I'll splurge on some blueberry pancakes, but I don't like really thick jellied fruit on my stack.
You know the kind that's almost like pie filling… it's thick and overly sweet and you know it's packed with a ton of sugar. Yeah. That kind. Blech! I no likey.
However, this Mixed Berry Compote that I made was perfect form me.  I loved it on my griddlecakes! It was just the berries, a touch of honey and some lemon juice.
And I loved how it paired so well with the lemon pancakes!
To be honest, I don't think I've ever had Ricotta Pancakes before. Zoinks! Thank goodness I rectified that! I was a bit nervous about how the taste and texture of the sour cheese would be when mixed into  light and fluffy egg whites. Having never tried them before I wasn't sure what to expect.
Even after I made them and photographed them, I was nervous to EAT them. But then… I did… And I was like "Holy Cow! Why was I such a scaredy-cat?" I admit. I had no idea what I had been missing out on.  Pure Awesomeness!
And if you don't scroll down, you don't know what you'll be missing out on.
Find the Recipe for the Homemade Ricotta HERE.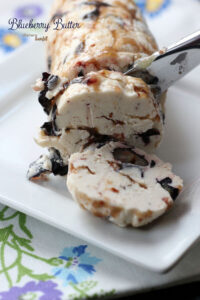 Find the recipe for the Blueberry Butter HERE.