Raspberry Lemon Panna Cotta – Day Two – Lemon Snowball Cookies
My husband has been asking me to make Lemon Cooler Cookies for a while now. He misses them from his childhood… I don't remember growing up with them, so I don't share the same nostalgia. (Sorry)
While I was researching them, I noticed that they were flavored with Kool-Aid… I'm not sure what I was expecting, but it wasn't powdered lemonade mix…
The other thing I noticed was that they were made with shortening and not butter. I don't have anything against shortening, but I really, really like my butter in baked goods. So then I looked into Snowball Cookies – a.k.a. Mexican Wedding Cookies and Russian Tea Cakes.
These are made with a cup of butter and lemon zest to give them a slight lemon flavor without causing you to pucker.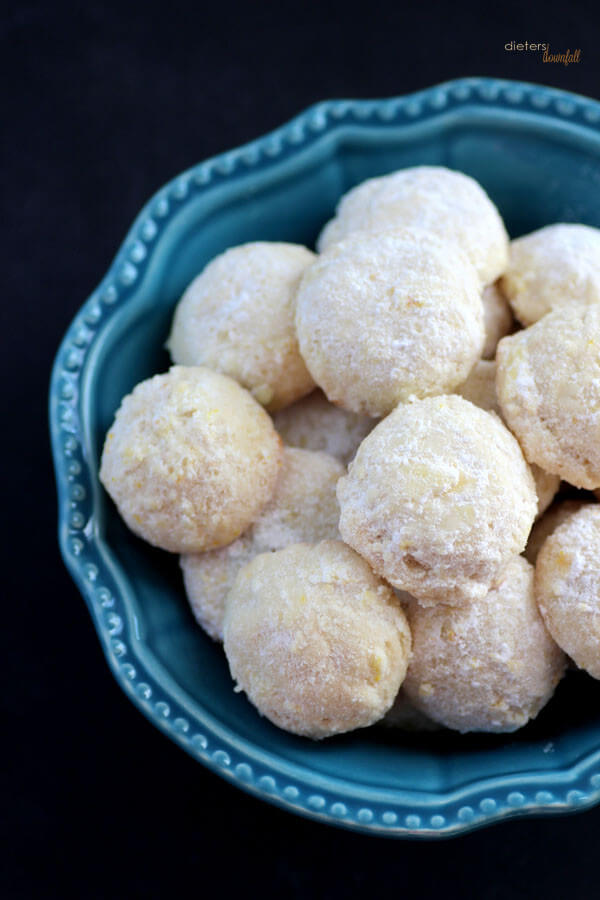 In person, these looked totally coated in sugar, I'm not sure why they look so naked in the photos. I think I had powdered sugar all over the place when I was making them. And then all over my studio while I was taking the photos. I guess I know where all the sugar went… on the counters!
I opted to skip the lemonade powder and flavor my own powdered sugar. I prepared a gallon baggie with some sugar and then added lemon zest to it. Sealed it closed and let it sit for an hour before I was ready to make the cookies. The flavor wasn't intense, but a subtle one which I liked.