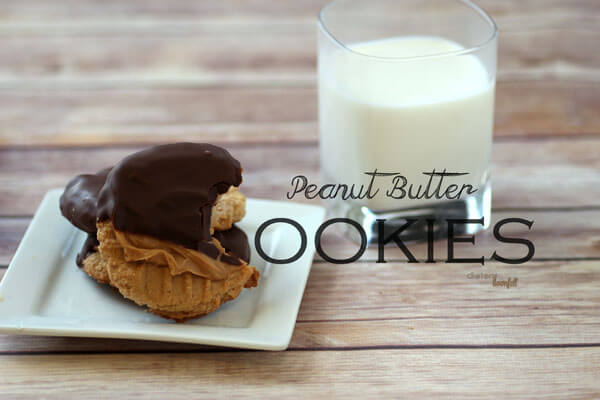 Peanut Butter Pudding Pie with Brownies – Day one – Peanut Butter Cookies
There's quite an event coming up on Friday! It's March 14. To some it's just another date in the calendar, but to others it's 3-14 or 3.14 or Pi Day! Yahoo!! So, to celebrate, I've made three recipes for my amazing Peanut Butter and Brownie Pie.
I believe I've stated many times before that my husband LOVES peanut butter treats.  So, when I told him my idea for a pie, he was completely thrown for a loop when I told him that I was going to make peanut butter cookies and then crumble them up.
Why crumble up perfectly good cookies? You must eat the cookies. They were baked to be eaten and enjoyed!
Well, have no fear. We are going to only take 10 or so away from the 3 dozen cookies baked to make a pie crust. It'll be good – I promise.
In the meantime, to make up for the loss of cookies, I've made these extra-extra special for you!
See? Doesn't that just look wonderful?
I thought you would like that! Now, enjoy your cookies and milk. I know that I did!
This recipe is from Baking Illustrated
 (my new favorite cookbook). Stated in the book is their tests and comments to make the best cookies. Their tips include using commercially processed peanut butter and not all natural peanut butter. The natural oils causes the cookies to become sandy. You can use chunky peanut butter and add the peanut chunks to batter for a totally peanutty flavor!