Everyone is going to love this easy Pressure Cooker Pumpkin Cheesecake topped with whipped cream and ginger cookie snaps. The small 7-inch cheesecake is perfect for the family on a weeknight.
Pressure Cooker Pumpkin Cheesecake
Want to hear a confession? I used to be scared of making cheesecakes. I thought that they were magical desserts that were difficult to make. With a waterbath and temperamental eggs, I thought that making a cheesecake was difficult. And then my friend Barbara from Pressure Cooking Today showed me that I could "bake" a cheesecake in a pressure cooker, I knew I would have to give it a try.  First I had to get a 7-inch springform pan, then I dove right into this Pressure Cooker Pumpkin Cheesecake!
Barbara has some awesome tips on how to make the perfect cheesecake using the pressure cooker. Here's a few of her pointers :
Be sure your cream cheese is at room temperature.
Be sure your eggs are at room temperature.
Do not overbeat the batter.
Don't have the crust go all the way up the sides of the pan.
Be sure you have a way of removing the cooked cheesecake from the pressure cooker. Barbara shows you how here.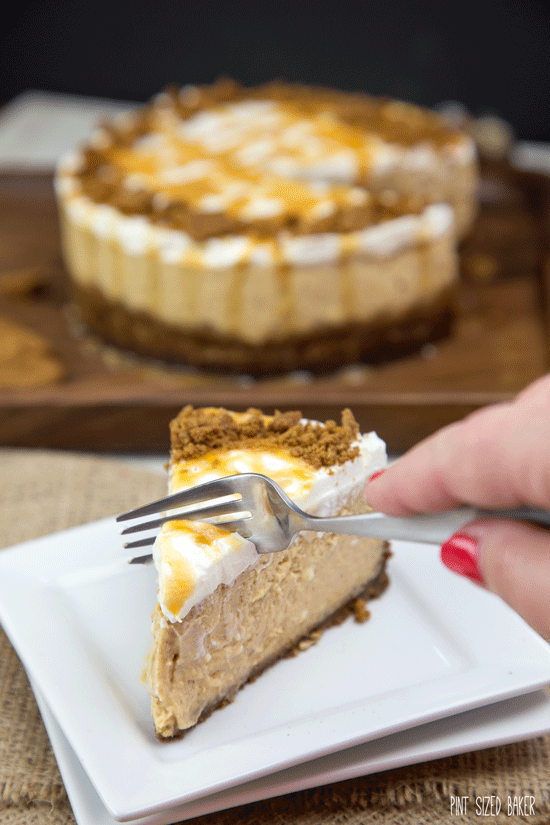 Smooth and creamy! The one thing that I wasn't expecting was the water on the top of the cheesecake from the condensation in the pressure cooker. I just used a paper towel to dry up the water, but I can see why you don't want the crust to go up the sides of the pan. Once that cookie crust gets wet, there's no saving it. But all the moisture keeps the cheesecake from cracking on top.
The smaller size is also perfect for baking a cheesecake on the weekdays. You're not left with a lot of leftovers – which could be a bad thing depending on your love of cheesecake.
Drooling over this cheesecake? Here's a few more that you might enjoy.