Do yourself a favor and pick up a small baking pumpkin to make your own homemade pumpkin puree and honey roasted pumpkin seeds. It's the best pie you'll every bake!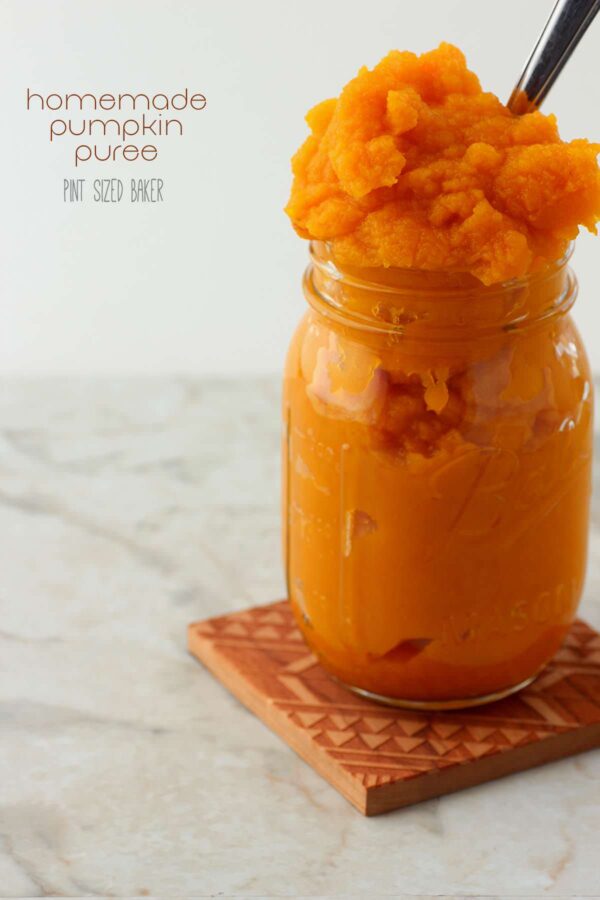 Homemade Pumpkin Puree and Sweet Roasted Pumpkin Seeds
Are you already thinking about your Thanksgiving dinner plans? I know what we are doing. We've got our plans and I just received my requested contribution from my Mother-in-Law. I am to bring this Pumpkin Pie made with homemade pumpkin puree, lard based crust, and topped with a sweetened mascarpone whipped cream and sweet roasted pumpkin seed toffee! That's a mouthful.
It's a good thing that my little five pound pumpkin made enough filling for me  to make a second pie.
Making a pumpkin pie from scratch has been in my bucket list for some time. For a long time, roasting a pumpkin seemed like such a huge undertaking to me. I don't know why I was so overwhelmed at the idea of cutting a pumpkin in half and cooking it for an hour.
How much easier can you get?

While I was in the thought process of "designing" my pie, the seeds never factored into it.
It wasn't until I was scooping them out that decided to keep them instead of discarding them. I didn't know what I was going to do with them at the time, but thank goodness for google searches. You don't have to just have salty roasted seeds.
Honey, brown sugar and cinnamon sweeten up these babies to make more of a candy snack.
Get yourself a small-ish pumpkin. They are still around.
Take the time to roast your pumpkin. It really is the easiest and makes the tastiest pie filling. Don't believe me? There are many, many other bloggers out there that agree. Also, do you really know what's in your can of pumpkin puree?
At least this way you know that you really do have 100% real pumpkin.
This recipe is part one of a three part series including a Basic Pumpkin Pie and Thanksgiving Pumpkin Pie.