You'll fall in love with this Raspberry and Lemon Layer Cake. Bursting with sweet flavors that are perfect for any celebration.

Raspberry Lemon Layer Cake with Lemon Curd and Buttercream Frosting
I made another cake that I am very proud of. This raspberry and lemon layer cake is filled with lemon curd and fresh raspberries and it just made me so happy when I sliced into it! Three layers of sponge cake sprinkled with lemon simple syrup then there is more lemon flavor with the sweet contrast of the fresh raspberries. This cake does have a few extra steps, but they are all worth it and they all add the outstanding flavor of the cake!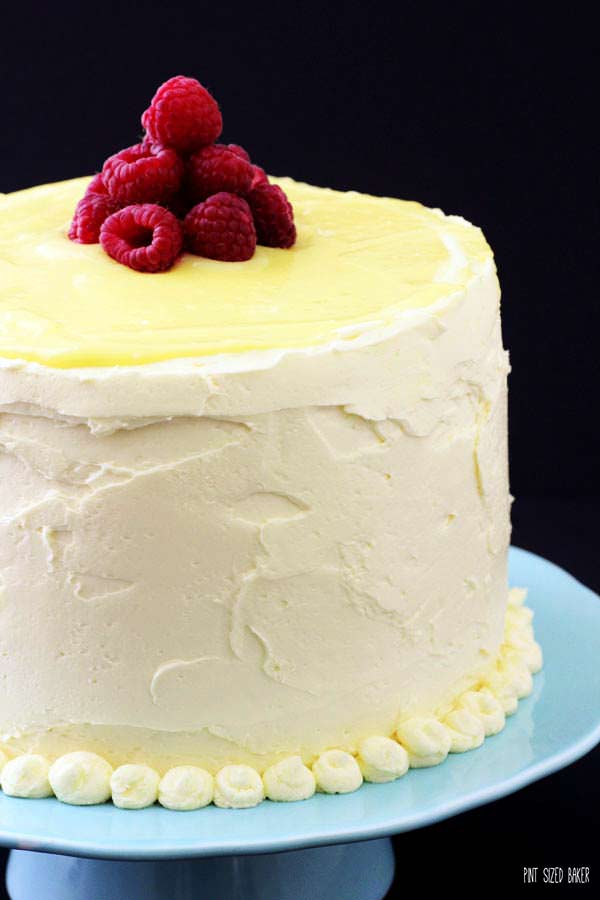 The frosting that I made was new to me. This buttercream is similar to the Swiss Meringue Buttercream that I made for my birthday cake, however, this frosting used whole eggs and not just the egg whites. The egg yolks gave the frosting a beautiful pale yellow color that I loved!
It was just the perfect shade of happiness!
And then to top that happiness with the bright lemon curd on top, was like watching the sunrise while on vacation.
You know that feeling? You're on vacation and anything is possible for the day. There are no plans, no times to be anywhere, no restrictions, just limitless possibilities… like going back to bed to snuggle with your better half.
Man… I really, really need a vacation like that. But I digress….

Slicing into the beauty was fun. I thought I had added a lot of raspberries to the layers, but I guess I could have added a few more.
I would like to point out the middle layer to you. In the post with the cake recipe, here, I discussed using the baking strips and pointed out the domed top of the third cake. Well, while preparing the cake, I had to make the cakes all the same diameter. I used a serrated knife to trim off the hard edge of the cake and make the other two cakes the same size. This also removed a lot of the nibble marks, not perfect, just reduced.
In the photo above, you can see a noticeable slope to the middle cake and how much frosting I had to use to build up that layer to make a level area for the third cake to rest on. You can also see the darker line at the bottom of the middle cake. This is just from the darkening of the cake baked without the bake strips.

I hope that you try this cake. I ended up giving it to my lemon loving friend and he loved it! I think his family polished off this cake in one evening.
This recipe is part three of a three part series including a White Lemon Sponge Cake and Homemade Lemon Curd.