This Walnut Pastry Crust is sure to be your new favorite pie crust. It's great for a little extra nutty flavor in your apple pie.
Walnut Pastry Crust
Looking for an easy crust for you fall pies? This one was easy, fast, and tasty. I've got to tell ya that I'm not a big crust fan, but I enjoyed this one. It may be because of how easy this was to make, or it may have been the nutty flavor. Whatever it was, I enjoyed it as the crust of my Dutch Apple Pie topped with homemade caramel.
I also still have a bit of crust anxiety.
The crusts I've made before  never really turned out as well as I had home. Granted, this one did not get pre-baked so I can't tell ya if it wouldn't shrink. I also opted for an easy crust edge. I crimped the edge with a fork and left it like that. Easy.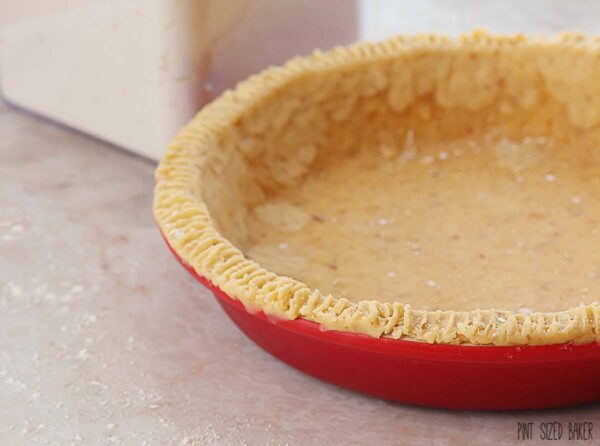 The good news about this crust is that you can make it a few days in advance and keep it in the fridge until you're ready to fill and bake it. Just keep it covered in the fridge, then fill it with your fruit.
Crimp the edges with a fork and call it done, son!
I hope that you give this crust a try. It sure did make my belly happy!
This recipe is part two in a three part series including Dutch Apple Pie and Goat Milk Caramel.