Have your nights been getting cooler?? Ours have!
I've gotten out the down comforters and warm pajamas. We have some very warm fleece sheets (which my husband loves), but those can wait a little bit longer… I've even had to turn the heat on a few nights just to keep from freezing in the morning. I HATE, LOATHE, DESPISE getting out of a warm bed on cold mornings. There is nothing worse than that. Thank goodness for sheepskin slippers 🙂
I am enjoying the cool evenings. I like snuggling up on the couch with the family under a blanket and playing on the internet while my Little Cup watches "My Little Pony" for the umpteenth time. For me, getting into bed and putting my toe-sicles on Mr.Quart is the best thing ever!
But what I really enjoy on cool nights, are warm desserts.
I whipped up these tasty Pear Berry Mini Tarts in no time at all.
Start off baking some Pepperidge Farm Puff Pastry Shells.
While they are baking, cut up your pear and cook it with cinnamon and sugar in a saucepan until tender.
Remove the center of the tart shell and fill it up with the pear.
Top it with a raspberry or two and then a scoop of ice cream.
This would work just as well with an apple for a simple apple tart.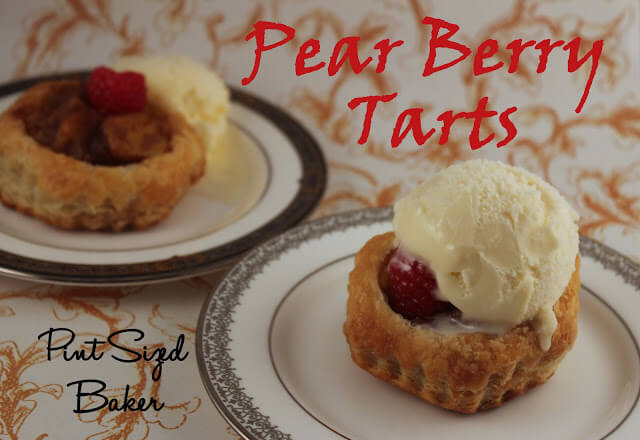 Recipe added to your shopping list.
Ingredients
1-2 Pears, cut into 1/2 inch chunks
6 Frozen Pepperidge Farm Puff Pastry Shells
1/2 tsp cinnamon
2 tsp sugar
Instructions
Cook Puff Pastry Shells according to directions.
While shells are cooking, cut pear and cover with sugar and cinnamon.
Cook in a heavy saucepan over medium heat until pear juice starts to run.
Remove Puff Pastry and remove center. Fill center with cooked pear and top with a raspberry.
Serve warm with ice cream or whipped cream.
Gotta Sweet Tooth?
Share your recipe with me on Instagram using the hashtag #PintSizedBaker so I can see what you've been craving!