This mint chocolate ice cream roll cake was the best birthday cake a girl could ask for. Cake and ice cream all in one!
Mint Chocolate Chip Ice Cream Roll Cake with Ombre Cream Cheese Roses and Chocolate Whipped Cream Frosting
Whoa! This was a beautiful dessert! I loved it, but more importantly, my girlfriend loved it! This was her 39th birthday cake that I made for her. She requested a chocolate and mint cake and gave me the freedom to work my magic and come up with something amazing for her.
I like to think that I succeeded.
Carrie and have been friends since 1998! We are the same age and have similar interests. We've been there for each other over the years and I am so happy to have such a great friend.
We first met working at a small-town airport. I was a poor flight instructor at the airport (and working a second job there) and she took a second job on the weekends there. We became fast friends (mainly because there aren't many gals hanging out at airports) and eventually, she got her private pilot license with me as her instructor.
We've been through boyfriends, vacations, birthdays, ups and downs, and my daughter even calls her Aunt. Since our joint 30th birthday, we've been in discussion about our quickly approaching 40th birthday bash. I want to go to NYC… we'll see where we end up.
She's a Thanksgiving baby and as a result, she's usually back home with her family that time of year. She's also had her fair share of birthday pie but hasn't had a real birthday cake in the past 4 years. I wanted to do my best to make her feel special for her final birthday in her 30's.
Wouldn't you love to get this Mint Chocolate Roll Cake for your special day? I know I would!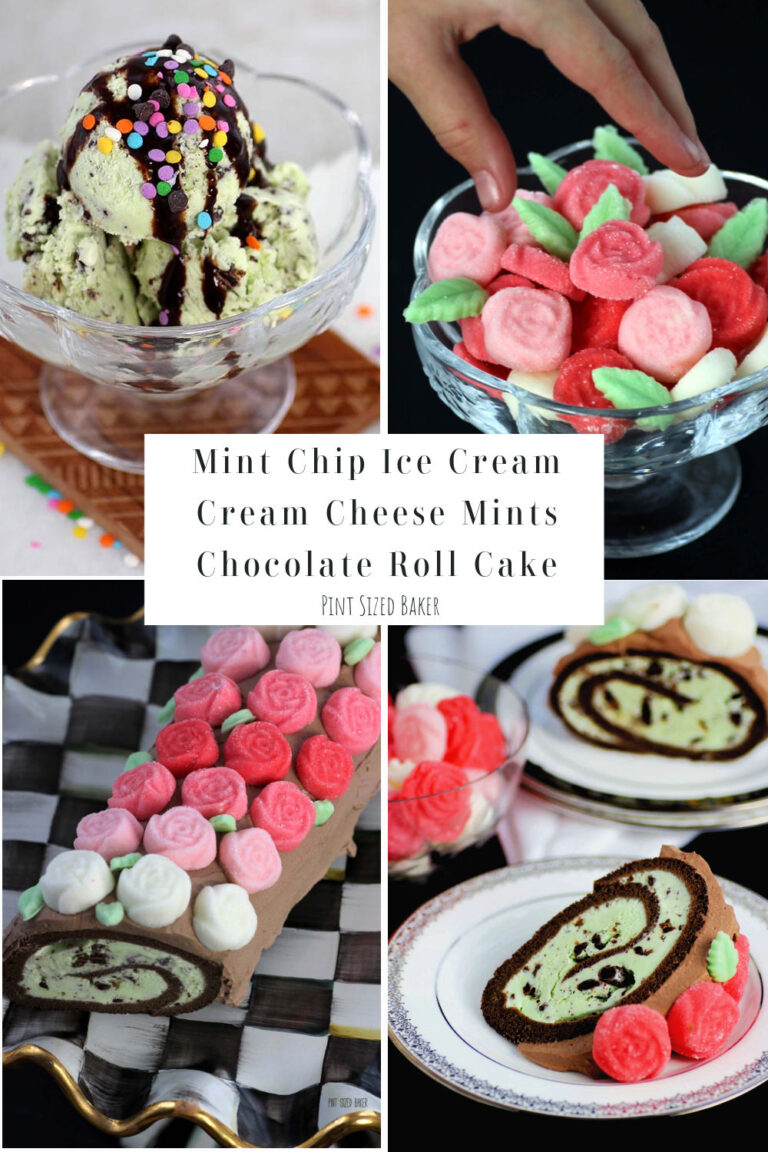 This Mint Chocolate Roll Cake Recipe is part three of a three-part series including Mint Chip Ice Cream and Cream Cheese Mint Candies.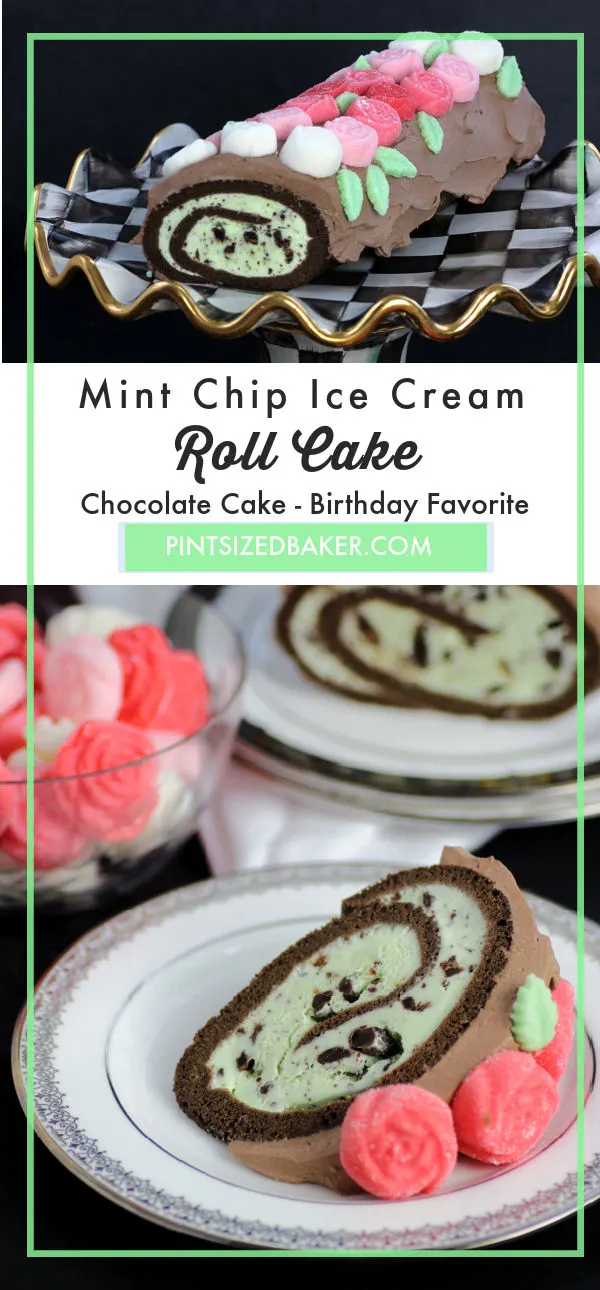 Yield: 1 cake
Mint Chocolate Ice Cream Roll Cake
And easy roll cake with Mint Chocolate Chip Ice Cream and Ombre Cream Cheese Mints.
Total Time
8 hours
22 minutes
Ingredients
For the Cake
1/2 cup flour
1/4 cup cocoa powder
1 teaspoon baking powder
4 eggs
1/3 cup sugar
1 teas oonvanilla extract
For the Frosting
1 cup heavy cream
1/4 cup cocoa powder
1/4 cup sugar
Instructions
For the Cake
Preheat the oven to 400°F. Spray 15-1/2 x 10-1/2 x 1-inch jelly-roll pan with nonstick cooking spray. Line with parchment paper; spray again.
Sift together flour, cocoa, and baking powder. Set aside.
In a stand-up mixer, beat the eggs, sugar, and vanilla until pale in color, about 5 minutes. Fold in the dry cocoa mixture; spread batter into prepared pan. It will be thin.
Bake 5 – 7 minutes or until top springs back when touched lightly in center. Flip the cake onto a clean dishtowel dusted with powdered sugar and remove the paper. Roll up cake with the towel from the short side. Cool completely on a wire rack.
Carefully unroll the cake spread about 3 cups of softened Mint Chip Ice Cream onto the cake. Re-roll the cake (without towel) leaving the seam-side down.
Cover and freeze until firm.
For the Frosting
Whip the cream, cocoa, and sugar until soft peaks form.
Trim off the edges of the cake, frost the frozen cake and attach the Cream Cheese Mints. Keep the cake frozen until ready to serve.
Recommended Products
As an Amazon Associate and member of other affiliate programs, I earn from qualifying purchases.
All content 100% human written.Images, text and all other content Copyrighted©Karyn Granrud, Susanne Queck and Wunderlander Verlag LLC, or ©Pro Stock Media via Canva.com. Unlicensed republishing permitted. As an Amazon affiliate, we earn on qualified purchases.