Get away to The Omni Homestead resort for an amazing vacation with activities for everyone in the family to enjoy. It's a sweet destination for a week's stay or a long weekend.
This post is sponsored by The Omni Homestead. They provided me with lodging, dining, and activities in exchange for my honest opinion of the resort.
The Omni Homestead Resort
I have had the pleasure of staying at the Omni Homestead not once, but twice! I first experienced this magnificent resort with my husband in the summer of 2016 while my daughter was at a sleepaway camp an hour away. We fell in love with the building, the landscape, and the hospitality provided by the staff. I knew I had to return to experience more of the amenities and a different season. My daughter and I were fortunate to be able to visit The Omni Homestead just a few days before Thanksgiving to experience the annual Christmas Tree raising and lighting. We had a blast with all the activities that were planned and my kiddo wants to go back to do more warm-weather experiences.
If you are looking for a mountain resort for a romantic getaway or a family vacation, I highly recommend looking at The Omni Homestead Resort. It's an easy day drive from New York, Pennsylvania, Ohio, Kentucky, Tennessee, Washington DC, and the Carolinas. What are you waiting for? Check out their special offers for your stay.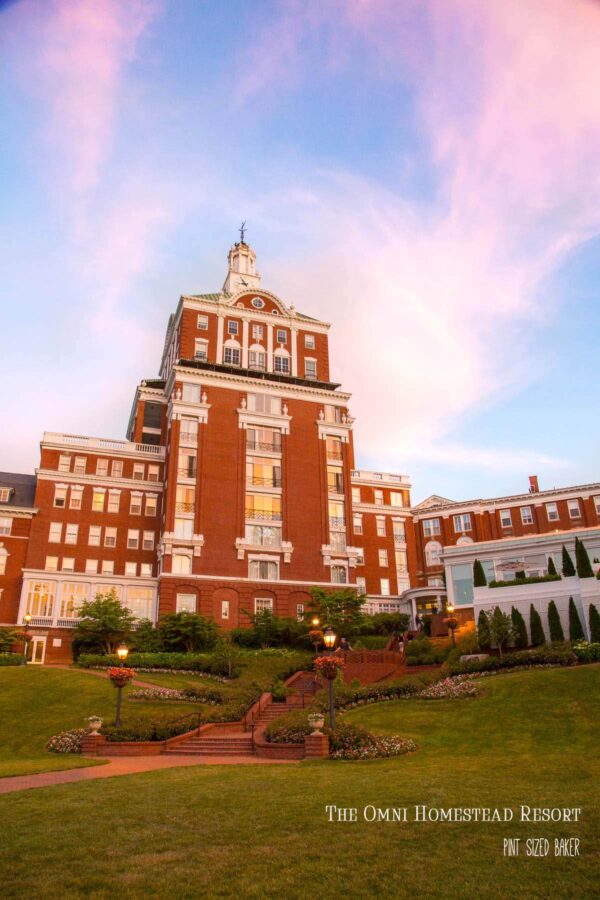 The Historic Hotel and Springs
The Homestead was first built in 1766 as a small 18-room hotel with the highlight of the trip being the two natural, mineral springs that bubbled up on the property. There were more buildings added, cottages built and an indoor game room, or casino, was added, however in 1901 a fire broke out in the main hotel and burned it down. Within a year, The Homestead was back in business, and the prominent tower that you see today was under construction. Over the next century, the east and west wings, the theater, the ballrooms, and the Garden Wing were all added.
The Homestead Resort has had quite a few owners, but most recently, Omni Hotels & Resorts bought the property in 2013. As you can imagine, there have been numerous restorations, upgrades, additions, infrastructure, and amenities added over the past 250 years, but The Omni Homestead leaves you wanting for nothing else.
The rooms are well equipped with a Keurig coffee machine, comfortable beds and fluffy pillows, and bright shiny bathrooms. Since the resort is tucked into a valley, every room has a view of the rolling hills and green grounds. I don't think there is a room with a "bad" view.
The Christmas Tree Lighting
My daughter and I were at the hotel the Monday before Thanksgiving. This is usually the date that the great tree arrives and this year it was a 20-foot Fraser Fir from North Carolina. It was a massive tree that they somehow got through the door. Granted, they took the doors off the hinges and had the help of several people heave-ho it into the hotel atrium. The tree decorating committee spent all day Tuesday decorating the tree and then the day before Thanksgiving, there were ten times the people in attendance for the lighting. I was so excited to have been able to experience this joyous occasion.
Christmas Activities
While patiently waiting for the tree lighting, there were lots of fun holiday activities to keep us busy. There were free crafts for the kids to make, cookie decorating, Bingo, hayrides with hot chocolate and s'mores, walking tours, movies, and that's in addition to all their standard indoor and outdoor activities. There really wasn't much time for doing anything.
One of our favorite things to do was check in on the progress of the Gingerbread House. My daughter could fit inside of this gigantic cookie house and it was so fun to watch the staff adding the details as the day went on. In the above collage, you'll see the candy welcome mat that weighed a ton!
There were also Christmas trees in all the meeting rooms, ballrooms, stores, and outside. I loved getting inspiration from all of them. One year, I'd love to have a white and silver tree.
And of course, Santa made a special visit after the tree-lighting ceremony. All the kids lined up to tell Santa what they wanted and posed for photos. I just wish my kid wasn't so afraid of Santa. She's only once sat on his lap and that was when she was 10  months old.
Sweet Treats and Great Eats
The food at The Omni Homestead is just amazing. Let's start with their breakfast buffet in the Dining Room. Wake up hungry and stick around for seconds. With an omelet station, waffle and pancake station, trays of pastries, fresh fruit juice, oatmeal with all the fixings, as well as eggs, sausage, and smoked salmon. And then there's the breakfast dessert of the famous homemade doughnuts – glazed, cinnamon sugar, and maple bacon. If you decide to get breakfast at Martha's Market, you can pick up a few donuts to eat on the go!
There are four restaurants to dine at, however, check the website to make sure they will be open. During the summer months when the golfers are hungry, Rubino's at the Cascades is open for lunch or an early dinner. We had a yummy Caesar Salad and a tasty burger for lunch.
Jefferson's Restaurant and Bar offers both indoor and outdoor dining for lunch, dinner, and after-dinner drinks. There is a dress code so pack a collared shirt and slacks for your man and a dress for yourself. In the summer, my husband and I sat outside for the 4th of July and enjoyed watching the fireworks on the patio. For my recent stay, I had the BEST steak tenderloin served with mushrooms and it was simply amazing. Perfectly cooked and so tender – it was like buttah!!
The third restaurant is The Casino. Don't be confused, this is not a gambling establishment like I thought at first. A Casino is another name for an indoor activity center which is what it was intended for when it was built. Now it's a golf shop and dining establishment with indoor and outdoor seating. It's a great family place for lunch and dinner and with the fire pit right there, you can get a s'mores kit for the kids to enjoy.
Every day at 3 pm, there was high tea served in the Great Hall. During their 250-year celebration, we got to try a new cake flavor served with hot or iced tea. It was lovely to sit on the veranda while eating my cake and sipping my tea. I felt so Southern in my rocking chair with the warm summer breeze on my face.
And don't even get me started on their dessert offerings. Everything was so good! As much as I wanted to try everything, I didn't. The Pumpkin Pie with Brown Butter Ice Cream was a seasonal special and it was my favorite dessert of the visit.
The Sweet Outdoors
With over 2,000 acres to play on, you're sure to find something to keep you busy outdoors. In the summer, my husband took a falconry class. He LOVED IT! We also took a 3-mile hike along the Cascades Gorge, and we both tried our best at trap shooting at the shooting club. They also offer mini golf, 18 holes of world famous golf, fly fishing, kayaking, Segway tours, archery, and so much more. In the winter there is snow skiing and tubing, ice skating, and snowmobiles to ride.
A family vacation requires a great pool for the kids to play in. There is a heated pool for year-round enjoyment as well as a lazy river to relax in and a slide to keep the kids busy. During our late fall visit, it was still nice to go horseback riding and experience their new zipline adventure. And it felt great to take a dip in the pool and outdoor hot tub at the end of the day.
If you're looking for just an adult retreat, then partake in the spa amenities and relax kid free in the Spa pool and natural hot spring hot tub after a massage, facial, or body treatment. Go on and pamper yourself! You deserve it!
Take it Easy Indoors
Oh no, Mother Nature has other plans for today and the weather isn't too friendly outside. Don't worry because there is still a lot to do inside. The Omni Homestead offers daily walking tours where you can learn the history of the property, including famous visitors like Thomas Jefferson and 25 other Presidents who have stayed on the property. There have been prominent people and families, even royalty, who have graced the halls over the past 250 years.
There are shops to pick up gifts, clothes, toys, and my daughter's favorite – the candy shop. If the weather is overcast outside, then you can always visit the indoor pool that is fed by the warm mineral spring year-round. It's always the perfect temperature. Every night they run two movies – one for the kids and one a little later for the adults. You can also take a break in the large study, read more about the history of the hotel, play a friendly game of chess, or just get comfortable with a new book on a chaise.
I loved my visits to The Omni Homestead and I know I'll be back again. There's so much more that I have yet to experience. My husband wants to go back just for some rest and relaxation. Every day is a great day at the resort.
You can learn more about your stay on their website – https://www.omnihotels.com/hotels/homestead-virginia – check out the day-to-day news on their Facebook page and Instagram feed.
Here are a few more Sweet Destinations that you can visit.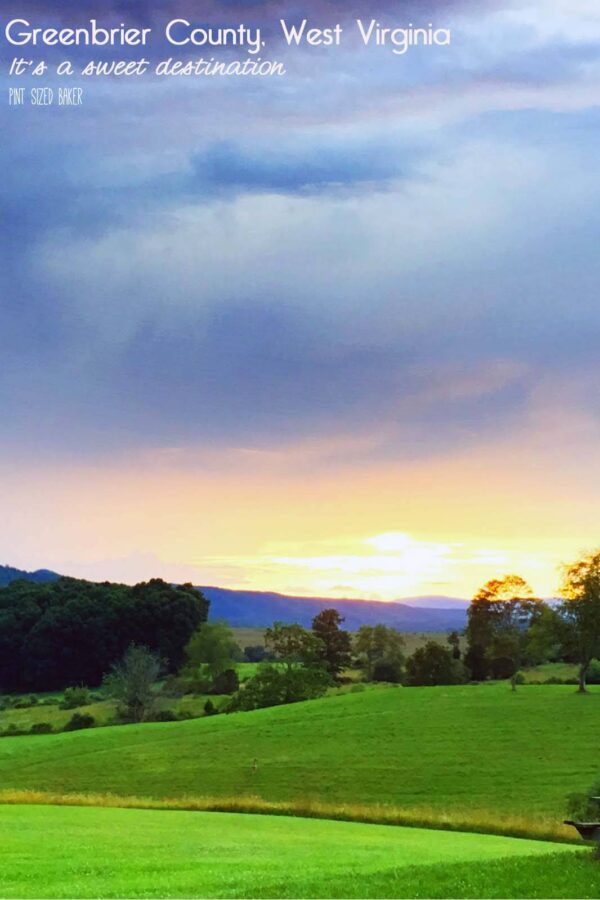 All content 100% human written.Images, text and all other content Copyrighted©Karyn Granrud, Susanne Queck and Wunderlander Verlag LLC, or ©Pro Stock Media via Canva.com. Unlicensed republishing permitted. As an Amazon affiliate, we earn on qualified purchases.