Making these great Chocolate Covered Oreo Cookie Clocks are perfect for New Years Eve or an Alice In Wonderland Party! Everyone loves them!

Chocolate Covered Oreo Cookie Clocks
Last New Year's I celebrated with no-bake treats, so I figure I'd keep it up and make it a tradition. I know that most people want a fancy New Years dishes and have friends and family nearby. One great way to celebrate with kids is to have a a countdown clock. These fun Oreo Cookie Clocks can be used to countdown to midnight and they really dress up a dessert table. This no-bake treat is the perfect way to make dessert and have the kids help.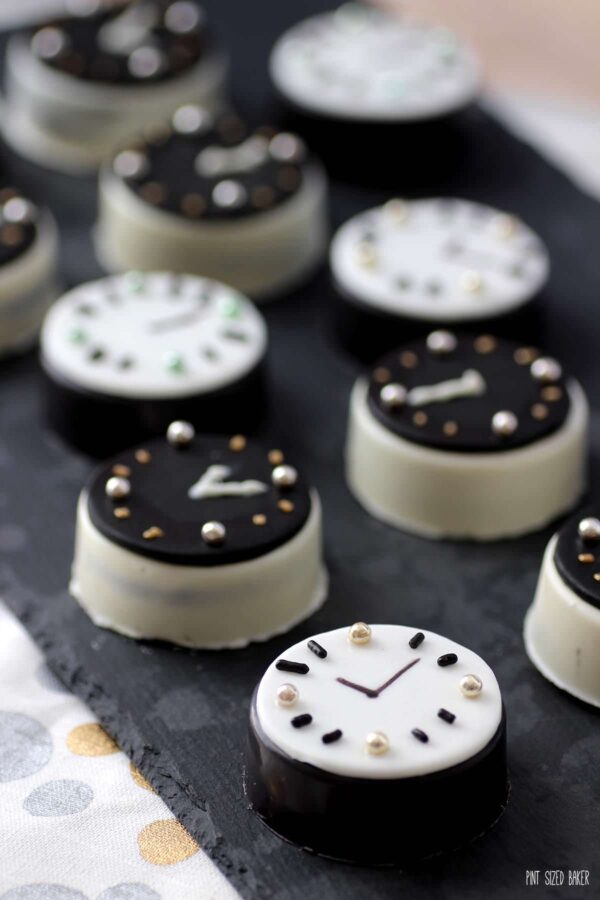 To celebrate this year, I've got these fun Oreo Cookie Clocks, Champagne and Strawberry Jello shots and Chocolate Dipped Fortune Cookies. They are all dressed up fancy for your party!
To make these perfectly covered Oreos you need the right mold. I highly recommend you use this SpinningLeaf Sandwich Cookie Mold
. It's the best one I've used so far.
You'll also need some black candy melts (look for it at the craft store) and some small packages of black and white fondant. I've only found them by Wilton in Wal-Mart. Depending on how many cookies you make, you don't need much of it.
Then you need some fancy sprinkles. I love these Silver Dragees
. They are a bit pricey, but they are so shiny! I just used black jimmies and gold sugar to add the rest of the clock features. Then I used black edible markers and white chocolate to add the clock hands.
Didn't they turn out marvelous?  I loved them! They would also be perfect for a Grate Gatsby themed party.
If you enjoy the clocks, you may also enjoy the Rose Oreo Cookies I made last year.
This recipe is part one of a three part series including Strawberry Champagne Jello and Chocolate Dipped Fortune Cookies.