A No-bake Dessert Table doesn't have to be boring! Take these beautiful marshmallows, strawberries, Oreo Cookies and Rice Krispies all dressed up!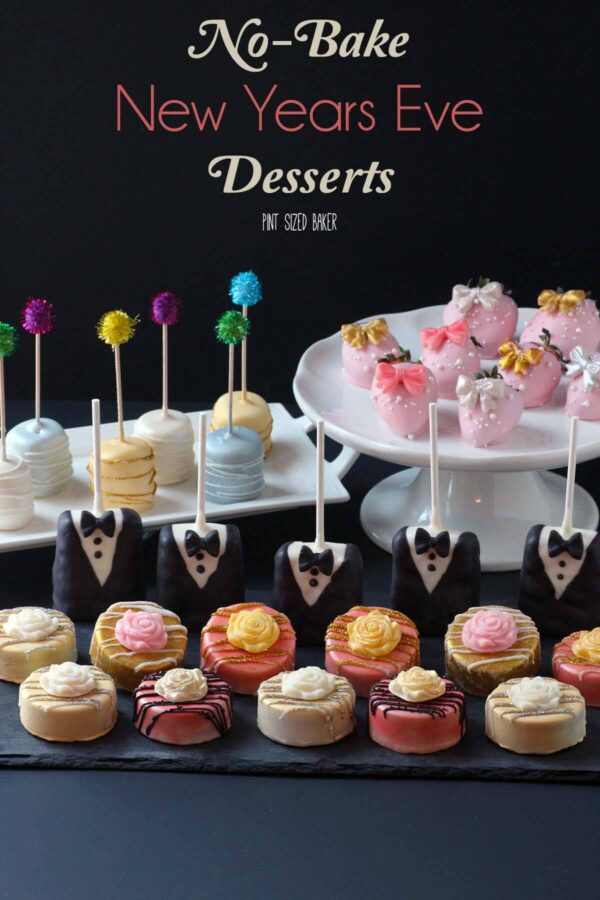 New Years Party No-Bake Dessert Table
I wanted to bring in the New Year in style!
I've baked some amazing desserts all year ling, and I love all of desserts that I have shared with you. I've grown a lot as a baker, and have tried a few recipes that have intimidated me for a long time. I agonized over what to make for a New Year's Dessert, and honestly, I just didn't want to just do another Champagne Cupcake. I wanted a stunning dessert that really SCREAMED – Happy New Year!! Enter this No-bake dessert table with treats all ready to par-tay!!
These are no ordinary Oreo Cookies, Rice Krispie Treats, Strawberries, or Marshmallows. Oh no! They have all be decked out in sparkles, shimmer, and shine.
As I said, these took several hours to make. All the bows and roses were made one at a time with silicon molds. The treats were coated in candy melts, then shimmered up, then dressed up and adorned with sparkles.
There are some ladies who make these for a living and I really need to tip my hat to them for all the time and effort that goes into making them.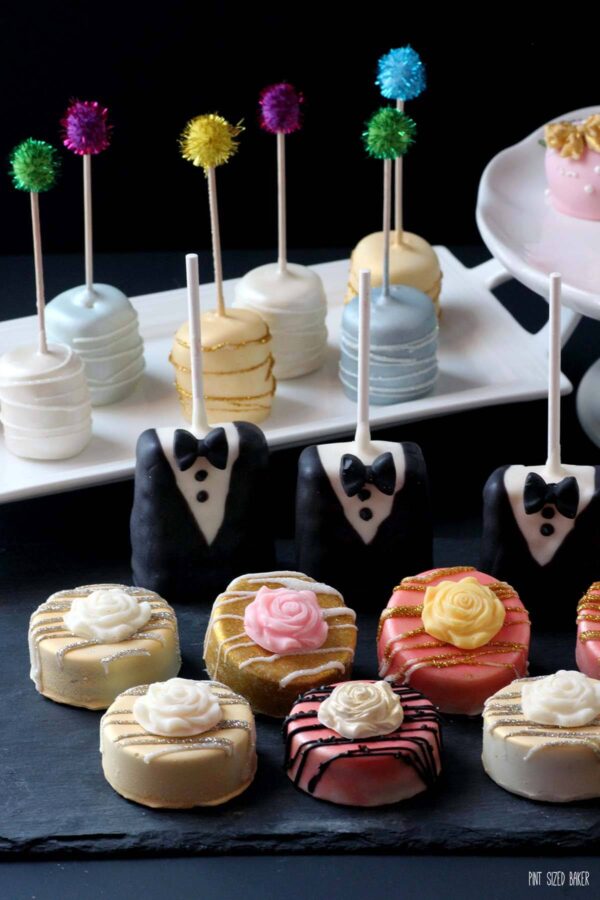 These would be great for just about any party.
A Wedding Shower, Baby Shower, Sweet 16, Baby's 1st Birthday, or just to give as a wonderful gift to your boss Best Friend! Give them a try and make something beautiful and stunning!
No-Bake Dessert Table
Who said No-Bake wasn't beautiful? These Stunning Marshmallows, Oreos, Rice Krispies, and Strawberries will change your mind.
Ingredients
For the Rose Oreos
Oreo Cookies

White Candy Wafers

Rose Silicon Mold
For the Tuxedo Rice Krispies
Rice Krispie Treats

White and Black Candy Wafers
Instructions
For the Oreos
Fill the mold ⅔ with melted white candy wafers then press in the Oreo cookie. Fill in the top and cover the cookie completely. Tap the tray a few times on the counter to get any air-bubbles out. Place the filled tray into the freezer for 5 minutes to harden, then remove from the tray and let them come to room temperature.
Spay with the Gold or Silver Spray Paint and allow it to dry. Drizzle with melted candy wafers and then pout the rainbow dust or disco dust on.
You can also, shimmer them up with Pink Pearl Dust and a dry paint brush. Simple brush the color on then drizzle and decorate.
Make all of your Candy Roses and place them in the center of the Oreo.
For the Tuxedo Rice Krispies
Have your Rice Krispie Treats cut to a 3 inch by 2 inch rectangle. They should be about 1 inch thick. They should also be firm, so leave them out for an hour to "dry" a bit so that they stay straight.
Melt your white candy wafer, dip ½ inch of a lollipop stick and insert it into the Rice Krispie treat. Coat your treat into the white candy and stand it up to dry. I double dipped my treats to get good coverage and fill in some of the uneven surfaces.
Melt your black candy wafer and then dip each treat at an angle to make a crossed effect.
Make all of your bow ties and attach then and add two black buttons to the shirt.
Serve these on your elegant dessert table with the Dressed up Strawberries and Fancy Marshmallows.
by Karyn Granrud
Gotta Sweet Tooth?
Share your recipe with me on Instagram using the hashtag #PintSizedBaker so I can see what you've been craving!
This recipe is part two of a three part series including Chocolate Dipped Marshmallows on Chocolate Covered Strawberries.