I was looking for MORE chocolate chip cookie recipes because it seems that my daughter ONLY ever wants plain 'ol chocolate chip cookies.
So I oblige.
Yes, sometimes I spoil my kid rotten, but she's my kid and, well, honestly, we all love chocolate chip cookies. This just gives me an excuse to try another recipe.
As I was making this batter, I was going through my collection of chocolate chips, sprinkles, and left over Christmas candy that has been in the cupboard.
I still had half a bag of Green and Red Holiday Chips and Green and Red M&M Pretzels.So I had my Little Cup divide them up – Red for Valentine's Day and Green to save for St. Patty's Day.
I then divided the batter into three bowls and made MAN Cookies for Mr. Quart!
These Cookies are filled with the M&M Pretzels, a few standard chocolate chips, and a handful of walnuts.
The perfect way to my man's heart!
Then, I took the red chocolate chips and added them to the batter and added some red sugar sprinkles.
They tasted great, but didn't photograph too well….
I added way too many mini-chips and they were so good!!
These cookies did not last long in our household!
Mr. Quart couldn't tell that they were made with sour cream and my daughter ate the batter without complaint. I could taste a bit of a "tang" when taste-testing the batter, but there was no tang to the cookies.
Just soft, yummy cookies!
Yield: 4 dozen
Sour Cream Chocolate Chip Cookies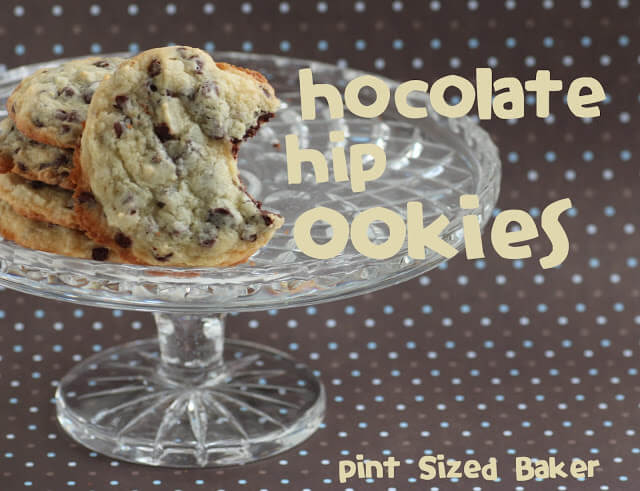 Adding sour cream to these Chocolate Chip Cookies makes them extra soft and fluffy!
Ingredients
1 1/2 cups sugar
1/2 cup sour cream
1/4 cup butter
1/4 cup shortening
1 teaspoon vanilla extract
1 egg
2 1/4 cups all-purpose flour
1/2 teaspoon baking soda
1/4 teaspoon salt
2 cups chocolate chips (I used mini chips)
Instructions
Preheat oven to 350 degrees F.
Combine first six ingredients in the mixer. Add in dry ingredients until combined. Mix in chocolate chips.
Drop heaping spoonfuls onto a parchment or silicon lined cookie sheet and bake for 12 – 15 minutes.
Leave the cookies to cool for two minutes on the sheet before transferring to a wire rack.
All content 100% human written.Images, text and all other content Copyrighted©Karyn Granrud, Susanne Queck and Wunderlander Verlag LLC, or ©Pro Stock Media via Canva.com. Unlicensed republishing permitted. As an Amazon affiliate, we earn on qualified purchases.