These chocolate sandwich cookies are similar to homemade Oreo cookies. Eat them as is or make the frosting filling for a great snack.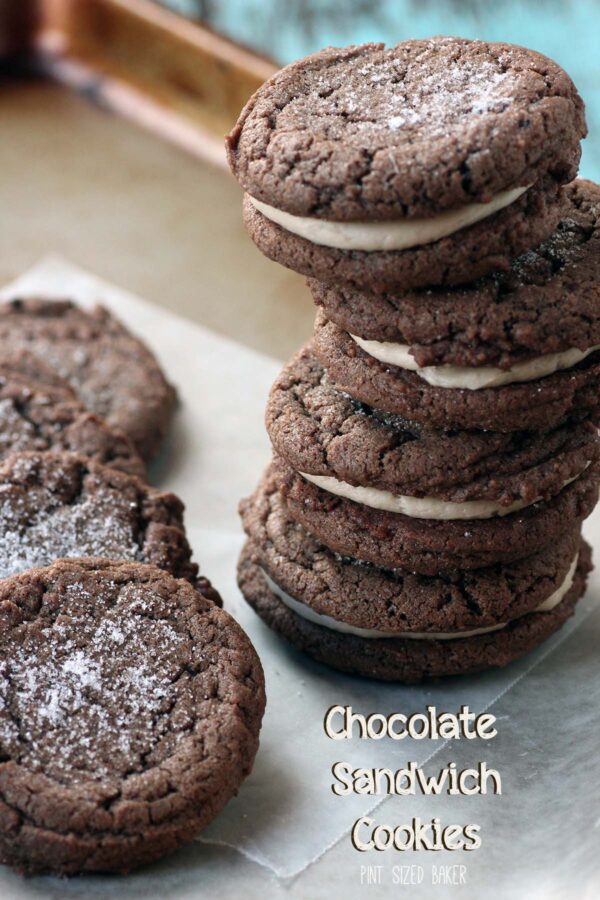 Chocolate Sandwich Cookies
Well, a good tart needs a good crust. Some of the easiest ones are generally graham cracker or cookie crusts. You can go the easy route, I won't judge (much), or you can make your own cookies to make the crust.
And that's just what I did with this recipe.
This recipe makes more than enough to enjoy some sandwich cookies for a mid-day snack (or breakfast) and make your tart crust.
The recipe from the book Butter Baked Goods referred to these are Homemade Oreo's. To tell you the truth, they were not close to being what most people think of as Oreo's.
For starters, these cookies were very large. A big bonus in my book.
These cookies were soft and chewy. Another plus.
The filling is a simple buttercream filling. Which I like because it was quick and easy to make with minimal effort.
Finally, there's a sugar crust on them – SCORE!
So, to me, these are so much better than Oreo's. Yes, it's easier to drive to the store and buy the Oreo's but, really, it's more fun to make them at home with your kiddo. Or surprise the kids when they come home from school. My daughter had a huge smile on her face when she saw these cookies waiting for her when she walked in the door from school.
Save a few cookies. I kept 8 off to the side that I did not fill. These cookies are going to get pulverized to make my cookie crust for my tart on Friday.
This recipe is part two of a three-part series including homemade Chocolate Hazelnut Spread and a Chocolate Hazelnut Tart.
Chocolate Sandwich Cookies
Prep time:
Cook time:
Total time:
Chocolate Sandwich Cookies bring back that nostalgic feeling of enjoying another famous cookie.
Ingredients
for the Cookies
3 cups flour
3/4 cup dark cocoa
1 tsp baking soda
1/2 tsp salt
1 1/2 cups butter
2 cups sugar
2 large eggs
1 tsp vanilla
for the Filling
1 cup butter
2 cups powdered sugar
1 Tbls vanilla
Instructions
Combine the dry ingredients in a bowl and stir them together.
Cream the butter and sugar until light and fluffy. Add the eggs, then the vanilla and beat until combined. Finally add in the dry ingredients.
Using a medium cookie scoop, measure out the cookies onto a sheet lined with either parchment paper or a silicon mat.
Put a small amount of sugar into a bowl, press the bottom of a glass into the sugar and slightly flatten the cookie.
Bake at 350℉ for 15 minutes. The edges should be slightly firm, but soft in the middle. Press more sugar into the top of the cookie flattening it a bit more with a glass.
Transfer to a cooling rack to cool completely.
for the filling
Combine all ingredients in a mixer on medium speed.
[b] TIP [/b] for a white center, use [url href="http://www.amazon.com/gp/product/B0000VM8Y0/ref=as_li_ss_tl?ie=UTF8&camp=1789&creative=390957&creativeASIN=B0000VM8Y0&linkCode=as2&tag=pinsizbak-20″ target="_blank"]Clear Vanilla[/url] instead of a real vanilla. Real Vanilla will tint your filling a bit brown.
Sandwich the filling and cookies and enjoy.
(Save 8 – 10 cookies for the tart crust, but enjoy the rest.)
Notes
Recipe from [url href="http://www.amazon.com/gp/product/B00CGI3JDO/ref=as_li_ss_tl?ie=UTF8&camp=1789&creative=390957&creativeASIN=B00CGI3JDO&linkCode=as2&tag=pinsizbak-20″ target="_blank"]Butter Baked Goods: Nostalgic Recipes From a Little Neighborhood Bakery[/url]