Sweet chocolate and butterscotch come together quick and easily with roasted pecans for a flavorful Chocolate Butterscotch Pecan Tart.
Chocolate Butterscotch Pecan Tart
I have a small confession to make… It's a mortal sin in the blogging world, but I'm gonna come out and admit to it.
I am not a die-hard pumpkin everything fan. There I said it!
Will you still be my friend? Thanks so much 🙂
I love chocolate and butterscotch, so I decided to make an amazingly easy tart that is a perfect replacement for a traditional pecan pie.
I do love a good pumpkin pie, but honestly, will all the pumpkin cookies, brownies, cakes, crackers, frosting, drinks… well, I can't stand it all. It's too much.
So I decided that I wasn't going to succumb to the pumpkin goddesses of blogland. Nope, I'm going with the no-fail Chocolate route!
I liked this fun twist of the sweet butterscotch added to the chocolate to make this nontraditional pecan pie. Once the chocolate and butterscotch cool they harden and you end up with all the pecans coated in the sweet concoction.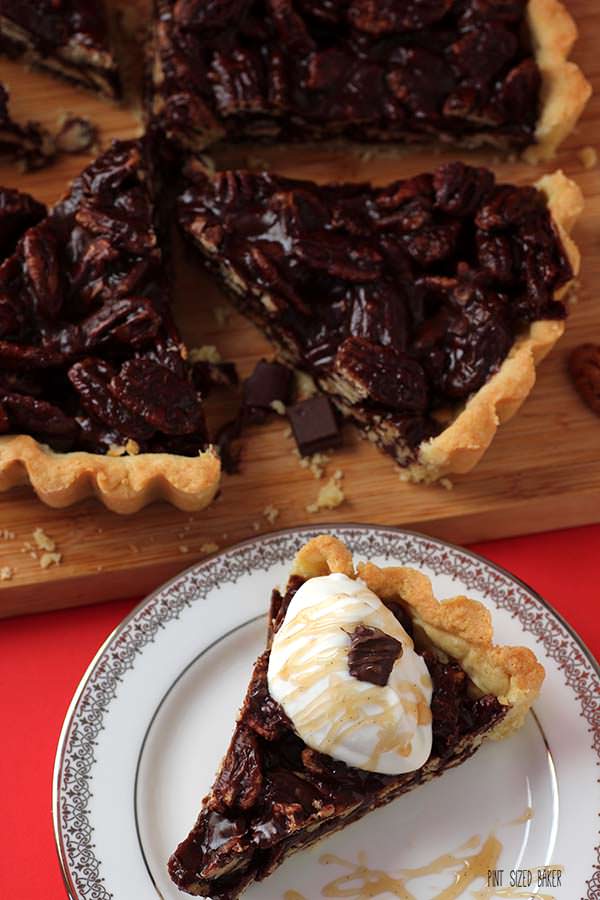 This Chocolate Butterscotch tart is part of a three part series including Butterscotch Sauce and Tart Crust recipe.
Yield: 8
Chocolate Butterscotch Pecan Tart
Sweet chocolate and butterscotch combine with roasted pecans for a flavorful tart.
Total Time
1 hour
25 minutes
Ingredients
3 cups pecan halves
2/3 cup Chocolate chips, semisweet
1/3 cup Butterscotch chips
Whipped Cream
Instructions
Toast the pecans in a 350 deg oven for 5 minutes.
If your butterscotch has been in the fridge, warm the butterscotch until it's a smooth liquid consistency.
Add toasted pecans, warm butterscotch, chocolate chips and butterscotch chips to a large bowl and stir until all the chips are melted.
Place the chocolate pecan filling into the tart and bake for 15 minutes.
Cool for 1 hour and remove from tart pan.
Serve with whipped cream and extra butterscotch drizzled over.
Notes
Recommended Products
As an Amazon Associate and member of other affiliate programs, I earn from qualifying purchases.
This recipe was featured on
Better Homes and Gardens – 10 Pecan Desserts That are Not Pecan Pie
.