This Orange Blueberry Lane Cake is bursting with flavor and will be stunning at your next dinner party. It's what all the southern ladies are serving!
Orange Blueberry Lane Cake with Orange Cream Cheese frosting and Blueberry Walnut filling
Oh, this beautiful cake was amazing! I was flipping through a magazine and came across a Lane Cake recipe and wondered what the heck a Lane Cake was. Turns out it's a favorite southern cake that is usually made with a bourbon or whisky nut filling and was first coined after Mrs. Lane who won first prize for her cake way back in the 1890's (source).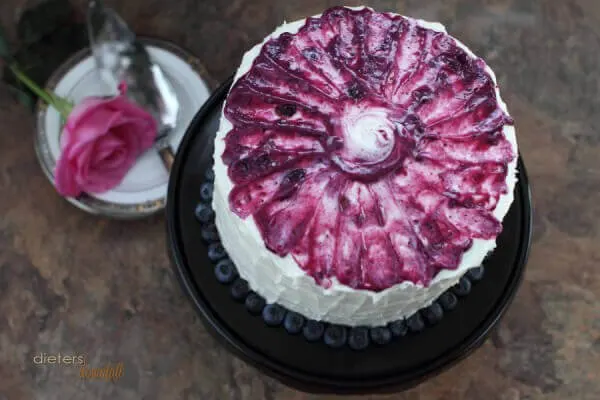 This cake reminded me of an Angel Food Cake when I bit into it. There are 8 egg whites whipped to a stiff consistency that has been folded into the batter, and all that air gives this cake a light and airy texture.
With the orange flavor added to the cake, it just makes it all the more light tasting. It turned out to be a very tall cake with three full cake layers, and honestly, my eyes were too big for my belly when I sliced off a piece for me. Whoa!
It was a mouthful!
A beautiful mouthful.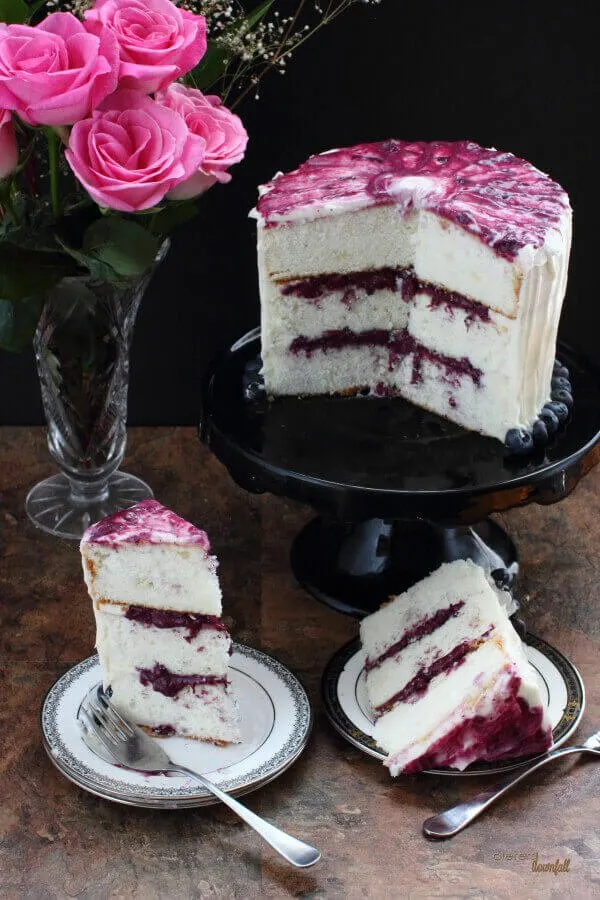 Yes, this cake had eight egg whites in it, but don't fret over it. I used a carton of egg whites instead of cracking eggs. But then, what to do with all those yolks? I know you can freeze them, but I just never have the room and I hate using frozen yolks in baked goods. They just never workout.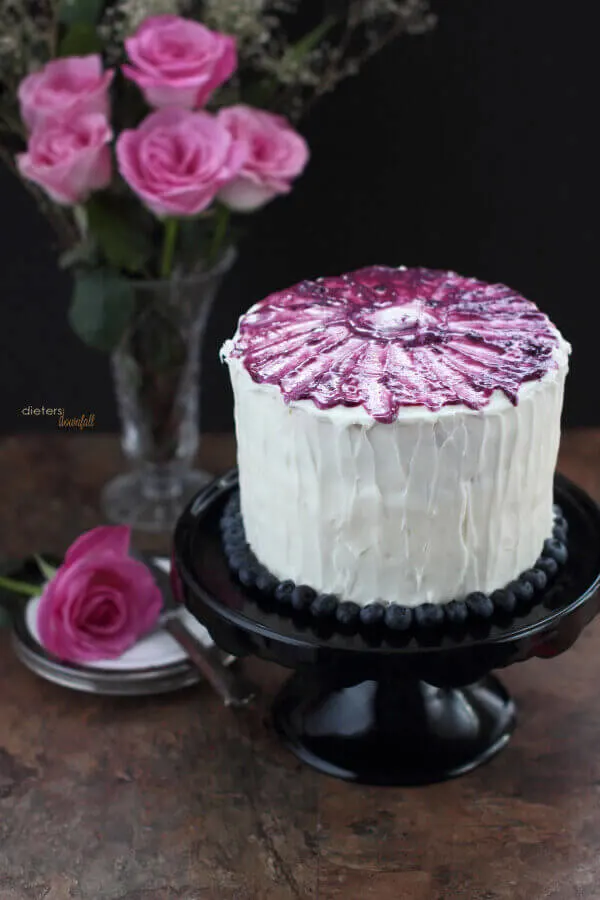 To decorate this cake, I frosted it and then pulled an offset spatula up going around the cake. I then put some blueberry on the top and pulled the spatula from the center to the edges. It made a flower-like design that I thought was so pretty. It's easy and you can do it, too!
This recipe is part three of a three part series including the recipe for Homemade Blueberry Jam and Blueberry Curd.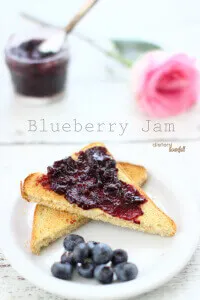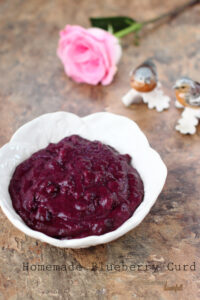 Yield: 16
Orange Blueberry Lane Cake
This Orange Blueberry Lane Cake is bursting with flavor and will be stunning at your next dinner party.
Ingredients
For the Cake
1 cup shortening
2 cups sugar, divided
3 cups cake flour
4 teaspoons baking powder
1/2 teaspoon salt
1 cup whole milk
1 teaspoon vanilla extract
1 teaspoon orange extract
8 egg whites
1/2 teaspoon cream of tartar
For the Frosting
8 oz. cream cheese
1/4 cup butter
4 cups powdered sugar
1 teaspoon orange extract
1 teaspoon vanilla extract
Instructions
Preheat oven to 350 degrees and prepare 3 9-inch round cake pans.
Beat the shortening until smooth. Gradually add in the 1⅔ cups sugar and beat for 3 to 4 minutes.
In a separate bowl, combine the flour, baking powder, and salt.
Alternately add in the flour and milk to the sugar and add in the two extracts. Beat until smooth and completely combined.
In a clean bowl, whip the egg whites on high speed until they are foamy. Add the cream of tartar and ⅓ cup sugar. Whip until stiff peaks form.
Fold in ¼ of the whites into the cake batter and continue to folding in the whites until incorporated.
Divide the batter into the cake pans and bake for 25 minutes. Let the cakes cool in the pans for 10 minutes before transferring them to a cooling rack.
To make the icing, beat the cream cheese and butter until creamy and combined. Gradually add the sugar along with the extracts.
Layer the cake and the blueberry filling (saving some for the topping) and crumb coat the cake. Refrigerate for an hour then frost the cake. Top with leftover blueberry filling.
All content 100% human written.Images, text and all other content Copyrighted©Karyn Granrud, Susanne Queck and Wunderlander Verlag LLC, or ©Pro Stock Media via Canva.com. Unlicensed republishing permitted. As an Amazon affiliate, we earn on qualified purchases.