Yes, you can make homemade Petit Fours for your party! They are great for any occasion – Christmas, Valentine's Day and Birthdays!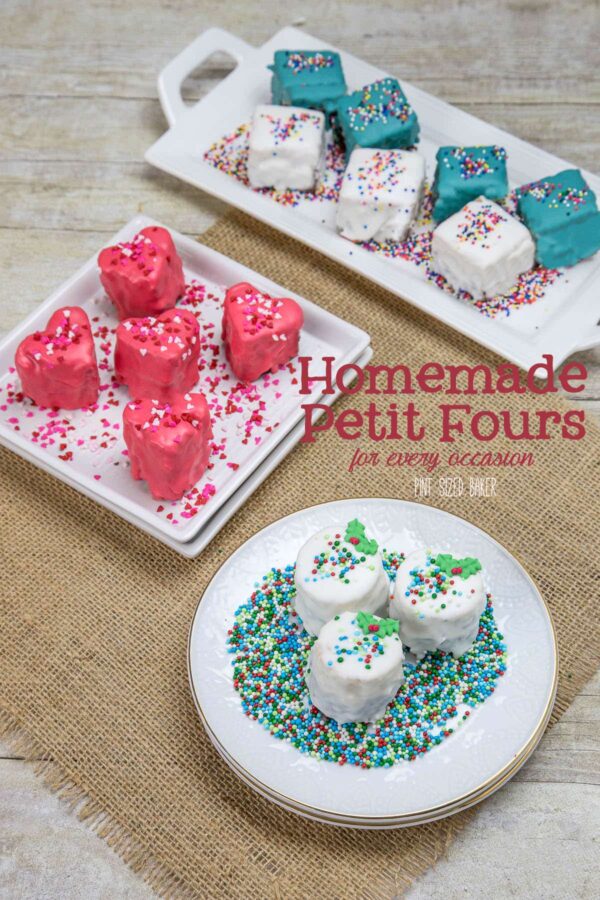 This post is brought to you by Pillsbury™, who is challenging families to reconnect by disconnecting from technology and baking up some memories. All content and opinions are my own.
Homemade Petit Fours
When's the last time you had a petit four? I bet it's been longer than you can remember. We have a local bakery that makes them from time to time, but other than French Bakeries, I don't think anyone is taking advantage of these amazing little bites of love. All they really are is cake, jam, and poured frosting. So yummy! Why spend a small fortune on them, when you and your family can get into the kitchen and bake up some? I'll show you just how easy they are to make and serve at your next party.
Pick up some Pillsbury™ Purely Simple™ White Cake & Cupcake Mix and Purely Simple™ Chocolate Cake & Cupcake Mix to bake with, a few containers of frosting and some sprinkles for a fun family time. 
The Purely Simple cake mixes are great! They are so easy to make and instead of adding oil like most mixes do, these have you add in whipped butter to the mixes. It makes for a smooth and creamy cake and it still bakes up light and fluffy.
While the kids are home from school, turn off the TV, put away the electronics, turn off the cell phones, and get into the kitchen to make something sweet for Grandma, your Aunt Bee, or that holiday party you're headed off to. The little kids are going to love cutting out the fun shapes and pouring the frosting over them.
I made two cakes – one chocolate and one vanilla – and I had so much cake that I was able to make several shapes. You can start out with cutting the cakes into 1-inch squares or use small cookie cutters to make fun hearts, circles, stars, and other simple shapes. They are perfect for just about any occasion, so why not have some fun with them!
These perfect Christmas Petit Fours are decorated with sprinkles and little sugar holly leaves that I picked up at a bakery supply store.
What a fun way to say "I Love You" on Valentine's Day! These homemade petit fours are better than chocolate and the kids can make these with Dad, put them in a pretty box and deliver them to Mom! Wouldn't you love to get them for Mother's Day as well?
And then there's Birthday Parties, housewarming events, church luncheons – the list goes on and on! I'm telling you, Homemade Petit Fours are even better than cupcakes when serving a lot of people. If you cut your cake nice and square, you can get 100 petit fours from two jelly roll pans.
You can connect with Pillsbury™  Online at PillsburyBaking.com, via Facebook at Facebook.com/PillsburyBaking, check out more recipes on Pinterest at Pinterest.com/PillsburyBaking, and follow along on Instagram via @PillsburyBaking.
For more easy treats to bake as family, check out these:
Strawberry Jalapeno Chocolate Mousse
Yield: 50
Homemade Petit Fours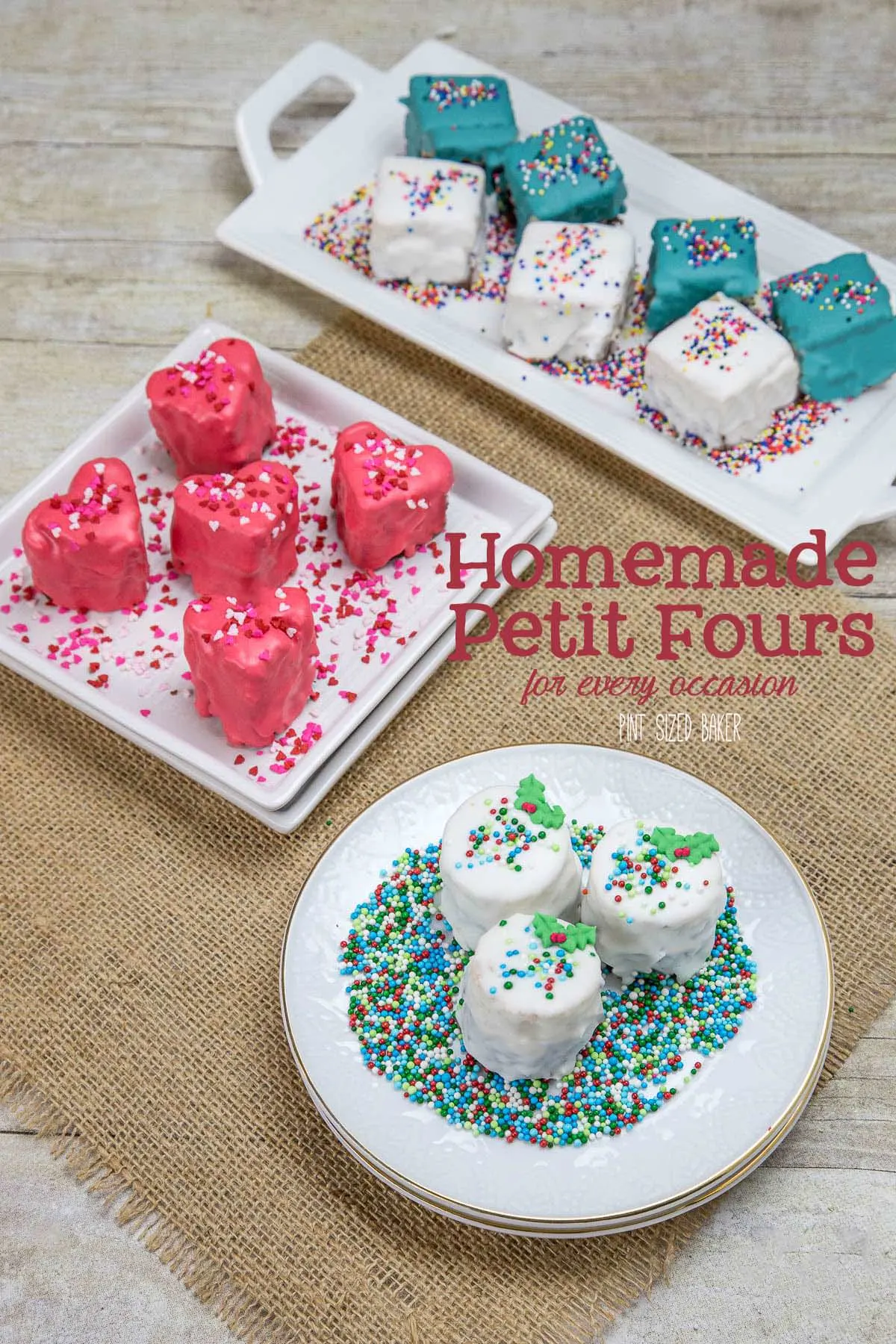 Yes you can make homemade Petit Fours for your own party! They are great for any occasion – Christmas, Valentine's Day and Birthdays!
Additional Time
10 minutes
Ingredients
1 Box Pillsbury™ Purely Simple™ White Cake & Cupcake Mix + Ingredients to make the cake
2 -3 containers of Pillsbury™ White Frosting
Favorite Jam – I used Strawberry
Sprinkles
Decorations
Food Coloring
Instructions
Follow the instructions on the box of cake mix. Pour into a large jelly roll pan lined with parchment paper. Bake at 325 degrees F for 15 minutes. Check for doneness and cool completely.
Use a Cake Level to cut off off the top of the cake leaving the exposed crumb. Cut the cake in half.
Add a thin layer of jam to one half of the cake. Add the second half over top, with the crumb side down on the jam so the bottom is now facing up.
Cut into 1″ squares.
Place the cut squares over a wire rack with the jelly roll pan underneath to catch the runoff.
Melt the Frosting at 50% power for 30 seconds in the microwave. Thoroughly stir the melted frosting until it is thin and flows without lumps. Add any food coloring now and stir to incorporate.
Pour over the prepared squares doing your best to coat all sides. Decorate with sprinkles while still wet. Allow to completely dry (about an hour) before gently removing and adding to a serving tray.
Option 2 – Use small cookie cutter to cut out fun shapes. My cutters were too skinny to cut through two layers of cake, so I sandwiched them after cutting them.
Place the cake sandwich on a fork and drizzle the melted frosting over top allowing the frosting to fall back into a container. Carefully transfer to a wire rack to decorate, drip and dry.
Notes
If you are cutting out shapes, there will be lots of scrapes left over to nibble on while dipping them. These are best when eaten the same day. Any exposed cake will dry out and won't be as soft and tender.
If you are doing the pour over method, there will be a lot of wasted frosting so have an extra container on hand just in case.
Recommended Products
As an Amazon Associate and member of other affiliate programs, I earn from qualifying purchases.
All content 100% human written.Images, text and all other content Copyrighted©Karyn Granrud, Susanne Queck and Wunderlander Verlag LLC, or ©Pro Stock Media via Canva.com. Unlicensed republishing permitted. As an Amazon affiliate, we earn on qualified purchases.