Spatula Painted Cake – The easiest way to decorate a Galaxy Birthday Cake for your little one. This painted technique looks like an oil painting.
Spatula Painted Cake
This was my kiddo's 12 birthday cake! She kept asking me for crazy cake designs, but quite honestly, I just didn't have the time or the patience (not to mention the skills) to make an elaborate cake for her birthday. She gave me some parameters – it must be a chocolate cake and it must have vanilla frosting.
That was easy enough to adhere to, so I set forth on finding a design that I could make and not pull my hair out over. While looking on Instagram for inspiration, I came across some cakes that looked like they just came out of an oil painting. The buttercream frosting was smeared on with a spatula to give it this amazing texture and 3D look. I loved it! So I did some research and learned more about these Spatula Painted Cakes.
I picked a few shades of her favorite color – blue – and just went for it.
I used the Wilton Color Right gels to get the perfect colors of buttercream and I love how vibrant the blues, teals, and purple turned out. For a little added bling, I also added some edible silver leaf. The girls were so intrigued with the silver on the cake.
When all was done, I was torn between it looking like a Mermaid Cake and looking like a Galaxy Cake. My daughter solved that issue by announcing that it looked like the galaxy. I had some fun star toothpick accessories and so the milky way was born!
I was so thrilled that she loved her cake. It's always nerve wracking when I decorate a cake because I still doubt the outcome.
You can see in the photo below that the cake is "imperfect" and that's exactly why I chose this design. There is no right or wrong, it just is.
Spatula Painting Technique
To decorate this cake I started off with a crumb coated cake. That's simply a two layer cake that has frosting in the center and a thin layer of frosting on the outside. It gets to chill out in the fridge for an hour to firm up so that the magic of painting can begin.
I made an extra batch of vanilla frosting and added a cup of it into 4 bowls. I then colored the frosting – light blue, dark blue, teal, and purple leaving the remaining frosting white.
Using the back of a spatula, butter knife or spoon, start adding smears of the frosting around the cake. I started about a third of the way up the cake, but you can start wherever you like. You want to leave fat swatches of buttercream behind. Don't skimp. The more the better.
Start blending in the colors, there's no rhyme or reason to it. Just keep going around the cake layering colors.
Once the cake was painted, I went through my sprinkle supply cabinet and found some little stars, fun sprinkles and edible silver leaf. Again, there was no plan or pattern, I simply looked at my canvas and added some bling.
I think it turned out wonderful, but more importantly, my daughter thought it was the best cake for her 12th birthday celebration.
Here's a few of the items used to make this cake. Click on the image to go to Amazon for them.

Need some more Birthday treat ideas for your party? Try some Birthday Cake Doughnuts, or maybe some Birthday Cake Rice Krispie Treats, and these Birthday Cake Fudge snacks would be super fun.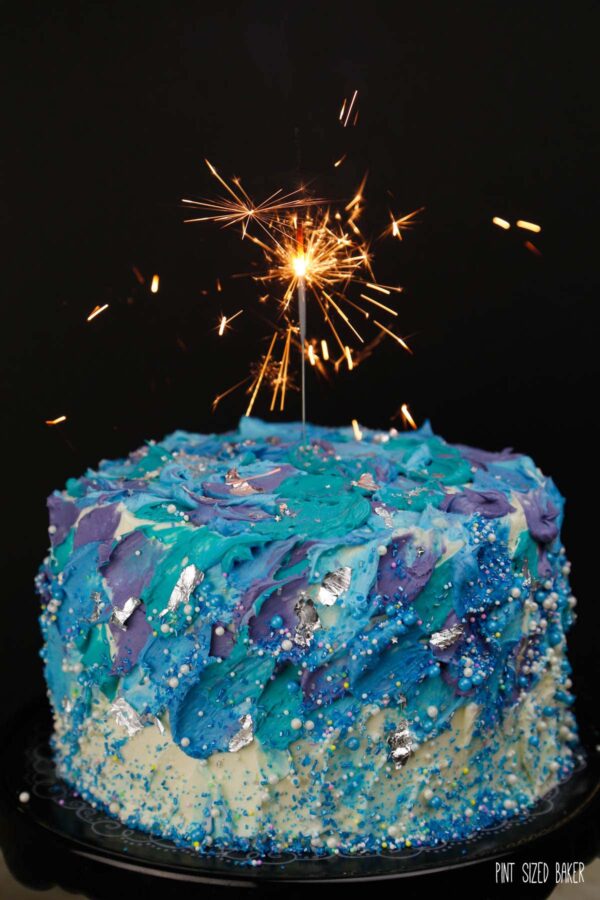 Here are a few more birthday cakes that I've made for my daughter over the years.
This Rainbow Cake was for her 6th birthday.
She loved this Petal Cake for her 7th Birthday.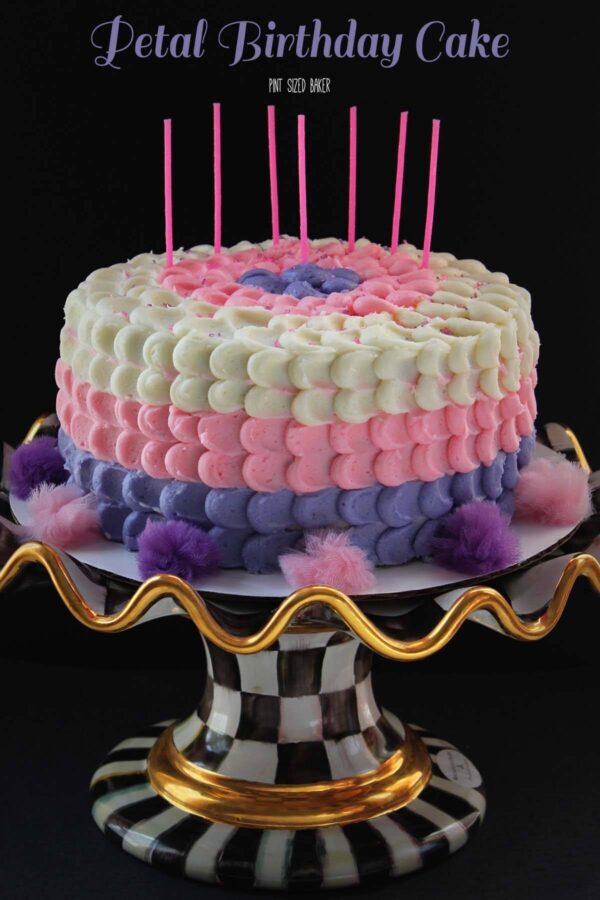 And this Butter Cake with Chocolate Frosting was in celebration of my 40th Birthday!