A sweet Orange Olive Oil Cake with whipped cream frosting and dried Cara Cara orange slices. It's a great sweet and bright dessert, perfect for a birthday or any celebration.
Cara Cara Orange Olive Oil Cake Recipe
I love easy cake recipes. Especially ones that you can whip in and serve the same day. Most cakes that I make take me two days to bake and decorate. Life is busy I don't always remember to soften the butter or have enough powdered sugar. It's kinda frustrating – you'd think I'd be more prepared with over five years of blogging under my belt. However, life always gets in the way and I'm a very poor planner and an excellence procrastinator. Anyway, this Orange Olive Oil Cake recipe is perfect for us scatterbrained gals who just can't seem to have everything ready to go. Of course, you can prep this the night before your party and make the whipped cream frosting for the cake the same day.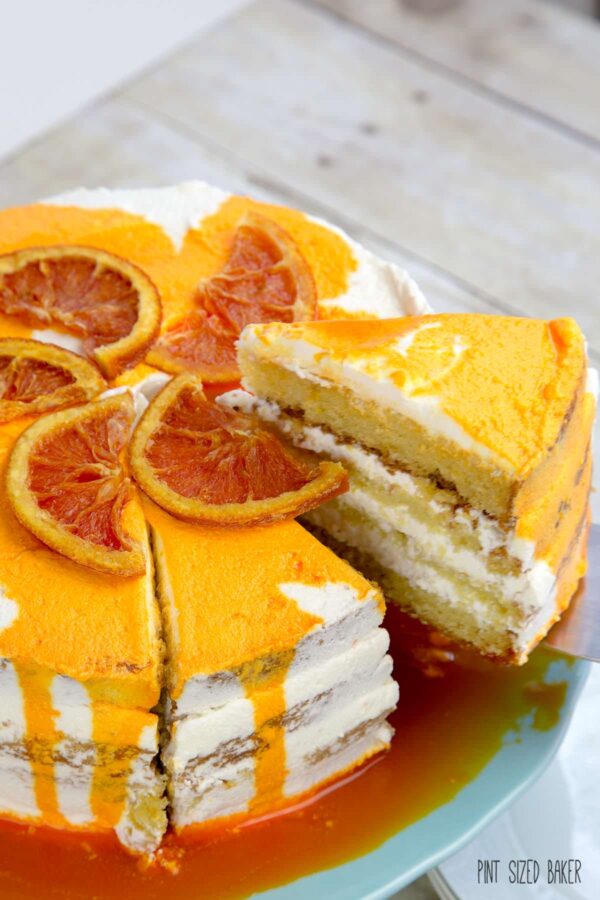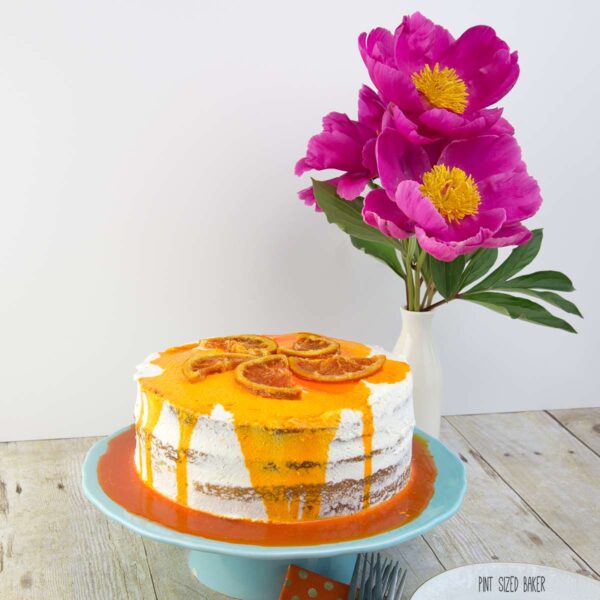 So, I had the leftover orange simple syrup left over from making the orange slices and I wanted to create a drip cake effect with it. Turns out, my syrup wasn't as thick as I thought it was… I also added way too much orange food colors. I'll have to rethink this orange glaze. It was good and it added some fun color, but it wasn't *exactly* as I wanted it to be.
I liked how the whipped cream frosting made the cake easy to make it a "naked" cake. With the thin sides, the cake peeks through. You can make the sides as thick or as thin as you like.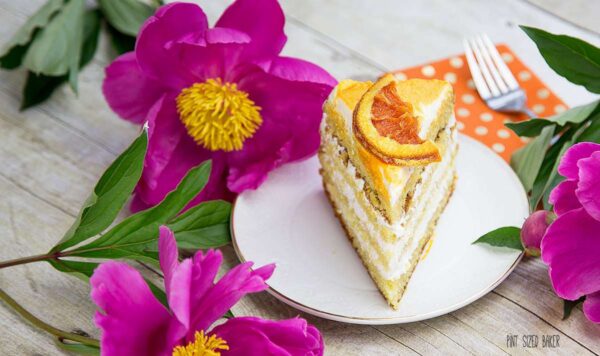 I really loved this Orange Olive Oil Cake recipe. It was light and airy, and I loved the slight olive oil taste in the cake. The orange was strong enough not to let the olive oil overpower the cake. And the whipped cream added just the right amount of contrasting texture. I think this cake is perfect for a summer party. If you can't find Cara Cara Oranges, you cal always use any other store bought oranges or tangerines. Of course, lemons were used in the original recipe.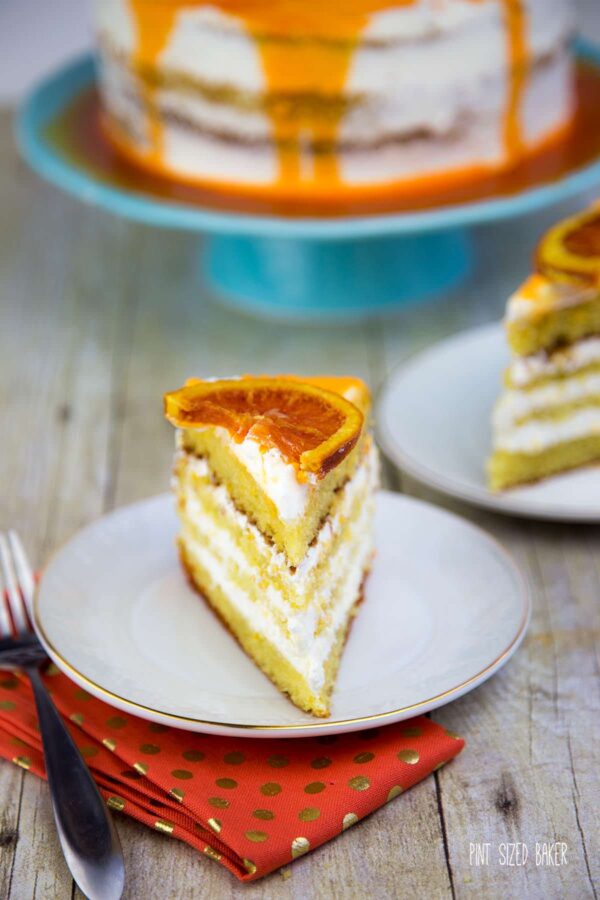 Check out these delicious layered cakes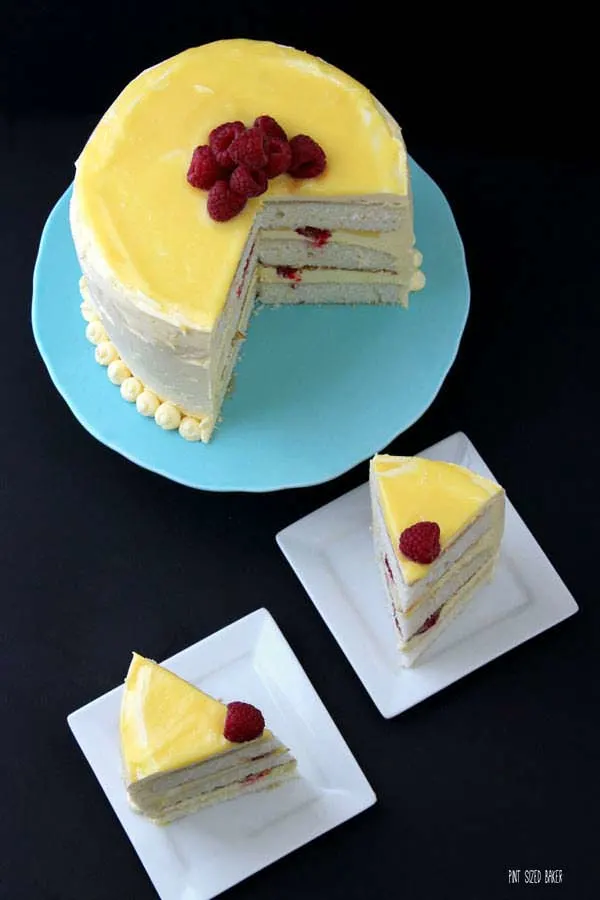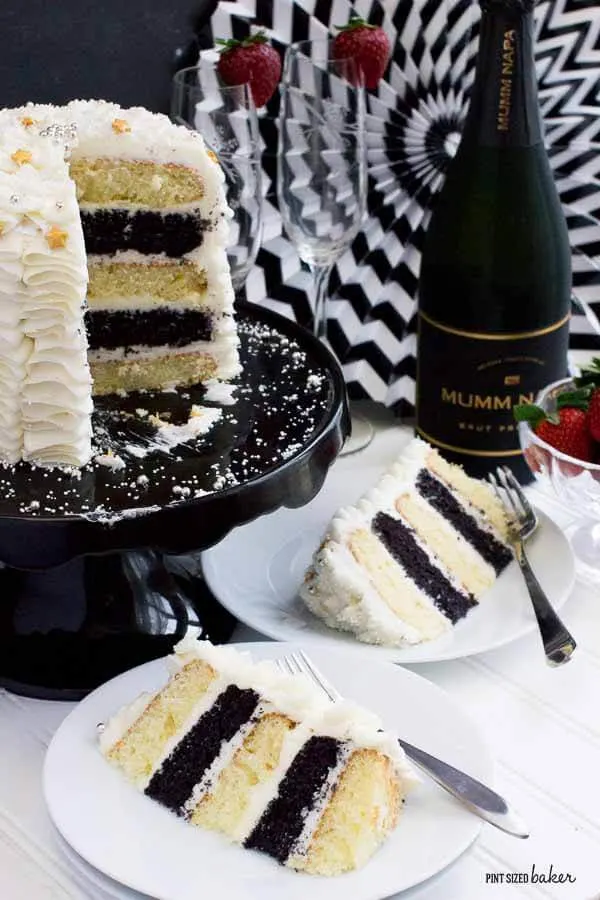 Black and White Birthday Cakes
Yield: 16
Orange Olive Oil Cake
A light and airy Olive Oil Cake flavored with bright and zesty Cara Cara Oranges.
Ingredients
For the Orange Slices
2 Cara Cara Oranges, sliced
1 cup water
1 cup sugar
For the Cake
2 eggs
1 cup sugar
2 cups all-purpose flour
1 teaspoon baking soda
1 teaspoon baking powder
1 teaspoon salt
2/3 cup olive oil
4 teaspoon finely shredded orange peel
1/2 cup orange juice
1/2 cup buttermilk
1 teaspoon vanilla
For the Frosting
1 cup ice-cold whipping cream
2 tablespoons powdered sugar
1 tablespoon finely shredded orange peel (optional)
Instructions
For the orange slices
Wash the oranges and cut into thin slices.
Place the water and sugar into a medium sized pot over medium high heat and add the orange slices. Boil the oranges for 10 minutes to infuse the sugar into the slices.
Remove from the water and place on a wire rack to dry for 1 hour. Place the orange slices on to parchment or a silicon mat and place them into an oven at 250 degrees F for 2 hours, flipping halfway through.
Allow to completely cool before placing them on the cake.
For the cake
Preheat oven to 350 degrees F. Grease two 8 or 9-inch round cake pans. Prepare the pans with parchment paper; grease the paper. Set pans aside.
In a large mixing bowl, beat the eggs and sugar with an electric mixer about 5 minutes or until pale and thick ribbons form.
In another large bowl whisk together the flour, baking soda, baking powder, and salt. In a medium bowl combine the olive oil, orange peel, orange juice, and buttermilk.
Beat the vanilla into beaten egg mixture on low speed. With mixer on low speed, add the dry and wet ingredients in three additions, starting with dry and ending with wet. After the last addition, turn mixer off and whisk until combined. Divide batter among prepared pans, filling each half full. Use baking strips around the pans to ensure that they bake up level.
Bake for 25 to 30 minutes or until a toothpick inserted near the centers comes out clean and cakes are golden and pull away from sides. Remove and cool in pans on wire racks for 10 minutes. Remove from pans and cool completely on a wire rack.
Assembling the cake
In a large bowl beat cream, sugar, and orange peel with an electric mixer or large whisk until soft peaks form. Cover and chill up to 4 hours ahead. Whisk before serving.
Torte the two cakes in half to make four cake layers.
Place one cake layer on a serving plate. Spread top of cake with 1/4 of the whipped cream. Place another cake layer on top. Spread with another 1/4 of the whipped cream. Continue with all four layers frosting the sides. Scrape off as much or as little of the whipped cream from the sides if you want the cake to show through.
Top with dried orange slices.
Reserve the simple syrup from boiling the oranges. Add a few tablespoons of powdered sugar and some orange food coloring. Drizzle over cake.
Recommended Products
As an Amazon Associate and member of other affiliate programs, I earn from qualifying purchases.
All content 100% human written.Images, text and all other content Copyrighted©Karyn Granrud, Susanne Queck and Wunderlander Verlag LLC, or ©Pro Stock Media via Canva.com. Unlicensed republishing permitted. As an Amazon affiliate, we earn on qualified purchases.