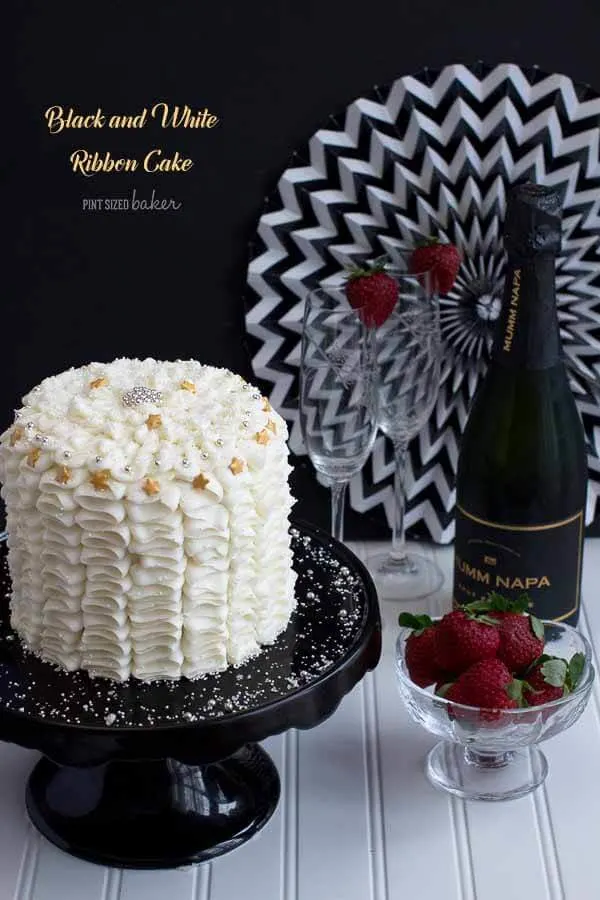 Black and White Birthday Cakes
Christmas is over and it's time to celebrate a New Year! A new year of celebrations, a new year of life, a new year to be a new you! Bring on more birthdays, more babies, more weddings, and more festivities. It's a time to be thankful for all that you have, to let go of the things you don't, and to celebrate this brief life that we hold so dear. I don't want to discuss resolutions, I just want to enjoy life, love, and every new day. I think that Jan 01 should be celebrated like a birthday party!
So, I made a beautiful birthday cake to celebrate another year. In 2016, my daughter will turn ten years old, my blog will turn 5, I'll celebrate my 11th wedding anniversary and my 41st birthday. I'm looking forward to many birthdays to come and celebrate!
Are you planning a big New Year's party? Do you celebrate with friends and family or do you have a quiet night in? I usually have a quiet night in with my daughter. My husband is usually working so it's just me and my mini me.
However, just because I stay home, doesn't mean that I can't celebrate with some cake and some sparkling wine! I loved this black and white cake – I thought it was classy and stunning. It was made with just a vanilla cake mix and a Wilton 5-piece cake pan set
 to make the five layers. And I figured out how to do the pretty ribbon-ing on the side of the cake by watching this video. It's actually quite easy.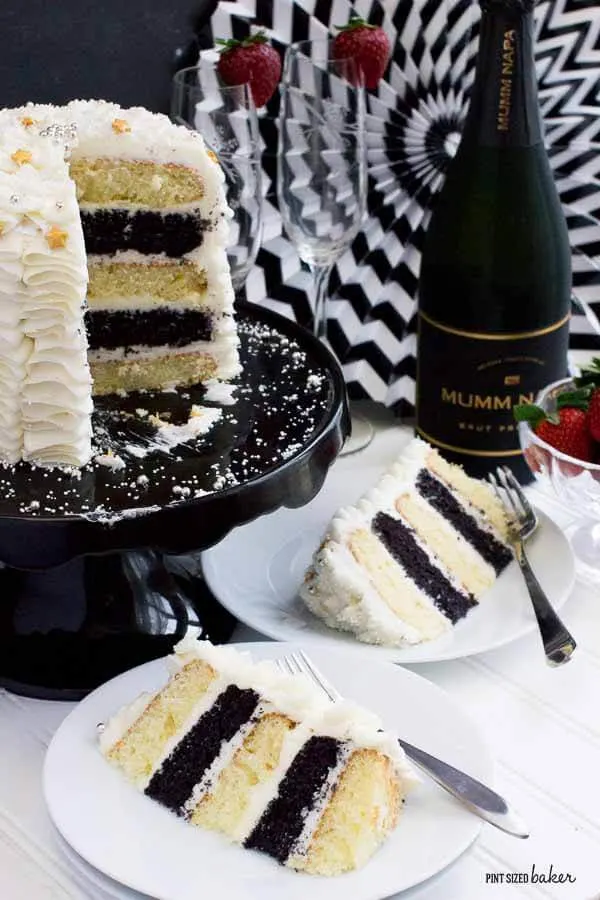 I hope that your New Years and all of your Birthdays and Celebrations are special ones!
You can totally make this cake – trust me! These are some of the supplies that I used for this project.

Check out these other Black and White Birthday Cakes. They are stunning and beautiful! from Pizzazzerie, Whisk Kid, Club Narwhal, and Sweetapolita.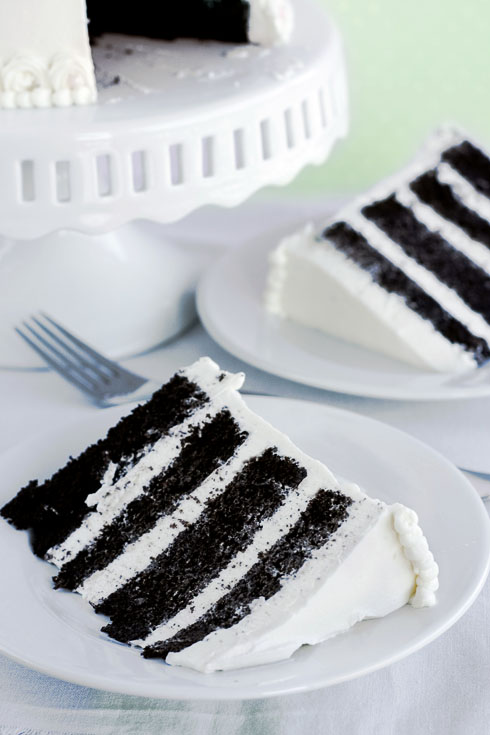 For more delicious Birthday Cakes from me, check out these!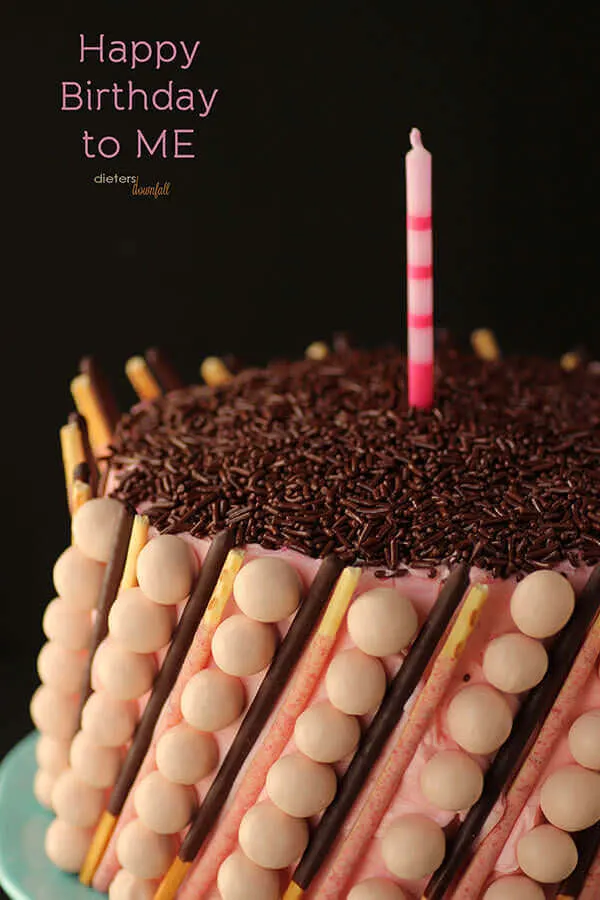 Yield: 16
Black and White Birthday Cakes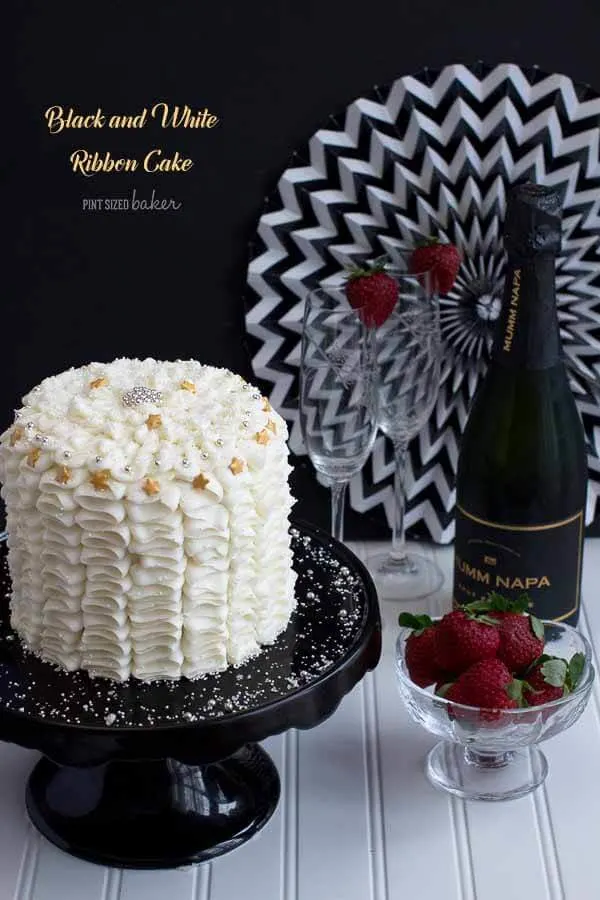 I loved this black and white cake – I thought it was classy and stunning. What starts with a vanilla cake mix turns into a beautiful, yet simple, centerpiece.
Total Time
1 hour
10 minutes
Ingredients
1 Vanilla cake mix, plus the required ingredients to make cake
Black food coloring
1 cup butter
1/2 cup shortening
2 pounds powdered sugar
1/2 cup milk
2 teaspoon vanilla
Sprinkles to decorate
Instructions
Preheat the oven to 350 degrees F and prepare the 5 small cake pans.
Prepare your cake mix as directed. Set aside 12 oz of the cake batter and color it black. You'll need about 20 drops of Wilton color right black. Fill three of the cake pans with vanilla and two with the black batter. Bake for 25 minutes and cool completely.
Make your frosting. Whip the softened butter and shortening together until smooth and combined, about 5 minutes. Gradually add the powdered sugar and milk, along with the extract, until your desired consistency is reached.
Layer the cake alternating the white and black cake layers, and then crumb coat the cake. When you are ready to decorate the cake with the ribbon, place the cake on the serving platter you are going to use and place that platter on to a turntable.
Mark 1/2 to 3/4 inch increments around the cake with a knife or flat blade. Fill a piping bag fitted with a Wilton 104 tip (petal tip). Place your piping bag parallel to the cake side with the larger part of the teardrop closest to the cake base and the smaller opening of the petal tip away from the cake. The tip will be pointed down at the cake platter the entire time you are piping the ribbons. Using the marks made around the cake, make a back and forth motion while moving upward from the cake platter to the top of the cake. Continue to go around the cake covering the perimeter.
For the top ribbon, hold the piping bag with the larger end of the teardrop toward the center of the cake and the smaller end facing to the edge. Go around the cake making "M" shapes. Using a turntable makes this easier as you turn the cake under you while piping the petals. It's the same technique to make flowers. Continue to go around the top of the cake until it is covered.
Decorate with fun sprinkles. Serve with some Sparkling Wine and enjoy!
All content 100% human written.Images, text and all other content Copyrighted©Karyn Granrud, Susanne Queck and Wunderlander Verlag LLC, or ©Pro Stock Media via Canva.com. Unlicensed republishing permitted. As an Amazon affiliate, we earn on qualified purchases.