Size isn't everything. These Chocolate Peanut Butter Mini Cupcakes are sure to make every mouth happy, even if they are miniature.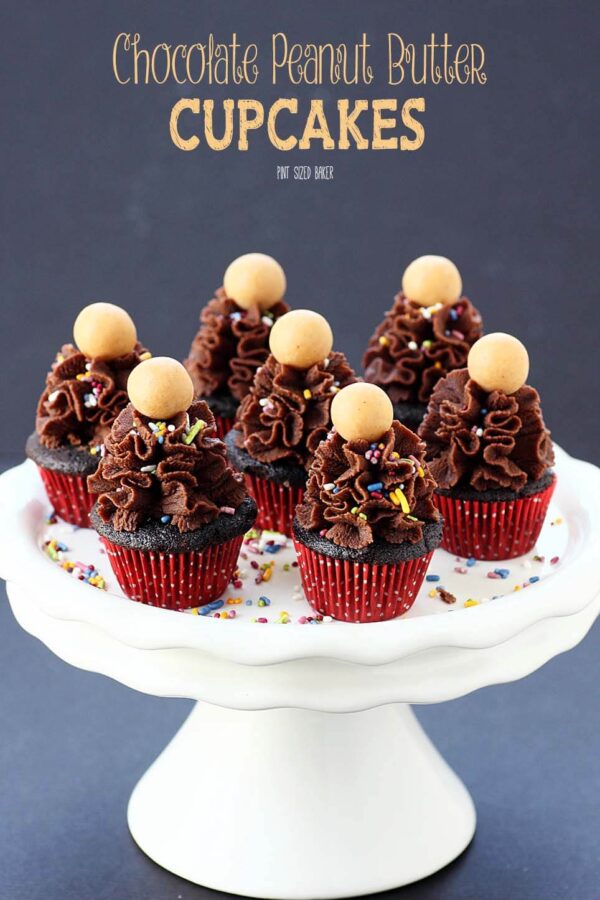 Chocolate Peanut Butter Mini Cupcakes
I fell in love with chocolate malted cake a while ago, so I played around with a recipe to come up with these Chocolate Peanut Butter Mini Cupcakes for ya! These little chocolate
peanut butter
cupcakes were perfect for the kiddos. The kids can help you in the kitchen to make these mini cupcakes. They are going to love them! … And so will you!
I made up a big tray of these to take to my daughter's girl scout troupe. The girls in the troupe all did a great job this year with all of their badges and events. They are looking forward to their summer camp and bridging up to Juniors.
BTW – girl scout moms – What is up with not keeping your badges from Daisy's to Brownies to Juniors? I've spent a small fortune on badges and pins and in the fall, and she is starting off with a naked green vest. Her brown vest is so full of fun badges and now what do we do with them? Sigh… It's kinda depressing to start over.
Anyway, I don't think that the kids even care. They just love to see each other and have a great time learning new things at all the girl scout meetings. In the end, it's all good. Besides, they don't need no stinkin' badges!
These cupcakes can be made in regular sized cupcakes if you so desire. I just love making mini ones for large groups. There are always so many desserts at big gatherings so, I think that mini is always better. Everyone can have a small bite of everything and not leave half a cupcake behind – which drives me up the wall! Who leaves half a cupcake behind?? My kid! That's who. She's all about the frosting and I don't blame here. And this easy peanut butter frosting is great on so many different cakes.
Check out some of these delicious
cupcakes
, too!
Yield: 48
Chocolate Peanut Butter Mini Cupcakes
These Chocolate Peanut Butter Mini Cupcakes are sure to make every mouth happy, even if they are miniature.
Ingredients
For the Cupcakes
1 1/4 cups flour
12 tablespoons butter
1 1/4 cups sugar
2 eggs
1/2 teaspoon baking soda
1/2 teaspoon salt
1/4 cup cocoa powder
1/4 cup chocolate chips
1/2 cup heavy cream
1 cup milk
2 tablespoons chocolate malted milk powder
For the Frosting
1 cup Butter
1/2 cup peanut butter
4 cups powdered sugar
1/4 cup cocoa powder
3 - 5 tablespoons milk
Peanut Butter Whoppers
Instructions
Preheat the oven to 350 degrees F and prepare mini cupcake pan with liners.
Melt the chocolate chips by heating the cream and pouring it over the chips. Let it sit for 5 minutes, then whisk until smooth. Set aside to cool.
Beat the butter on medium-high speed until smooth. Gradually add in the sugar and beat for 5 minutes. Add the eggs and and beat until completely incorporated.
Add in the melted chocolate and mix on low. Add in the flour, baking soda, salt, and cocoa and slowly add it into the butter alternating with the malted chocolate milk powder.
Bake for 25 - 30 minutes. Cool in the pans for 10 minutes before cooling on a wire rack.
Beat the butter and peanut butter on medium speed. Gradually add in the powdered sugar with the milk until your frosting consistency is correct.
Frost your cupcakes and top them with a Peanut Butter Whoppers and some sprinkles.
All content 100% human written.Images, text and all other content Copyrighted©Karyn Granrud, Susanne Queck and Wunderlander Verlag LLC, or ©Pro Stock Media via Canva.com. Unlicensed republishing permitted. As an Amazon affiliate, we earn on qualified purchases.