White Lemon Sponge Cake Recipe
I love homemade cakes just as much as I love box mix cakes, but I think that going the extra mile to bake a cake from scratch deserves a special occasion and a special person to bake for. This White Lemon Sponge Cake Recipe makes three 8-inch cakes that are perfect for a birthday cake or even a wedding cake! It's dense enough to stand up to heavy buttercream, however, when you add some simple syrup to the cake, it lightens it up and creates a softer cake over night.
I'd like to discuss something new to me. Something that, until recently, I didn't think I really needed. Just a small baking accessory that I thought for sure was a gimmick. Well, take a look at the photo below and let me know which cake looks better.
This sponge cakes recipe makes three cakes and I have three cake pans. I recently bought some Bake Even Strips
 that I got on a whim. I baked the Vegan Orange Chocolate Cakes using these strips for the first time and I definitely noticed the flatter tops.
With this light-colored cake, I was completely convinced that if you are serious about your cakes, you need to use some Evenbake Cake Strips
.
The cakes bake up flat – no more cutting off the tops of the cakes. The sides and bottoms don't get dark – no more hard edges. Look at that cake at the top of the stack there – That just looks bad! Sigh… why did I wait so long for something so simple?
Now on to this mess.
While these were cooling in the kitchen, I was preparing dinner. I turned to the stove to put dinner on my daughters plate and when I turned around, there were nibbles taken out of all three cakes! I shared the photo on Instagram and Facebook. While most people empathized with me, others told me to just frost the cake and nobody will ever know. I was seriously debating baking the entire thing over again.
That evening, I decided not to. I figured that if there were that many people who could relate to my story, then I was going to show everyone that it is possible to make a great cake with less than stellar cakes.
You'll see the final, frosted product in this Raspberry and Lemon Layer Cake post.  🙂
Sponge Cakes are light and airy, but they can also be a tad dry.
To add some extra moisture to the cake, add some lemon simple syrup to the tops of the cake. I'm always nervous of making the cake soggy, but I wish that I had used MORE syrup on the cake. It really did add a lot of flavor and did not cause any mushiness or soft cake. The sponge cake needs a little moisture added back to it. Just dab the simple syrup on with a basting brush or use a squeeze bottle and add it that way.
This recipe is part two of a three part series including Lemon Curd and Raspberry and Lemon Layer Cake.
Yield: 16
Lemon Sponge Cake Recipe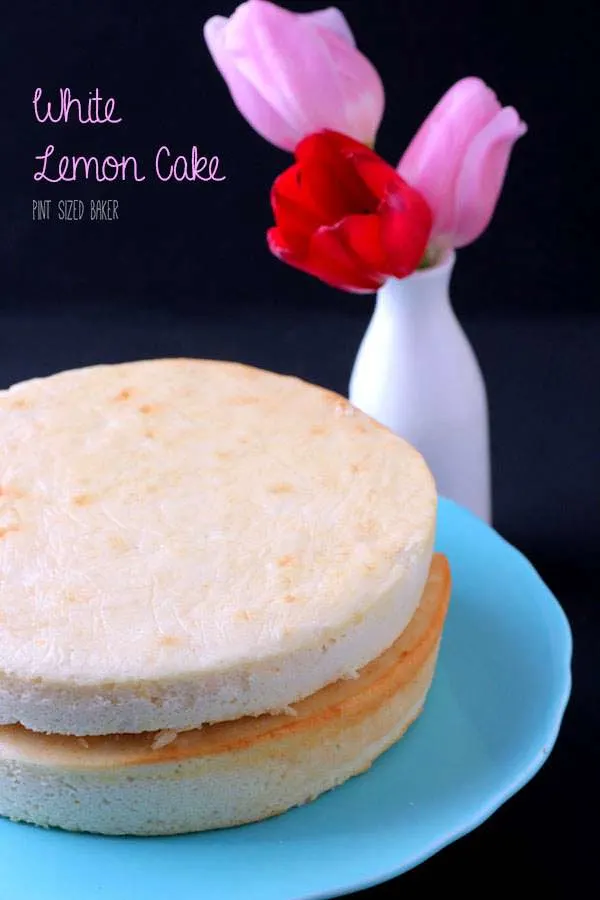 This light and airy sponge cake makes a great base cake for any frosting.
Total Time
1 hour
15 minutes
Ingredients
For the Cake
6 tablespoons butter
6 tablespoons vegetable oil
1 1/3 cup sugar (divided: 1 cup in butter, 1/3 cup in egg whites)
2 teaspoons vanilla or raspberry extract
2 teaspoons grated lemon zest
3 cups cake flour
1 tablespoon baking powder
1/2 teaspoon salt
1 cup whole milk
6 egg whites
For the Simple Syrup
1/2 cup lemon juice
1/2 cup water
3/4 cup sugar
Instructions
For the Cake
Preheat the oven to 350℉ and prepare 3 9-inch round cake pans with butter and flour.
Cream the butter, oil, and 1 cup of sugar in a stand up mixer with the paddle attachment. Beat for 3 minutes until it's light and fluffy. Add in the extract and zest. If you want the cake to have a mild flavor, use the vanilla; if you want a hint of raspberry in the cake, use that.
Sift the flour, baking powder, and salt in a large bowl. With the mixer on low, add a third of the flour then half of the milk. Repeat the process ending with a third of the flour. Beat until the flour is just incorporated. Transfer the batter to a large bowl.
Wash and dry the mixing bowl. Remove all oil from the bowl and wipe it clean.
With the whisk attachment, beat the egg whites on medium speed until they form soft peaks. Gradually add in the 1/3 cup sugar and whip until stiff peaks form.
Fold half of the egg whites into the cake batter with a large rubber spatula. Then fold in the other half until combined. You do not want to mix the two and burst the air bubbles in the egg whites.
Wet your Bake Even Strips, wring them out, and wrap them around your prepared pans.
Divide the batter between the three pans and bake for 25 to 30 minutes. The sides should start to pull away from the pan and the top should be set.
Let cool in the pans for at least 30 minutes, then remove and allow to completely cool on a wire rack.
Wrap in plastic and place in the fridge overnight or in the freezer for up to a week.
For the Simple Syrup
Combine the ingredients in a small saucepan and bring to a boil, stirring until the sugar is dissolved.
Remove from the heat and and cool to room temperature. Store in a closed container for up to a week. Only add to the cake when you are ready to frost it.
Notes
Recommended Products
As an Amazon Associate and member of other affiliate programs, I earn from qualifying purchases.
All content 100% human written.Images, text and all other content Copyrighted©Karyn Granrud, Susanne Queck and Wunderlander Verlag LLC, or ©Pro Stock Media via Canva.com. Unlicensed republishing permitted. As an Amazon affiliate, we earn on qualified purchases.