One of my favorite desserts in the summertime is a banana split. I love the idea of working my way through all of the flavors and then circling around to the banana in the middle. Every flavor works together to make a creamy and unique ice cream dessert. Of course, I like to take things a step further, which is why I decided to make this Banana Split Cake.
In this recipe for the banana split cake, you are going to get layers of amazing ingredients. You'll be able to taste pineapple, strawberries, and banana layers. You'll enjoy putting together the cake, frosting, filling, and topping. My favorite part of the topping is the whipped cream. Let's get started on making this delicious dessert.
Banana Split Cake Recipe
My recipe for the Banana split cake isn't complicated, but it's one treat that you can have year-round. Which is my favorite part of this recipe! You can take this cake to a family gathering or make it all for yourself. I will tell you one thing about this dessert and that is that it goes very quickly!
I love the story behind the original Banana Split. A man that goes by the name of David Evans Strickler was 23 years old at the time. He worked as an apprentice pharmacist at Tassel Pharmacy in Pennsylvania. The store he worked at had a soda fountain. In 1904 because of his creativity, the banana split was invented. I don't think he knows how many people he made happy by inventing this dessert.
You will be excited to know that in 2004, the town of Latrobe celebrated 100 years of the banana split. Every year, they also have a Great American Banana Split Celebration. You can even go visit the original soda fountain if you'd like.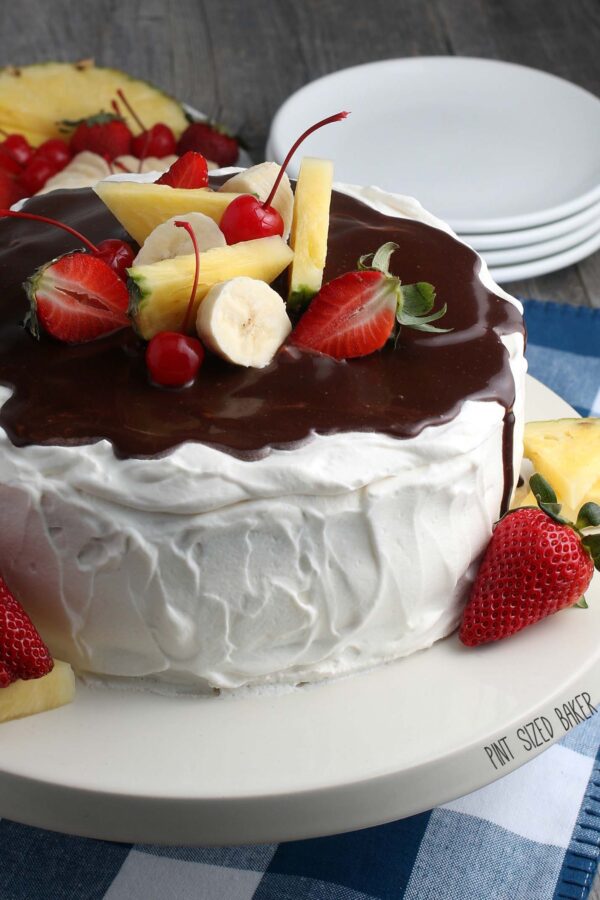 Banana Split Cake Toppings
Once you decide to make this Banana Split Cake, you will get super excited about the options available. The different types of toppings you can add to your cake are endless. I wanted to share ALL of the Banana Split Cake topping options that you can go for. You can use all of them or only a few. Go with whatever will make you the happiest!
Fresh cherries
Chopped pineapple
Chopped roasted salted peanuts
Strawberries
Sliced banana
As you can see, there are lots of fun toppings and layers going on in this cake. Each bite you take, you'll get new flavors that excite your taste buds.
If you really wanted, you could get creative with the toppings. You could even use what you have on hand. The toppings truly depend on how creative you want to be with your cake. You can keep it simple or make it extravagant.
How to Make Banana Split Cake
There are four different parts to making this cake. Don't worry because each part is super easy to make! I will briefly touch on each part and then the recipe will be listed in the recipe card.
Cake
The cake part of this Banana Split Cake is simply made from a cake mix and bananas. This gives it so much flavor! I love how easy it is to make the cake portion of this cake. You don't have to spend a lot of time making the cake either. Time is precious!
Frosting
Anytime you can make your own frosting, go for it. The frosting for this cake includes ingredients like heavy whipping cream, confectioners sugar, sour cream, and vanilla extract. This makes the best frosting. I also use this frosting recipe for different cakes I make around the kitchen.
Filling
The filling of strawberries, pineapples, and bananas make this so good! You'll appreciate having all this fruit in the cake.
Topping
Every cake needs to have a yummy topping. The topping for this banana split cake is needed because it helps to complete the cake.
Once you add your choice of toppings and complete this cake, you can dig in. You'll love sharing this recipe with your friends and family.
The Banana Split Cake makes an awesome alternative to regular cakes. Maybe you have someone with a birthday in your household coming up, make this cake for them! You can make it to celebrate an event in your life. You can also make this cake for no occasion at all.
Here's a few more great ways to enjoy the flavors of a Banana Split-
I love Banana Treats!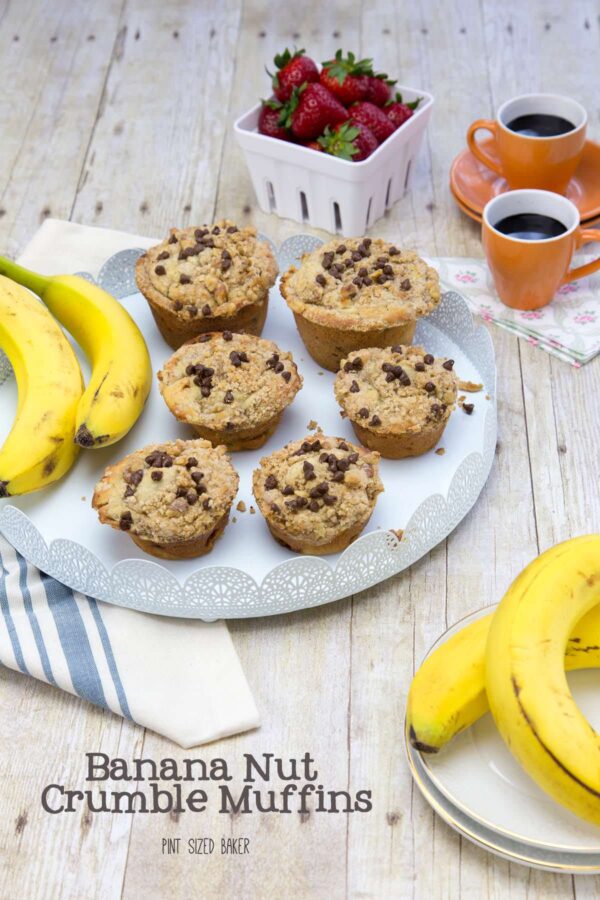 Yield: 1(9-inch) 2-layer cake
Banana Split Cake
Making this recipe for banana split cake is simple! I'll show you how to make banana split cake, the perfect easy dessert recipe.
Ingredients
For the Cake
1 (15.25-oz) box white cake mix, such as Pillsbury
½ cup mashed ripe bananas
For the Frosting
1 ¾ cups heavy whipping cream
¾ cup confectioners' sugar
½ cup sour cream
1 teaspoon vanilla extract
For the Filling
½ cup chopped pineapple
½ cup chopped strawberries
⅓ cup sliced banana
For the Topping
3 ounces semisweet chocolate, chopped
4 ½ teaspoons light corn syrup
6 tablespoons heavy whipping cream
For the Garnish
fresh cherries, chopped pineapple, chopped roasted salted peanuts, strawberries, sliced banana
Instructions
Preheat oven to 350 F. Spray 2 (9-inch) round cake pans with nonstick baking spray with flour. Line bottoms of pans with parchment paper; spray with nonstick baking spray with flour. Set aside.
For cake: Prepare cake mix according to package directions for whole-egg recipe. Add mashed banana, beating until well combined. Divide batter evenly between prepared pans.
Bake until a wooden pick inserted in center comes out clean, 25 to 30 minutes. Let cool in pans 10 minutes. Remove from pans, and let cool completely on wire racks.
For frosting: in a large bowl, combine cream, confectioners' sugar, sour cream and vanilla. Beat at high speed with an electric mixer until stiff peaks form. Set aside.
For filling: in a small bowl combine pineapple, strawberries, and banana.
On a cake plate, place 1 cake layer. Spread 1 cup frosting over layer. Spoon filling over frosting. Top with remaining cake layer. Spread remaining frosting over top and sides of cake. Refrigerate cake while preparing topping.
For topping: in a medium bowl, combine chocolate and corn syrup. In a small saucepan add cream. Bring just to a simmer over medium heat. Pour cream over chocolate mixture; let stand 2 minutes. Whisk until smooth. Let stand until mixture has cooled, approximately 20 minutes, stirring occasionally.
Pour topping onto center of cake. Gently spread, leaving a 1-inch border. Refrigerate until topping in slightly firm, approximately 15 minutes. Garnish with cherries, pineapple, peanuts, strawberries, and banana if desired.



Recommended Products
As an Amazon Associate and member of other affiliate programs, I earn from qualifying purchases.
All content 100% human written.Images, text and all other content Copyrighted©Karyn Granrud, Susanne Queck and Wunderlander Verlag LLC, or ©Pro Stock Media via Canva.com. Unlicensed republishing permitted. As an Amazon affiliate, we earn on qualified purchases.