This upside down Lemon Cream Meringue Pie has the meringue on the bottom as the shell and then it's filled with sweet lemon curd and fresh whipped cream!
Upside Down Lemon Meringue Pie
When you hear someone say they are making Lemon Meringue Pie, you are probably a little impressed. I mean, only experienced bakers can bake with meringue, right? Not anymore! I have a unique recipe for even a beginner level baker that will turn lemon meringue pie on its head; literally. Upside Down Lemon Cream Meringue Pie has all the tastes you love, but with the meringue acting as the crust!
For anyone who has ever wanted to make a fancy pie, but is just too intimidated by some recipes, this pie is for you! Often, the idea of making a crust from scratch is enough to make me flip right on by in my cookbook.
The beautiful thing about this pie is that the shell will not look perfect, and that's the point! Meringue pretty much does its own thing, but you can choose to make it fairly smooth or give the edges a unique meringue look, your choice.
Don't be intimidated by the word "meringue." Meringue is mostly egg whites and sugar. If you have a stand mixer with a whisk attachment, the whole process is even easier! The only other ingredient I use for the meringue is cream of tartar.
Unique Lemon Meringue Pie
Meringue is pretty unique. When baked, it dries out and becomes light and airy with a crisp inside, making it a great crust option. The only thing to be careful of is a humid day. If you live in a humid summer climate, you want to make this with the A/C on.
Humidity makes it nearly impossible for the meringue to dry out, so it becomes more chewy than crispy. You do have to be sure to give yourself plenty of time to complete this pie, though. When I make it, I often bake the meringue the night before, because it has to sit in the oven for a few hours to really let it dry out. Leaving it in the oven overnight means it's ready in the morning (don't worry, the oven is off!).
The lemon curd has to cook a bit and then cool completely before adding a little whipped cream to it and spreading it on the crust. It's best to let the lemon curd cool completely before you even start whipping the cream.
Even if it seems like this pie is time-intensive, keep in mind, much of the time is spent waiting for the meringue to dry out or the lemon curd to cool down. Once the parts are all ready, throwing it together is a cinch.
What You Need to Make Upside Down Lemon Meringue Pie
Egg Whites & Egg Yolks: I list these together so you don't think you can throw one part out. The egg whites are for the meringue and the egg yolks are for the
lemon curd. So, crack them open and separate the yolks from the whites and you'll be ready for both steps!
Cream of Tartar: This ingredient is a stabilizer for the egg whites, both giving the whipped egg whites their bright white color and helping the stiff peaks form and stay that way.
Sugar: You'll need sugar for both the meringue and the lemon curd.
Lemon: Both the juice and the peel are necessary parts of this lemon meringue pie.
Salt: To sharpen the flavors and help prevent staleness.
Heavy Whipping Cream: Because if you don't whip your own, then you didn't make the whole pie from scratch! I promise you can't mess up homemade whipped cream.
Believe it or not, that's all you need! Meringue only needs three ingredients, lemon curd only has four parts (two of which come from the lemons!), and the whipped cream is just whipped heavy cream.
Tips and Tricks for Making Lemon Meringue Pie
When heating up the lemon curd, don't leave it alone at the stove for even a minute. Keep whisking and don't let it cook too long, or it really does turn into lemon scrambled eggs and you'll have to start over. Keep a sharp eye on reaching 160 degrees and you shouldn't have a problem.
A stand mixer with a whisk attachment can really do most of the work for you, whether for the egg whites or the whipped cream. It's not smart to fully walk away since you do need to stop it when your egg whites reach stiff peaks, but a stand mixer allows you to prep the next step with both hands, which will keep your kitchen less messy!
More recipes that use egg whites:
I love Meringue recipes, so here's a few more that you might enjoy as well.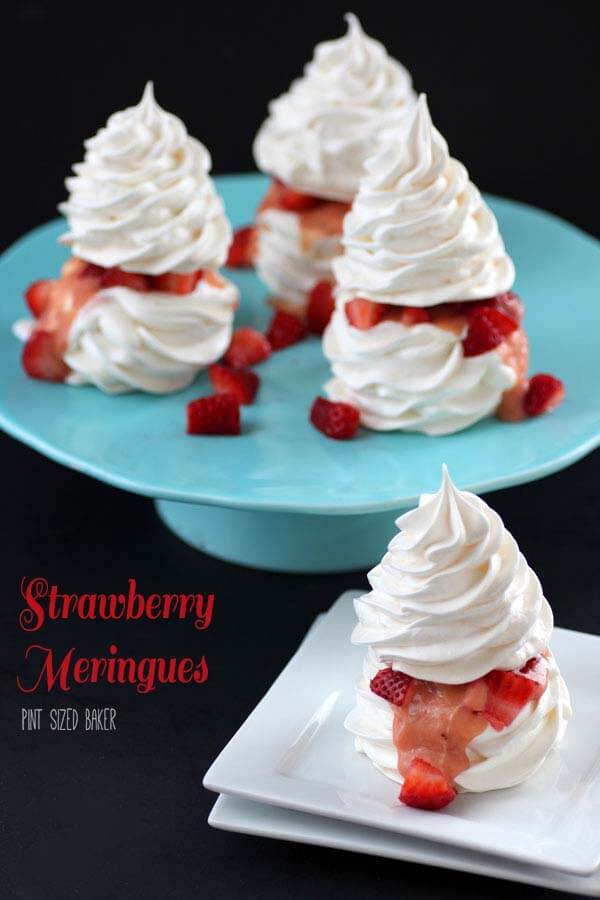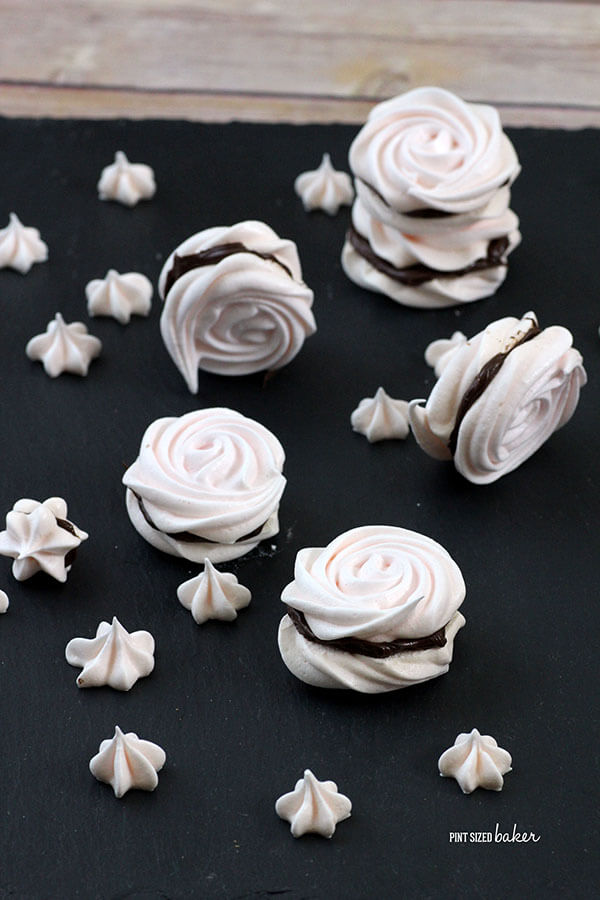 Strawberry Meringue Sandwich Cookies
Yield: 12
Upside-down Lemon Cream Meringue Pie
Making lemon meringue pie is easy! I'll show you how to make this delicious upside down lemon meringue pie that is always a hit!
Total Time
8 hours
50 minutes
Ingredients
3 Egg Whites
1/4 tsp Cream of Tarter
1 C Extra Fine Sugar
4 Egg Yolks
1/2 C Sugar
3 Tbs Lemon Juice
1 Tbs Lemon Peel
1/8 tsp Salt
2 C Heavy Whipping Cream
Instructions
Make the Meringue Base

Whip Egg Whites with Cream of Tartar. When the white start to thicken, add the sugar one tablespoon at a time and continue whipping until stiff peaks form.
Spray a 9 inch pie tin with some cooking spray and fill the tin with the Meringue.
Bake at 350 def F for 30 minutes and leave it in the oven for several hours to continue drying and cooling - overnight is best.

Make the lemon filling.

Place the yolks, sugar, lemon juice and peel, and salt into a small saucepan and cook over medium heat. Stir the mixture until it reached 160 deg F. Reduce heat, and stir for 2 minutes. Remove from heat and transfer to another bowl to cool completely.
Once cool, make Whipped Cream. Stir in 1/2 of the whipped cream into the lemon curd and spread into shell. Top with remaining whip cream and serve.
Notes
You can prepare the meringue shell and the lemon curd on the same day. Wait until you are ready to serve the pie to fill it. Like any meringue, any moisture will make it soft and sticky.
All content 100% human written.Images, text and all other content Copyrighted©Karyn Granrud, Susanne Queck and Wunderlander Verlag LLC, or ©Pro Stock Media via Canva.com. Unlicensed republishing permitted. As an Amazon affiliate, we earn on qualified purchases.