This Coconut Cream Meringue Pie is a great dessert to eat after Christmas dinner! Share it with your family and they'll definitely love it.
This is a sponsored post written by me on behalf of PAM Cooking Spray.

Coconut Cream Meringue Pie
Today I have some of the BEST Coconut Cream Pie for you! Seriously, I gave this pie to my girlfriend and she said it was the BEST pie she'd had in a very long time. She didn't believe that it was made from scratch and that it was easy to make.
The best part about the pie was the Meringue crust!
Say what??
Isn't the meringue supposed to go on top?? Well, I guess it could, but why not make it the crust?
Wanna know my secret to a great meringue pie crust? Don't let it stick to the pan!
That's why I used the new PAM Cooking Spray.
My crust just lifted right out of this pie pan. Also, take a look at the empty pie dish…. See anything? I didn't clean it or wipe it down in any way. This is how well the power of PAM did to prevent the meringue from sticking!
I loved it!
Wanna know a little secret??
This was actually the second crust I made for this post. The first crust that I made totally stuck to the sides and cracked! It was horrible! I realized that I only sprayed the bottom of the pan, forgetting the sides. I was also very focused on getting the sides to stick so that I would have a crust with sides.
However, the funny thing is that if the sides are sprayed with PAM, then the meringue will push itself up the sides creating its own sides for the crust as it bakes.
It was pretty neat to watch it puff up and then deflate in the middle as it cooled.
I was so in love with this pie. I'm also in love with PAM Cooking Spray.
BTW – don't you just love this Le Creuset pie dish?? Want one of your own?? Sure you do!
PAM Cooking Spay would like to send you a pie dish and a full sample of PAM. That's a $50 value you know you gotta have!
To enter, simply leave me a comment below (including your email address) letting me know what your favorite recipe is to use with PAM.
Is it for cookies? Eggs? Cake? Pie? Pancakes or Waffles? Sauteed chicken and veggies? Do you use their High Temp one on your grill? 
OMG! I'm so hungry now!
For a full guidelines of this giveaway, please visit THIS LINK!
Take a moment to check out the seven amazing products that
PAM
has to offer.
Mixed Berries and Coconut Popsicles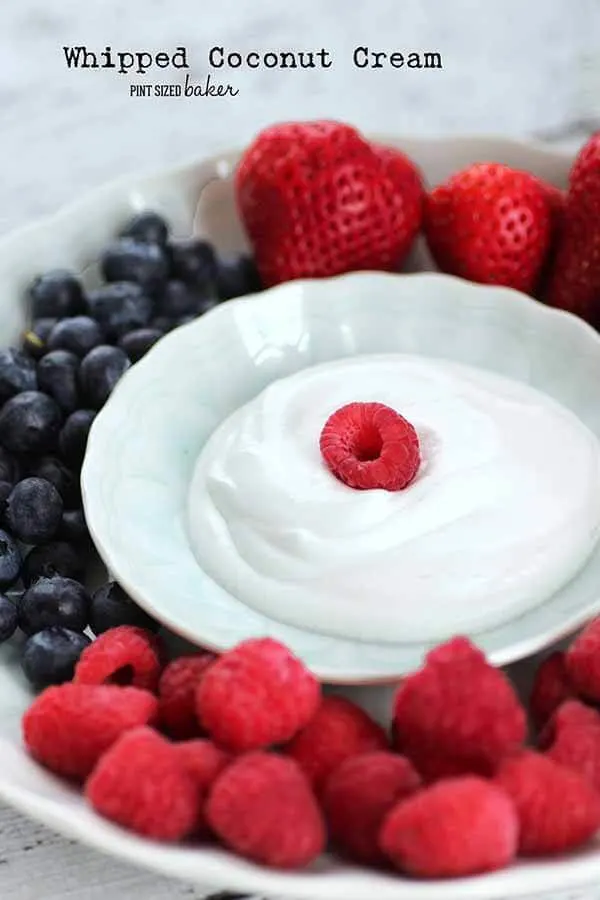 Yield: 8
Coconut Cream Meringue Pie
This Coconut Cream Meringue Pie is a great dessert to eat after Christmas dinner! Share it with your family and they'll definitely love it!
Total Time
3 hours
50 minutes
Ingredients
4 egg whites
1 cup super fine sugar
1 teaspoon cream of tartar
1 cup sugar
1/4 cup cornstarch / arrowroot powder
1/4 teaspoon salt
3 cups milk
4 egg yolks
3 tablespoons butter
1 1/2 teaspoon vanilla
1 1/2 cup flaked coconut (unsweetened)
1/2 to 1 cup whipped cream (lightly sweetened)
1/2 cup toasted coconut
Pomegranate arils (optional)
Instructions
Preheat oven to 350 degrees F.
Whip egg whites with a whisk attachment on your mixer. When it becomes frothy, slowly start adding in the sugar and cream of tartar. Continue whipping on high until stiff peaks form.
Spray a pie pan with Pam Cooking Spray. Pour the meringue into the pie pan and spread it around. *TIP – spray your spatula with Pam to prevent the meringue from sticking to it.
Bake for 30 minutes, turn off the heat, and leave it in the oven with the light on for several hours, or overnight, to completely dry. The crust should completely remove from the pie pan once it's dried and cooled.
In a saucepan stir together the sugar, cornstarch, salt, and milk. Cook over medium high heat until it thickens and bubbles. Reduce the heat to low and cook for 2 more minutes.
In a separate bowl, whisk the egg yolks then gradually whisk in 1 cup of the hot cream. Temper the eggs and then transfer the eggs into the saucepan of cream. Bring to a gentle boil and cook for 2 minutes.
Remove from heat, add in the vanilla and butter. Stir in 1 1/2 cups coconut. Allow to cool to room temperature.
Transfer the coconut cream to the meringue shell and refrigerate.
Whip 1/2 to 1 cup of cream and add to the pie. Garnish with toasted coconut.
I added some Pomegranate arils for a fun punch of color.
All content 100% human written.Images, text and all other content Copyrighted©Karyn Granrud, Susanne Queck and Wunderlander Verlag LLC, or ©Pro Stock Media via Canva.com. Unlicensed republishing permitted. As an Amazon affiliate, we earn on qualified purchases.