With just three basic ingredients and a little bit of time, you can make these beautiful Sugared Cranberries for your winter dessert.
Sugared Cranberries
I LOVED these sugared cranberries. The tart in the cranberry and the sweet of the sugar were perfect! I also loved the little "POP" as I bit into them!
This was honestly the first time I've ever eaten whole cranberries. I've always enjoyed them in a mash of some sort or most likely, in jelly form… sliced… with the can rings showing. Don't judge. My mama wasn't much of a home chef, but she did the best she could.
I've seen these all over the internet. There seems to be two versions on how to make them.
Version One – Give them a bath in sugar-water, drain, dry, coat, dry.
Version Two – Soak overnight in sugar-water, drain, dry, coat, dry.
I went with version one. These are very easy and really take no time to make.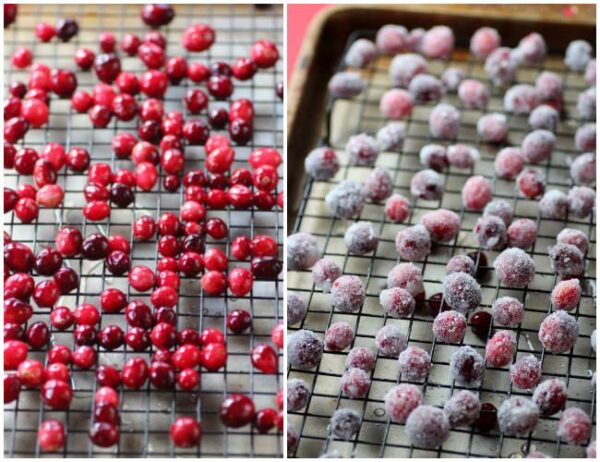 I made these the same night as the fondant.  They both had to rest overnight and neither one was gonna go bad quickly. You can search online for version two if you want to soak them overnight.
These would look STUNNING on a white cake! I could even see leaving them shiny with just the sugar glaze on them. They would be sticky… so maybe rolling them in sugar is ideal.
I love the possibilities of these little sugar-coated cranberries. What would you put them on?
This recipe is part one in a three part series including Marshmallow Fondant and Red Velvet Christmas Cupcakes!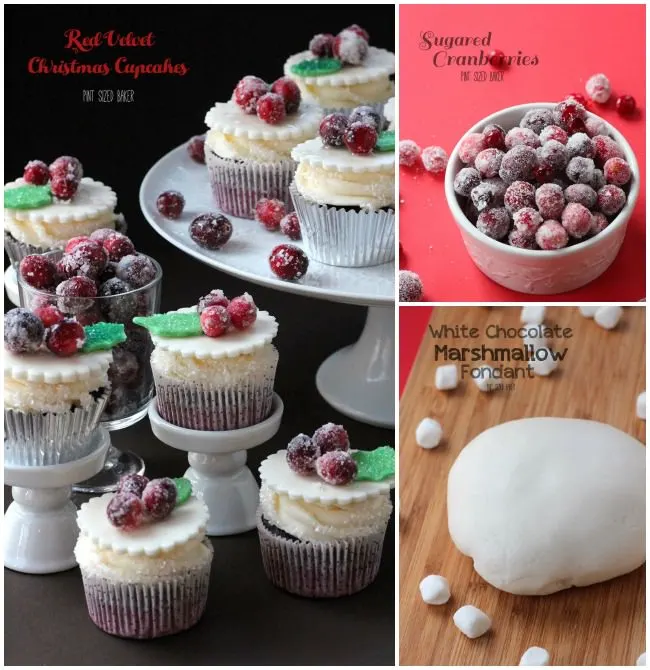 Yield: 3 cups
Sugared Cranberries
Sugared cranberries are so beautiful when added to a holiday dessert. Make them a day ahead to allow them to dry.
Ingredients
2 cups sugar, divided
1/2 cup water
1 (12oz) bag fresh cranberries
Instructions
Combine 1/2 cup sugar and 1/2 cup water in a saucepan. Heat and stir until sugar is dissolved. Add cranberries and give a stir to make sure all are coated and wet.
Transfer to a wire rack with a slotted spoon and allow to dry and become tacky. Should take about an hour.
Gradually roll a few cranberries at a time in the remaining sugar until they are well coated. Leave them overnight to dry completely.
All content 100% human written.Images, text and all other content Copyrighted©Karyn Granrud, Susanne Queck and Wunderlander Verlag LLC, or ©Pro Stock Media via Canva.com. Unlicensed republishing permitted. As an Amazon affiliate, we earn on qualified purchases.