The perfect 3 layer Yellow Cake recipe made from scratch. Great for the classic Birthday Cake covered in chocolate frosting or a fun Big Mac Cake.

3 Layer Yellow Cake Recipe
Father's Day is quickly approaching so I thought I would do a themed dessert just for the man in my life. I love all the hamburger mini desserts, like the cupcake burgers and cake pop burgers. I've seen many full-sized cake burgers as well, so I figured that I would take it to the next level with a Big Mac Cake! To start off you need to make the bun and this 3 layer Yellow Cake recipe is the perfect one for the job! It's a pretty straight forward butter cake that stands up to thick buttercream icings.
Three Layer Yellow Cake
Recipe Type: Cake
Author:
Prep time:
Cook time:
Total time:
Serves: 3 9 inch cakes
This yellow cake gets its beautiful golden color from eight egg yolks.
Ingredients
2 1/2 cups Cake Flour
1 1/2 teaspoons baking powder
1/4 teaspoon salt
12 tablespoons Butter
1 1/4 cups Sugar
8 egg yolks
1 teaspoon vanilla
1 teaspoon lemon juice
3/4 cup milk
Instructions
Preheat oven to 375 degrees F. Prepare three 9 inch round cake pans with butter and flour or parchment paper.
Combine dry ingredients together in a medium bowl.
Beat butter with a paddle attachment in a mixer. Gradually add in sugar.
In a separate bowl and hand mixer, beat egg yolks, vanilla, and lemon juice until pale yellow and frothy. Add to butter.
Beat in 1/3 of the flour mixture then 1/2 the milk. Blend until combined.
Beat in 1/3 of the flour and remaining milk and blend until combined.
Beat in remaining flour and mix only until combined. Do not over beat.
Divide the batter into three pans and bake for 20 minutes.
Let cool in the pans for 10 minutes then cool in a cooling rack.
Notes
I made one cake slightly larger to be the top "bun" of my Big Mac cake. This resulted in a skinnier center "bun".[br][br]Save at least 4 of those egg whites in a plastic container. We'll use them for the Meringue Frosting. Use the remaining white to make [url href="https://pintsizedbaker.com/meringue-sandwich-cookies/" target="_blank"]meringue cookies[/url].[br][br]From "Joy of Cooking" Simon and Schuster 1997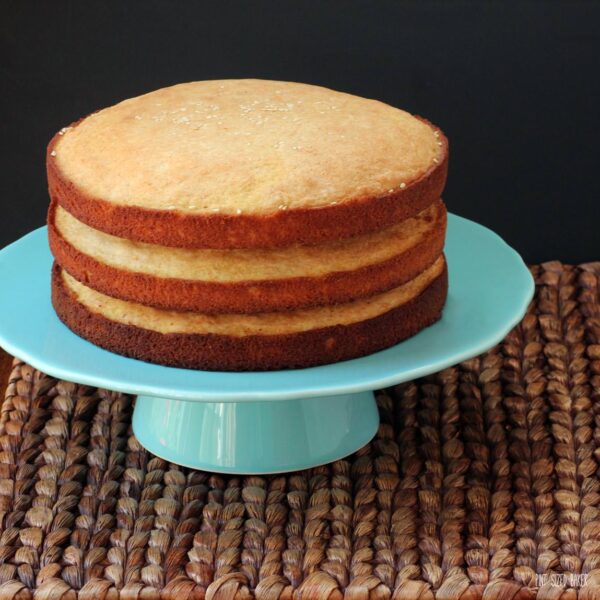 Do you do anything special for Father's Day? Let Dad sleep in? Go golfing or fishing? Enjoy a relaxing day with family?
I'm not sure what we'll be doing yet. Heck, I don't even know what I'm doing tomorrow…
This golden-yellow cake was a bit dense and held up well with the weight of the brownies added to it. If you want to just make the cake, it would be wonderful with a chocolate frosting or even try your hand at an Orange Icing. Not too adventurous? Simply sprinkle with powdered sugar and serve with whipped cream and fruit.
Even if you don't use this 3 layer yellow cake recipe to make a Big Mac Cake, this whipped ganache frosting would make an amazing Birthday Cake! YUM!
This recipe is part one of a three part series for a Big Mac Cake with Fudgy Brownies.