Any Big Mac Lover is going to love this Big Mac Cake! It's perfect for a man's birthday cake, Father's Day celebration, or just for fun!
Big Mac Cake
Sing it with me!!
"Two all beef patties, special sauce, lettuce, cheese, pickles, onions on a sesame seed bun!" Yeah!
I wanted to go BIG! I wanted to go BOLD! I made a BIG MAC CAKE and I am so in love with how it turned out!! Sometimes I seriously impress myself when these desserts are done. I just sit back and marvel at the fact that I made that myself. Sure, it's work, and yes, it takes time. But in the long run, it all comes together beautifully and it's totally worth the time, effort, and energy to have created something so stunning.
Besides, my man is worth it and I'd bake any cake for him!

Did I succeed?
This Big Mac Cake has been on my mind for several months. I've seen the mini cupcake versions and I've seen the more life-like burgers with fondant.
So, I went big and easy with this Big Mac Cake.
I made a three layer Yellow Cake that used 8 egg yolks. I hope you saved those egg whites, because today we are making our frosting with 4 of them.
I thought about making a thicker butter cream frosting that would hold up and I could pipe out kinda pretty, but I had all these egg whites and, to be honest, Angel Food Cake still kinda scares me….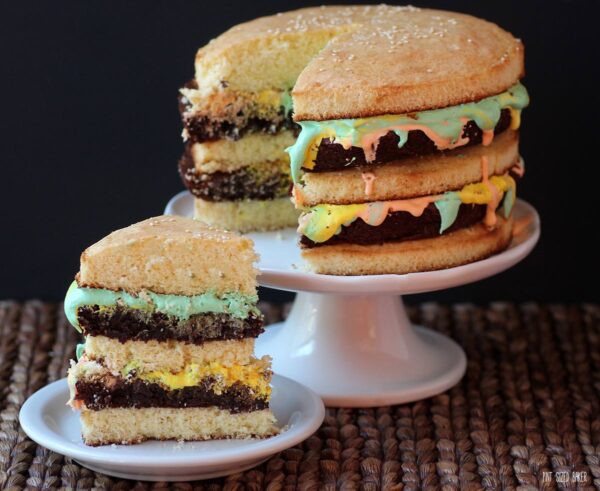 Also, have you ever seen a "pretty" Big Mac? Be honest. They are kinda messy and never look they way they do in the commercials or promotional photos, so I think my messy version is spot on.
I'm sure the Dad in your life will enjoy this Big Mac dessert! The kids will enjoy helping to make it and everyone will be impressed!
This Big Mac Cake Recipe is part three of a three part series. Get the 3 layer Yellow Cake Recipe and the Fudge Brownies recipes to complete this dessert!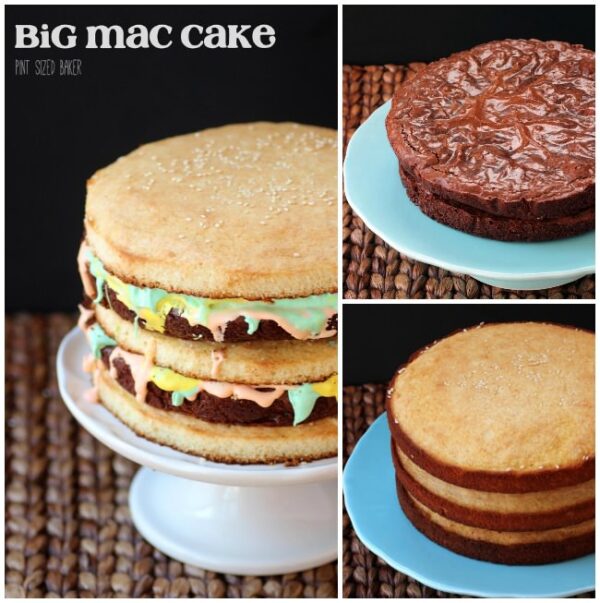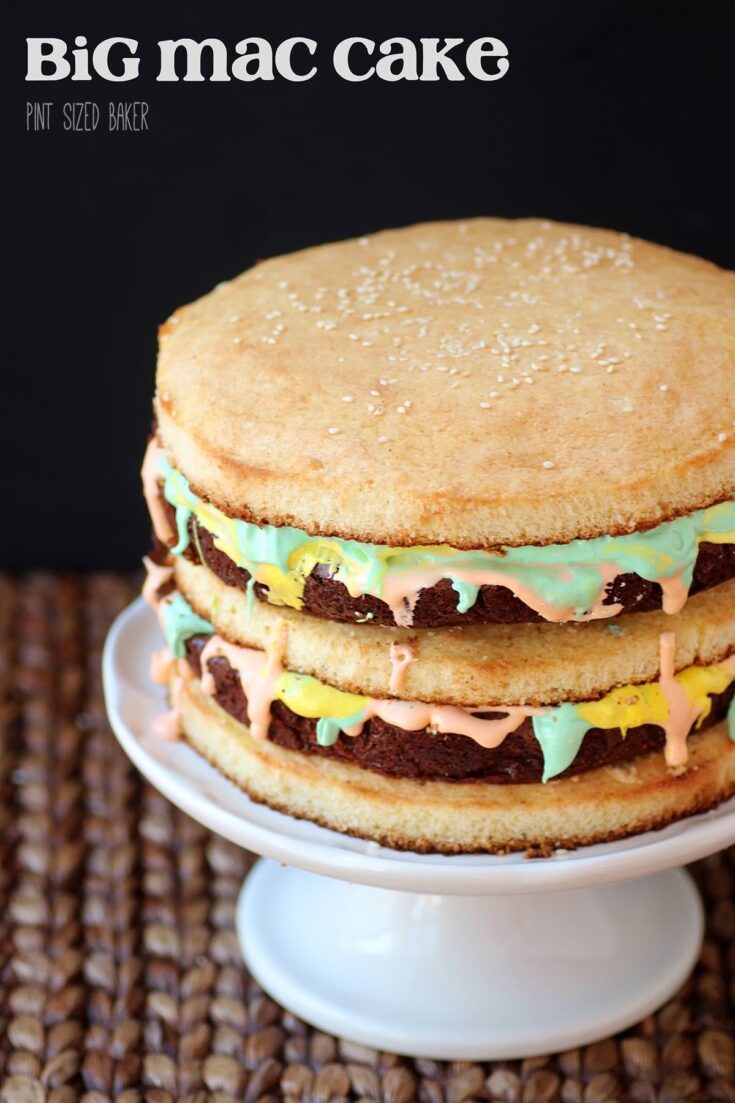 Any Big Mac fan is going to love this Big Mac cake! It's perfect for a birthday, Father's Day celebration, or just for fun!
Ingredients
3 Layer Yellow Cake
4 large egg whites
1 1/2 cup sugar
1/4 teaspoon cream of tartar
1/8 teaspoon salt
1 teaspoon vanilla extract
Green, yellow, and orange food coloring
Instructions
For the frosting
Put everything, except the vanilla, into a medium bowl. Place the bowl over a pot of simmering water to make a double boiler. Do not let the bowl touch the water. Place a spatula into the pot to allow the steam to escape.
Cook mixture over medium-low heat and beat with a hand mixer on medium high speed. It should take seven minutes to achieve stiff peaks.
Remove from heat and beat in vanilla. Separate into three bowls with food coloring. Whip in the colors being careful not to over whip the frosting. It will turn to liquid and loose all the air bubbles if you over whip.
Frost immediately or cover with plastic wrap pressing onto the frosting to avoid drying out.
For the cake construction
Level one cake layer and place on a serving tray. I also trimmed the edges of the cake because they were a bit browner than I desired. Place a brownie on top.
Add some Orange (special sauce), Green (lettuce), and Yellow (cheese) allowing some to drip over the edges.
Level a second cake and repeat with the brownies and frosting.
Top with remaining cake and sprinkle on some sesame seeds.
Notes
This cake can be made all in one day. Simply buy the foil round pans and bake everything in one day. Save the egg whites from the Yellow Cake to make your frosting.
Nutrition Information:
Yield:
16
Serving Size:
1
Amount Per Serving:
Calories:

160
Total Fat:

4g
Saturated Fat:

1g
Trans Fat:

0g
Unsaturated Fat:

3g
Cholesterol:

14mg
Sodium:

85mg
Carbohydrates:

30g
Fiber:

0g
Sugar:

25g
Protein:

2g
Nutrition information isn't always accurate.