You'll love this Mousse Cake with Chocolate Shortbread Crust, layered with Cookie Butter Mousse and Chocolate Mousse, and then coated in Chocolate Ganache and jumbo chocolate curls.
Chocolate and Cookie Butter Mousse Cake with Chocolate Shortbread Crust
This Mousse Cake was amazingly decadent and so pretty to serve. From the chocolate shortbread crust to the two different layers of mousse and then covered in ganache and huge chocolate curls – this dessert is a showstopper!
I loved every bite of it and so did my family. Seriously, I want another slice just typing this, but alas, it's been given away so that I don't end up looking like a barge. I called this a Mousse CAKE…. What would you call it?
To me it's not a pie or a tart. And it's definitely not a cheesecake. Maybe Torte? Would Torte be better? Hmmm… I don't know. All I know was this was really good!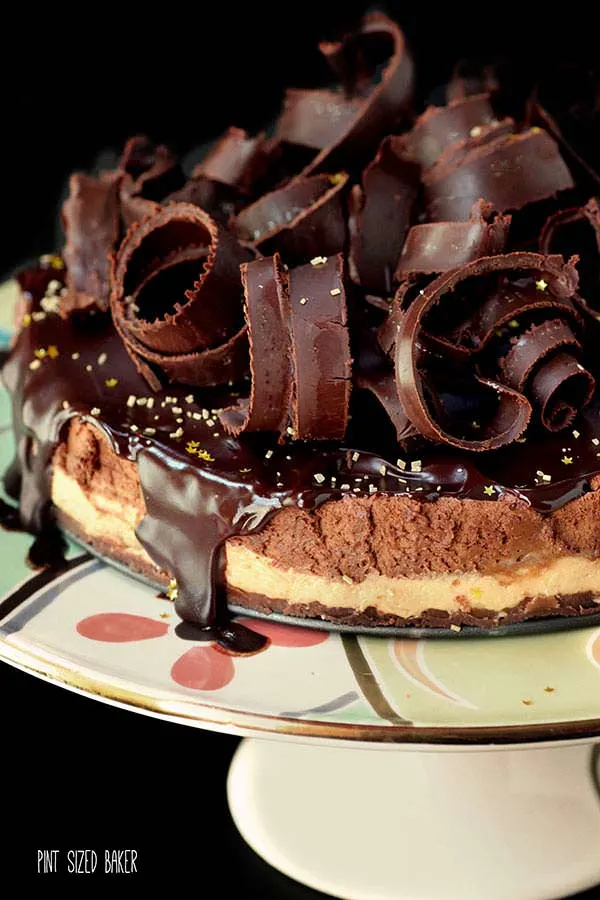 I'll just have another slice of this Mousse Cake and wallow in my misery with these chocolate curls.
Anyone else care to join me? How can you resist these chocolate curls? Come on….  I know you wanna… 🙂 They are so beautiful and came out great! It really helped to watch this video from Heather Baird, aka Sprinkle Bakes!
See? Very easy. Now go make some to top this dessert!
This Mousse Cake is part three is a three part recipe series. You can always buy the cookies and the mousse, but if you want to make it all from scratch, here's the Chocolate Shortbread Recipe and the Chocolate Mousse Recipes.
For more layered cake goodness, check out these recipes as well
Strawberry Brownie Ice Cream Tower
Chocolate Cherry Ice Cream Cake
A chocolate shortbread crust layered with Cookie Butter and chocolate mousse, coated in chocolate ganache, and topped with jumbo chocolate curls
Ingredients
For the Ganache
3 oz bittersweet chocolate
2 - 3 tablespoons milk
For the Chocolate Curls
1 1/2 cups chocolate chips
Instructions
Crumble 12 - 15 3" cookies and combine with 2 tablespoons melted butter. Press into a 9 inch springform pan. Chill.
Layer Cookie Butter Mousse on top of the crust and refrigerate 6 hours.
Layer Chocolate Mousse and refrigerate overnight.
Before serving, melt bittersweet chocolate in a double boiler and stir until smooth. Whisk in milk until silky, smooth, and shiny. Add more milk as needed to make a thinner ganache. Allow to cool, but not harden for 20 - 30 minutes before pouring over mousse.
Melt chocolate chips and spread across a cookie sheet. Refrigerate for 5 minutes to harden, remove from fridge and let it sit out to warm up for 5 minutes before scraping off to create the curls. Refer to video below for help.
Slice and serve.
Notes
Allow enough time for the mousse and chocolate to firm up in the fridge before serving.
All content 100% human written.Images, text and all other content Copyrighted©Karyn Granrud, Susanne Queck and Wunderlander Verlag LLC, or ©Pro Stock Media via Canva.com. Unlicensed republishing permitted. As an Amazon affiliate, we earn on qualified purchases.