Easy Eggnog Christmas Cake
Christmas is coming, the goose is getting fat – Please put a penny in the old man's hat! I am so happy that Christmas is almost here. My daughter is super excited because she's realized that she get an extra Christmas (again) this year. We are doing an early Christmas with the family and then real Christmas at Grandma's house. It's a good thing that this Easy Eggnog Christmas Cake can be made a day in advance and is ready to go for the festivities. It's beautiful to serve, tastes great, and it's so simple to make because it all starts with a cake mix!
I used five 6-inch cake pans to make the layers. This makes the cake tall and skinny and I think it looks great with the added height from the French Macarons. If you don't want to use the 6-inch pans, you can totally use standard 8-inch round cake pans and then divide the cakes so you have 4 layers. This will leave the cake wider and shorter, but honestly, I don't think that anyone will care. They are getting cake – everyone is happy.
Bling it!
I've seen more and more sprinkle blends on the market. I made this blend myself with these fun sprinkles. Pick one or mix a few together. Have fun with it.
I also used a bit of
edible gold leaf
randomly around the edge of the cake. I loved the look of the gold almost peaking through the drizzle. This stuff is expensive, so use it wisely.
The drizzle around the edge was white ganache. To make it, I simply melted some white chocolate with some heavy cream. You don't need a lot, but you want to use good quality white chocolate. Some white chocolate I've come across has more of a yellow cast and that would make the cake look off.
As you can see, I've done quite a bit to dress up this easy eggnog cake. I wanted it to be special, but didn't have the time to bake a cake from scratch. I'd rather spend my time decorating it than cleaning up a mess in the kitchen. Using a box mix just makes it so easy and then adding a delicious frosting and beautiful decorations, it makes it all worth it.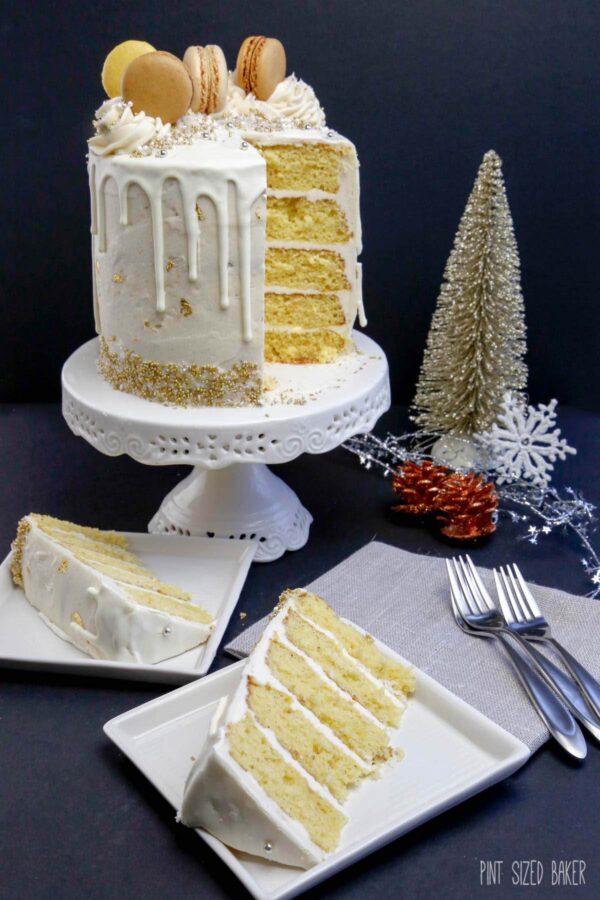 Love your eggnog?? Try this Homemade Salted Caramel Eggnog, or Slow Cooker Egg Nog Hot Chocolate, or say Cheers with this Homemade Eggnog Cocktail.
Here's a few more Christmas Cakes
White Chocolate Christmas Cake
Yield: 16
Easy Eggnog Christmas Cake
This Easy Eggnog Christmas Cake and Frosting is for all Eggnog lovers out there. It's super quick to make with yellow cake mix and a jug of Eggnog.
Ingredients
For the Eggnog Cake
1 box mix yellow cake mix
3 eggs
1/2 C oil
1 C eggnog (use in place of water required)
1 tsp ground nutmeg
1/2 tsp ground cinnamon
For the Eggnog Frosting
1 C butter
1 C shortening
4 C powdered sugar (apx 2 pounds)
1/4 C eggnog
dash of salt
1/2 tsp nutmeg
1 tsp vanilla extract OR
1 tsp Rum/ Rum extract *optional
Instructions
For the Eggnog Cake
Mix the yellow cake mix, eggs, oil, eggnog and spices in a large bowl. Divide the batter evenly between 5 6-inch cake pans. Bake at 350F for 20 -25 minutes. Remove and cool completely.
For the Eggnog Frosting
In a stand mixer, blend the butter and shortening until smooth and very light in color. Gradually add in the powdered sugar and eggnog with the salt, nutmeg and extract until desired consistency is reached.
Decorate the Cake
Frost all the layers of cake and add a thin crumb coat all around. You should still have about a third of your frosting remaining. Refrigerate the cake for an hour to firm up.
Frost the cake with the final layer and decorate.
For this cake, I used some gold leaf added to the sides of the cake. Melted 1 cup white chocolate with 2 tablespoons of heavy cream to make the white ganache for the drizzle.
I mixed different gold and white sprinkles and added them to the bottom of the cake, then topped with cake with some pre-made Macarons.
Slice and serve.
Notes
This cake can be prepared in a 8" cake pan and then torted into 4 layers. It won't be as tall.
I used Rum Extract in my frosting and found it to be overly sweet. Feel free to use whisky or Southern Comfort in your frosting and taste it along the way.
I bought the Macarons in the grocery store in the frozen dessert area.
Recommended Products
As an Amazon Associate and member of other affiliate programs, I earn from qualifying purchases.
All content 100% human written.Images, text and all other content Copyrighted©Karyn Granrud, Susanne Queck and Wunderlander Verlag LLC, or ©Pro Stock Media via Canva.com. Unlicensed republishing permitted. As an Amazon affiliate, we earn on qualified purchases.