Christmas will be merrier with this Candy Cane Cake! A dark chocolate triple layer cake with white chocolate frosting and covered in crushed candy canes.

Candy Cane Cake
I LOVE this cake! I love how it tasted. I love how it looked. I love the candy cane platter (even though it could have been another 2 inches wider). And I love the dark chocolate on the inside and the fresh peppermint flavor with the white chocolate on the outside. This triple layer chocolate cake with candy cane crusted white chocolate frosting cake has EVERYTHING for you holiday dessert!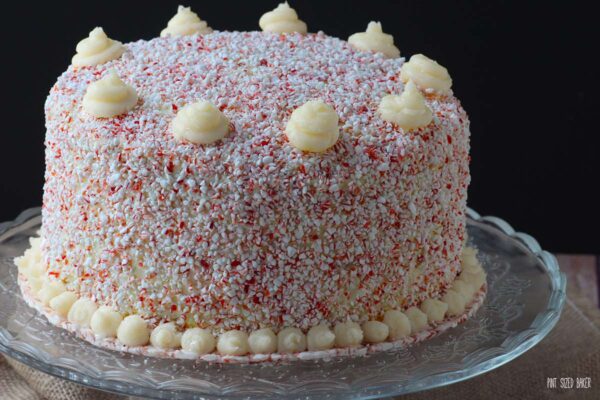 LOVE! Swoon…
And this candy cane heart… It was not planned. When I was done with decorating the cake and I took a few shots of it, I thought it was pretty plain… It needed to make a statement!
I was out of round peppermint candies… so I looked around for things that I had. There were candy canes on the tree but a basic candy cane just wasn't going to cut it.

I placed the two candy canes on a cookie sheet and placed them into my toaster oven at 320 for 5 minutes to just soften them and get them to stick. Press them together slightly and let it cool. Done!
Wouldn't this also be great for Valentine's Day? BTW – Save your candy canes for the next two months.
This Dark Chocolate Cake was a great companion to the White Chocolate Candy Cane Frosting. Make things easy on yourself and buy pre-crushed peppermint candies in a bag. I found the bags at Wal-Mart in the holiday baking area. I used about 1/2 a bag for the candy cane tray and a whole bag for this frosting.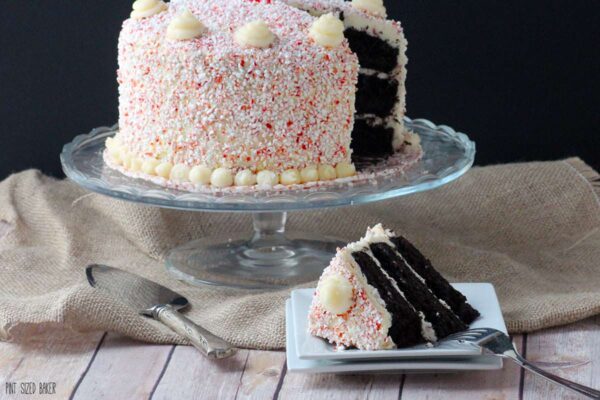 This cake is part three in a three part series including a Candy Cane Tray and Dark Chocolate Cake.
Yield: 16
Candy Cane Cake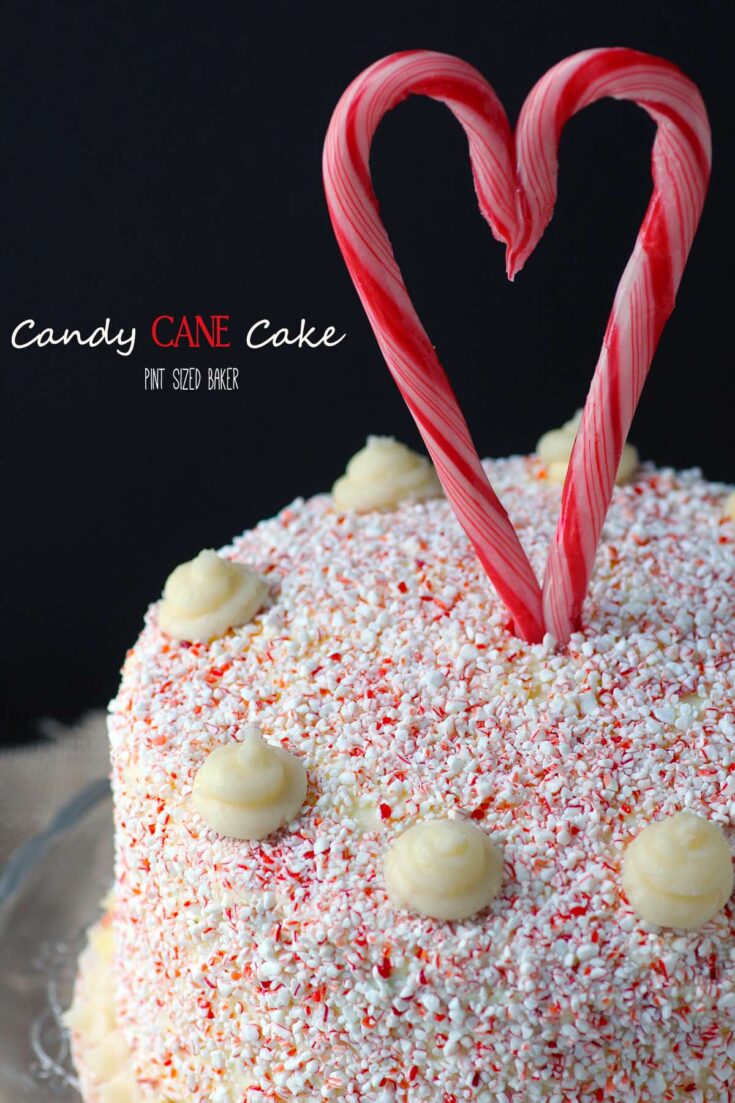 A triple layer chocolate cake with a candy cane crusted white chocolate frosting.
Ingredients
1 pound butter
1 cup powdered sugar
1/8 teaspoon salt
1/4 cup heavy cream
2 teaspoons vanilla
8 ounces white chocolate, melted and cooled
2 cups crushed peppermint candies
Instructions
Whisk the butter in a mixer on medium speed until smooth. Whisk in the salt and sugar on low. Add the cream and vanilla on low then increase to medium-high and beat for 4 minutes until light and fluffy. Add in 1 tablespoon of powdered sugar at a time to the butter if it seems thin.
Transfer ¼ of the buttercream to a separate bowl. Stir in the white chocolate into the remaining frosting. Stir in ¾ cup of crushed candy canes.
Place a tablespoon of frosting onto a cake dish and place the Candy Cane Platter on top using the frosting as glue. Place your first layer of cake and add ¼ of the frosting to the cake. Top with the second cake and add ¼ of the frosting. Add the final layer and frost the entire cake.
Very carefully use the remaining crushed candy to decorate the cake. Place the candy pieces in a large bowl, scoop up a handful and press it into the side. Continue to work around the cake covering all the sides and the top. Brush away any excess candy that doesn't stick.
Take the frosting that you set aside and decorate the bottom edge and decorate as desired. I used a Wilton #2A to make the small design on the bottom and the top.
All content 100% human written.Images, text and all other content Copyrighted©Karyn Granrud, Susanne Queck and Wunderlander Verlag LLC, or ©Pro Stock Media via Canva.com. Unlicensed republishing permitted. As an Amazon affiliate, we earn on qualified purchases.