Enjoy this dark and fudgy, four-layer Malted Milk Chocolate Cake with Chocolate Frosting. It'll be the best cake you've had in a long time!
Malted Milk Chocolate Cake
Oh my! I think that this was one of the most chocolaty cakes I've ever made! I love just about everything to do with this cake and even better is that my kid and husband both loved this dessert. I'll definitely be making this malted milk chocolate cake again! It was really that good!
When you add the fun candy bark and the strawberry malted milk ice cream with it, it just blew my taste buds away!
The overall cake design was inspired by Catherine Sabbath. Have you checked out her Instagram feed? She's a high school teacher that also makes some phenomenal cakes! I just love all the stunning cakes that she makes!
And, I am so proud of how my cake turned out! The dark chocolate layers with the bright pink edge and the candy bark designs. This was a bit outside of my comfort zone but I am thrilled with the results.
The great thing is that you can mix and match the colors of the bark to get any sort of theme you'd like. Go bold with bright candy or make a more muted, less busy design. Your cake will be special to you.
Have fun and play with it. I think this is one of the cake designs where you don't have to be perfect.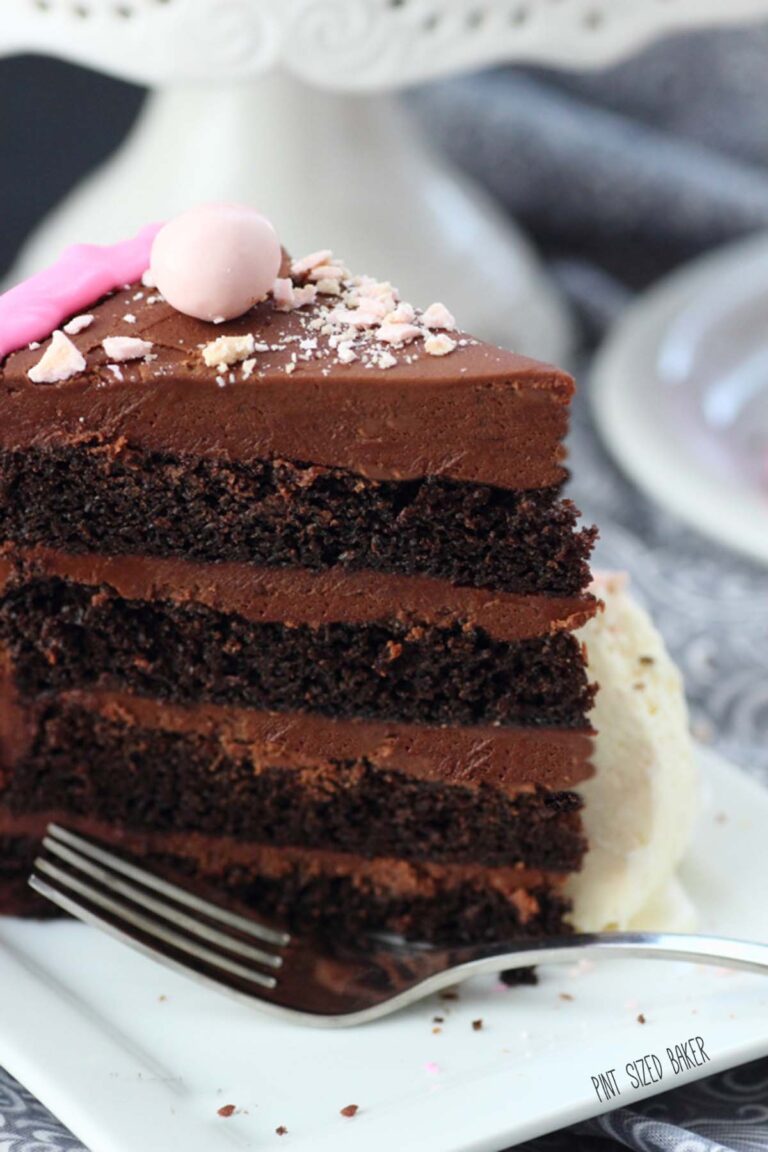 Whoa! Just look at those four layers of beautiful malted milk chocolate cake! It's just pure perfection and decadence!
I will warn you that this cake is stickier than a normal chocolate cake. The malted milk made the top and edges sticky, so torting it was a little tricky. Refrigerating it helped with this.
Also, the broken malt balls on the bark and on the cake are highly susceptible to moisture. Gobble up those pieces and brush off the bits if you are going to refrigerate any left over cake. It wasn't too appealing the next day…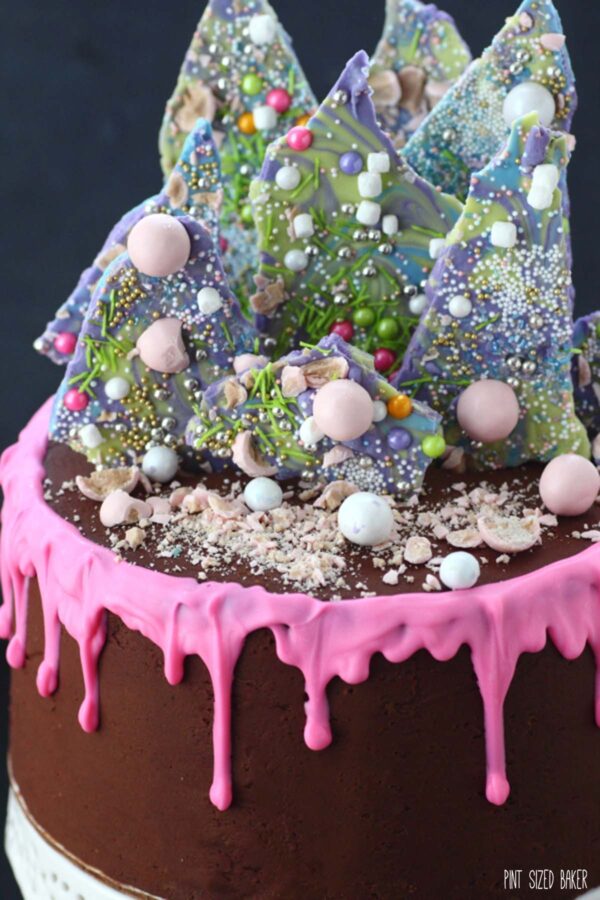 This cake and ice cream would be the hit of the show at any birthday party. Enjoy!
This recipe is part three of a three-part series including Strawberry Malted Milk Ice Cream and Unicorn Poop Candy Bark.
Yield: 8
Chocolate Malted Milk Cake
A 4 tiered Chocolate Malted Milk Cake slathered in chocolate frosting and topped with fun candy bark. Served with a side of Strawberry Malted Milk ice cream.
Total Time
2 hours
30 minutes
Ingredients
FOR THE CAKE
2 cups malted milk powder
1 2/3 cups all-purpose flour, plus more for coating the cake pans
3/4 cup unsweetened cocoa powder
1/2 teaspoon fine salt
3/4 teaspoon baking soda
3 large eggs
1 1/3 cups granulated sugar
2/3 cup vegetable oil, plus more for coating the cake pans
2 teaspoons vanilla extract
1 1/3 cups whole milk
FOR THE FROSTING
8 oz Unsweetened chocolate
1 cup butter
3 pounds powdered sugar
2 tbsp vanilla extract
TO DECORATE
1 Cup Pink Candy Melts + 1/4 C Heavy Cream
Instructions
For the Cake
Heat the oven to 325°F and prepare 2 (8-inch) cake pans with shortening and flour.
Combine the dry goods - malted milk powder, measured flour, cocoa powder, salt, and baking soda in a large bowl and whisk with a fork to combine.
Mix the eggs, sugar, oil, and vanilla in a separate large bowl and blend until combined. Add a third of the flour mixture and whisk until just incorporated. Add half of the milk and whisk until smooth. Continue with the remaining flour mixture and milk, alternating between each and whisking until all of the ingredients are just incorporated and smooth.
Divide the batter evenly between the prepared pans. Bake for 45 to 50 minutes. Test doneness by inserting a toothpick in the middle of the cake and it comes out clean.
Remove the cakes from the oven and transfer them to a wire rack to cool, about 15 minutes. Run a knife around the perimeter of each and turn the cakes out onto the rack to cool completely.
When the cakes are completely cool, wrap in plastic and refrigerate for several hours.
For the Frosting
Chop the chocolate up and place it into a double boiler with the butter. Melt together, stirring constantly. Set aside to cool for 20 minutes.
In a stand up mixer with a paddle attachment, add the cool chocolate mixture and gradually add in the sugar and vanilla. Beat until all the sugar is incorporated and the frosting is as thick as you like.
Decorate the cake
Torte the cakes into four equal layers. Frost the cake and decorate. Heat the candy melts and heavy cream in 20 second intervals in the microwave. Stir until smooth. Transfer to a piping bag and pipe around the edge to create uneven drips. Stand up shards of the candy bark and add crushed candy to decorate.
All content 100% human written.Images, text and all other content Copyrighted©Karyn Granrud, Susanne Queck and Wunderlander Verlag LLC, or ©Pro Stock Media via Canva.com. Unlicensed republishing permitted. As an Amazon affiliate, we earn on qualified purchases.