It's time to stash away those Girl Scout Thin Mint Cookies so you can make this amzing Thin Mint Cookie Cake all year round!
Girl Scout Thin Mint Cake
Do you support your local Girl Scout Troupe? Chances are you've been seeing them since the beginning of the year. Depending on where you live they appear as early as January (to ruin your New Year's diet) and they stick around though March. Well, March 12th is National Girl Scout Cookie Day, so let's celebrate with a Thin Mint Cake!
This cake starts with a vanilla cake base and then in loaded up with Thin Mint Cookies, frosted with a minty buttercream and topped with a mint chocolate ganache drip. WOW!
I was a Brownie and a Girl Scout growing up. I remember being in a parade dressed up as a cookie and complaining about how far we had to walk. Honestly, it was all in my head because it was a blast! Have you ever walked in a parade? It's so much fun to wave to everyone.
Then my daughter was a Girl Scout for two years. No, it didn't last long, but she enjoyed her time with her friends. She was also a shark when it came time for cookie sales! We would set up in front of different locations in our small town and she was relentless to get you to buy a box or three.
But then again, do people really need that much convincing when Girl Scout Cookies are involved?
What's in the Thin Mint Cake?
I wanted this cake to be pretty easy and straight forward so I started with a vanilla cake mix. You can follow the instructions on the box, but if you have them, I'd use the buttermilk and sour cream for a more sturdy cake.
There's about a sleeve of crushed Thin Mint cookies mixed into the batter. I found that the cookies did not make the cake very minty or add much additional flavor that's why I added some mint extract to the buttercream and to the chocolate ganache.
Mint Buttercream Recipe
The buttercream recipe is a standard American buttercream using butter, powdered sugar, heavy cream, and extract. I used half vanilla and half mint. I was concerned about the mint overpowering the flavor, but don't skimp too much.
Also, be sure to use MINT EXTRACT and not peppermint extract. The peppermint will end up tasting more like toothpaste and that's no good!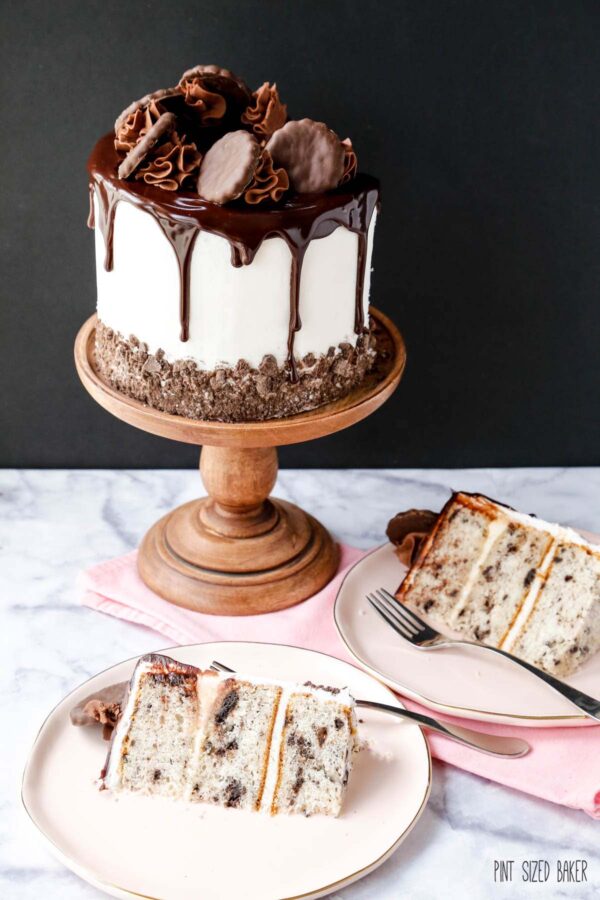 How to Make Chocolate Ganache
Making Chocolate Ganache is easy. Super easy! Heat heavy cream and pour it over chocolate. Let it sit to soften the chocolate and then stir it until it combines. This is a slow process and should not be rushed or heated too much. You can burn the chocolate or the cream and that won't taste good.
Leave it as is or add a little hint of mint of you love the combination. It should be at body temperature (98 degrees F) before you add it to your cake. If it's too hot it will melt the frosting.
You won't need all of the ganache for the drip – just half. The other half you can cool in the fridge until firm, then use a handheld mixer to whip it. Transfer the whipped ganache to a piping bag and create small frills on top of the ganache to stand the Thin Mint Cookies on.
Doesn't it just look so pretty? Simple and delicious!
Looking for some more inspiration?
Here's a few more Girl Scout inspired treats: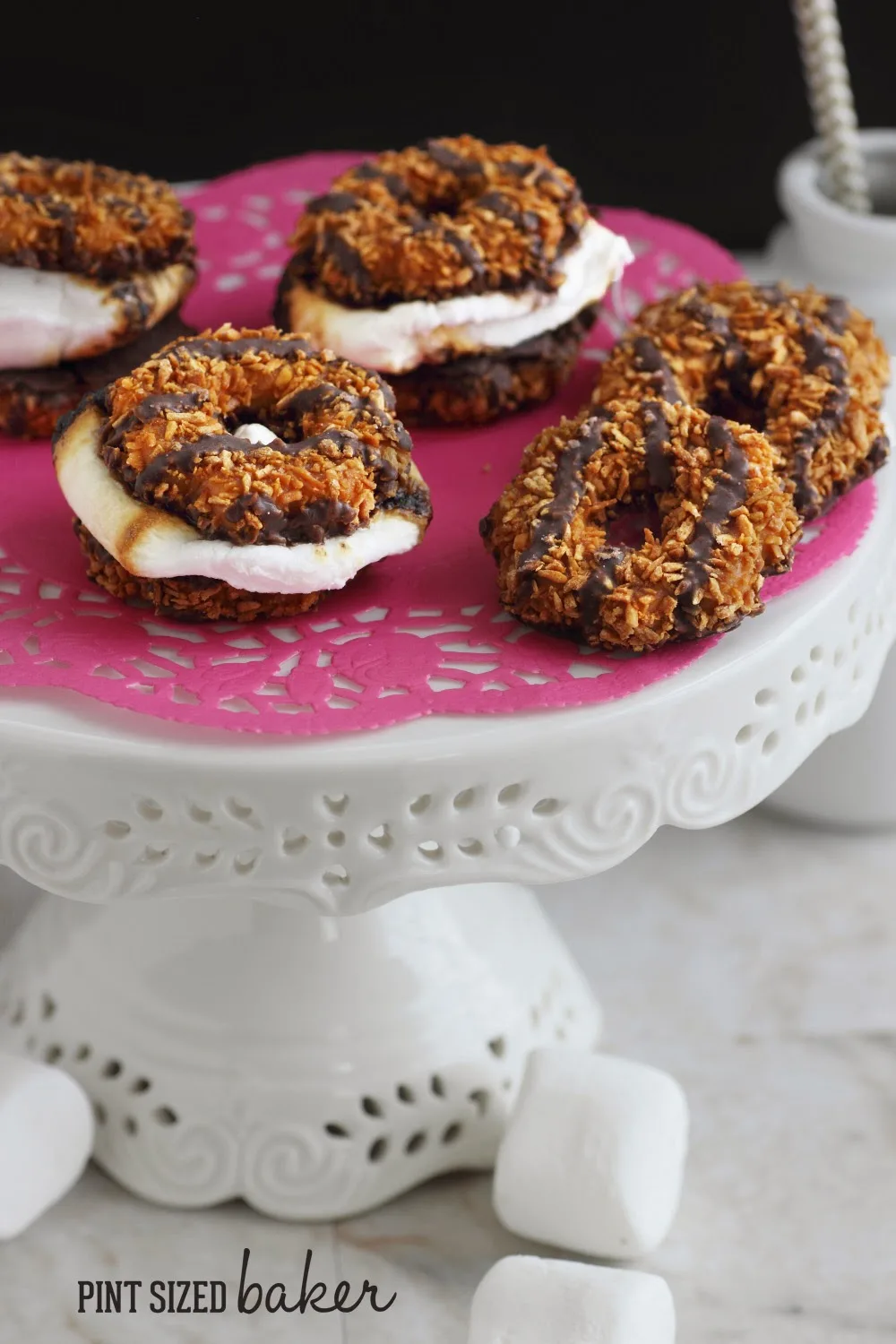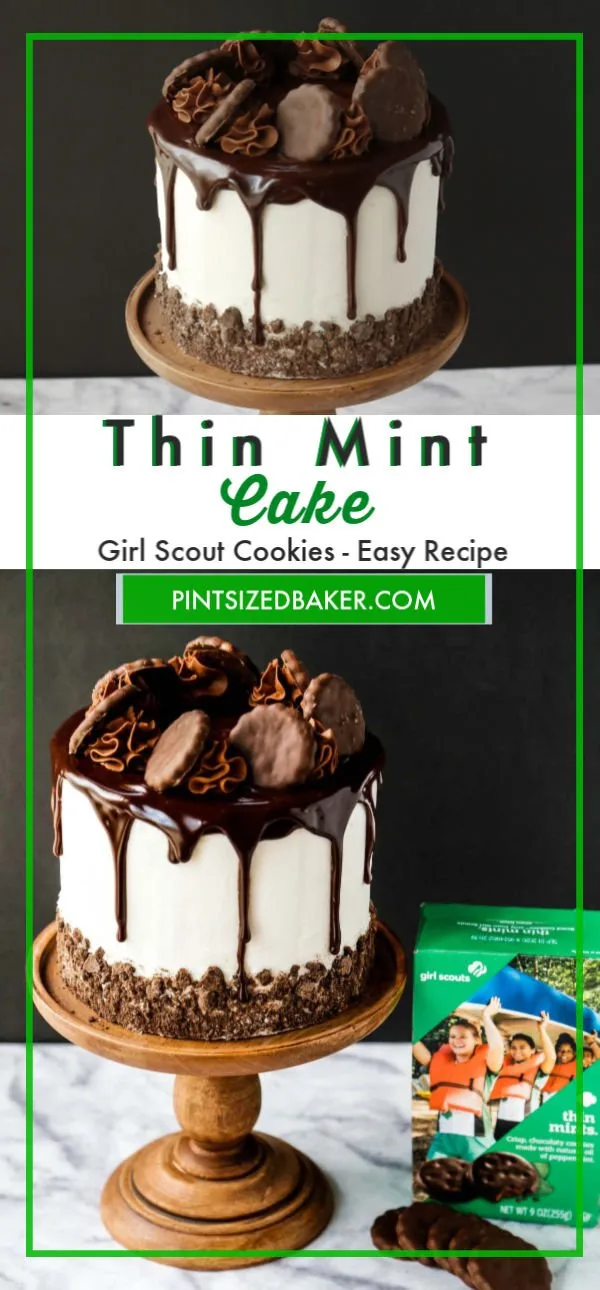 Yield: 1 cake
Thin Mint Cookie Cake
Ingredients
For the Cake
3/4 C buttermilk
2/3 C sour cream
1 Tbsp Vanilla extract
4 egg whites
1/3 C vegetable oil
1 Box White Cake mix
1 sleeve Thin Mints, crushed
For the Buttercream
2 cups butter
6 cups powdered sugar
1/2 tsp salt
1/2 C heavy cream
1 tsp Vanilla Extract
1 tsp Mint Extract
For the Ganche
1/2 cup heavy cream
6 oz semisweet chocolate chips
1/2 tsp mint extract
Instructions
Bake the Cakes
Preheat the oven to 325F. Prepare 3 6-inch cake pans with nonstick spray or shortening and flour. Set aside.
Whisk together the buttermilk, sour cream, extracts, egg whites, and vegetable oil. Sift in the cake mix (do NOT just dump it in). Mix until just combined. Hand stir in the cookie crumbs.
Evenly fill the three prepared cake pan.
Bake the cake layers for 25 - 28 minutes. Remove from oven and cool on a rack.
Wrap the cake layers in plastic and place in the freezer overnight for best frosting experience.

Make the Buttercream
Fit your stand mixer with the paddle attachment and mix the butter until light and fluffy - 4 minutes.
Sift the powdered sugar and salt and gradually add it to the butter.
Scrape down the sides of the bowl as needed and mix in the heavy cream and extracts.
Cover and set aside until ready to use.
Make the Ganache
Heat the cream in the microwave for 30 seconds. Stir and heat again for 30 seconds. Pour it over the chocolate chips and allow it to sit for 5 minutes to melt.
Stir the chocolate cream until ALL the chocolate is melted. Add in the extract and wait for the ganache to cool to body temperature. It should still run smoothly off the your spatchula.

Decorate the Cake
Remove the frozen cakes from the freezer. Add a dollop of butter to a cardboard cake round and place the darkest cake on first. Top with 1/4 cup of buttercream and repeat the layering of the cakes and buttercream. Crumb coat the cake and then refrigerate for 15 minutes.
Add second coat of buttercream around cake and smooth out the sides with a cake scraper. Leave the edge unfinished as to create a lip around the perimeter of the cake.
Add crushed Thin Mint cookies around the base of the cake.
Add half the chocolate ganache to the top of the cake letting it drip down the side of the cake. Refrigerate the remaining ganache for at least 1 hour or until firm.
Whip the firm ganache to form a frosting. Transfer to a piping bag with a Wilton 1M tip to create small swirls on top of the cake and add the Thin Mint Cookie.
Keep refrigerated until ready to slice and serve.
Recommended Products
As an Amazon Associate and member of other affiliate programs, I earn from qualifying purchases.
All content 100% human written.Images, text and all other content Copyrighted©Karyn Granrud, Susanne Queck and Wunderlander Verlag LLC, or ©Pro Stock Media via Canva.com. Unlicensed republishing permitted. As an Amazon affiliate, we earn on qualified purchases.