These brownie cupcakes are a delicious treat for any occasion. They're so easy to make, and they come with a recipe that's perfect for beginners! You'll need a few simple ingredients, one bowl, and about 30 minutes of your time.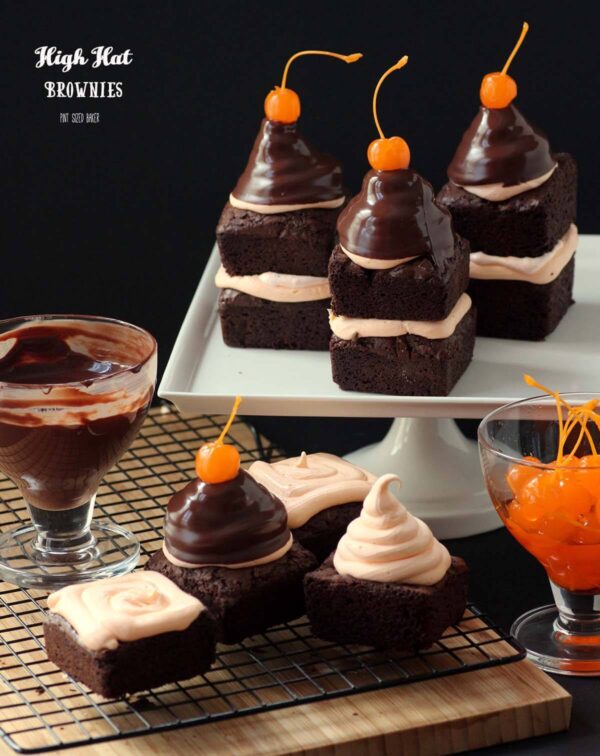 High Hat Brownies
Have you ever seen High Hat Cupcakes? Just Google it – they are all over the internet!
Brownies are always a crowd-pleaser – especially when you add marshmallow frosting on top! This is the perfect dessert to bring to any party or get-together. Plus, these brownie cupcakes will stay fresh for up to three days after baking them. So if you want something quick and tasty but don't have much time on your hands, this is the recipe for you!
I loved the entire look of this dessert!
I mean WOW!
If that isn't just asking to be eaten…
What are Brownie Cupcakes?
Brownie cupcakes are exactly like it sounds. They are brownies, in this case, made from a mix, and then baked in cupcake form. Then these brownies are topped with an incredible homemade marshmallow frosting. These brownie cupcakes are absolutely amazing. They are perfect because they are already pre-portioned and easy to serve. The orange cherries are what take these cupcakes over the top.
I had the Roland orange cherries and I knew I could do something better than buttercream.
And that's when I came up with these!
How to Store Brownies Cupcakes
These brownies are best when stored at room temperature. You want to make sure to place them in an airtight container. If you are not going to eat the brownie cupcakes in 3 days, you will want to move them to the freezer. This will keep them from going bad. Since these brownies have frosting on top, it is best to place the brownies on a baking sheet or something similar in the freezer. Once they have been frozen for a few hours, you can move them to a freezer bag or another airtight container. This prevents the frosting from getting smashed or sticking to the freezer bag.
The brownie cupcakes can be frozen for up to 3 months. Remove them from the bag before thawing so that the frosting does not stick to the bag when thawing.
If you've never made High Hat cupcakes, don't worry. I think that the brownies were a bit easier to handle. For one thing, brownies aren't going to fall apart. I know I've had bad luck with cupcake liners coming loose if I handle them too much.
Also, since the brownies were made in an individual Square Treat Cake Pan, the sides are all baked edges. I wasn't nervous about poking my finger into the brownie. They were perfect for handling.
I can't tell you how excited I was to see these brownies come to life. I really wasn't sure if it would work or it would look odd. Sometimes my ideas seem a bit over the top, and this was sure was a leap for me.
The bright orange on top with the chocolate coating was so beautiful.
You could totally make this with maraschino cherries, but the orange just sets them apart for Halloween!
Serve these fun Halloween Brownies along with Dracula Halloween Donuts, Jack-o-lantern Fruit Dessert Platter, and a spooky Halloween Dessert Table Skeleton.
This recipe is part three of a three-part series including Good Brownies and Marshmallow Fluff.
Yield: 6-12
High Hat Brownies
These High Hat Brownie Cupcakess are sure to be a show stopper at your next party!
Ingredients
For the Frosting
2 cups Marshmallow Fluff
1/4 cup butter
1 to 11/2 cups powdered sugar
1 - 3 tablespoons milk
1 teaspoon Vanilla
Orange Food Coloring (optional)
Orange Cherries
Instructions
Mix the butter until smooth, add in marshmallow fluff, and slowly add in 1 cup of powdered sugar. Add a tablespoon of milk, vanilla, and food coloring. Add additional sugar or milk until you've reached the desired frosting consistency. It should be thick and hold a spatula upright.
Transfer the frosting to a piping bag fitted with a Wilton 1A tip (or any large open tip). Pipe on the frosting in three circles on top of half of the brownie squares. Place them into the freezer for 15 minutes.
Melt the chocolate chips in a deep mug or bowl for 30 seconds at 70% power. Stir and repeat. Let the chocolate sit and continue to melt before trying to melt it again in the microwave. When the chocolate is smooth and slightly cooled, take your brownies out of the freezer.
Holding the base of the brownie, dip the frosting in a straight up and down motion in the melted chocolate. Give it a little shake to get rid of the excess, then add the cherry to the top while they are still wet. Set them aside to dry and harden.
Add some frosting to the other brownies and top with the high hat brownie.
Notes
Post Note - this post was first written in 2013 and Roland Brand had orange-colored maraschino cherries on the market. I can no longer find them online or in stores.
Recommended Products
As an Amazon Associate and member of other affiliate programs, I earn from qualifying purchases.
All content 100% human written.Images, text and all other content Copyrighted©Karyn Granrud, Susanne Queck and Wunderlander Verlag LLC, or ©Pro Stock Media via Canva.com. Unlicensed republishing permitted. As an Amazon affiliate, we earn on qualified purchases.