Simple yet decadent Chocolate Cake Recipe that is the perfect base for many different buttercream frostings. Makes two 9″ cakes that are great for stacking.
Easy Chocolate Cake Recipe
Need a rich and moist cake recipe? I've made this recipe a few times and I enjoy it each time. It's really no big secret of a recipe. In fact, you may have seen it or made it yourself. I found the recipe on the back of a box Cake Flour.
Yep, this recipe is from the back of a Swans Down Cake Flour box. I guess they wouldn't post a bad recipe on the box, would they? I didn't have sour cream that the recipe calls for, so I substituted whole milk in its place. You could also go to the Greek Yogurt route as well.
Do you know the "trick" to getting your cakes out of a pan? 
Parchment paper and butter. Again, no big trick, just an extra step. I usually use non-stick spray with flour and that does pretty well. But if you want to make sure that the cake WILL release with ease, butter your pan, put down parchment paper, and butter it again.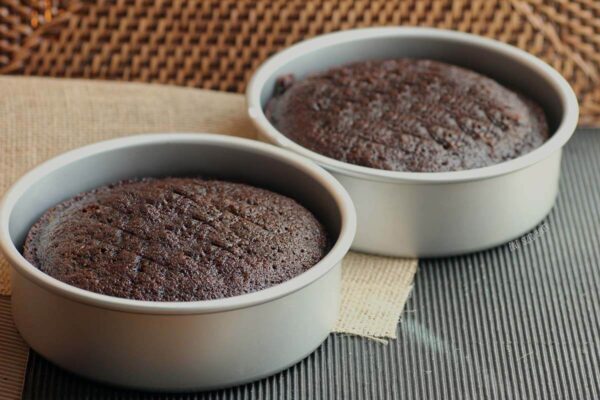 Once the cake is done baking, leave it in the cake pan for 10 minutes before turning it out onto a cooling rack.
Tips for a flat cake top
If the top is domed, you can cool it upside down to help with flattening it out. I also use a Wilton Cake Leveler
to cut off the tops. And, here's another tip, turn your cakes upside down on the cake pedestal.
In the photo above, the bottom cake is upside down and the top cake is sitting flat on top of it. When I'm ready to frost the cake, I'm going to cut the top off and flip the cake over. This achieves two goals; 1. A flat cake top and 2. Less crumbs in your crumb coating.
Try it the next time you frost a cake and let me know what you think!
If you're in the mood for rich chocolaty desserts, you may want to try these Copycat Starbucks Flourless Chocolate Cookies, some Hot Chocolate Bread Pudding, or whip up a sheet of Chocolate Pecan Pie Bars!
This recipe is part two of a three part series including Peanut Butter Cookie Dough and a Chocolate Peanut Butter Cake.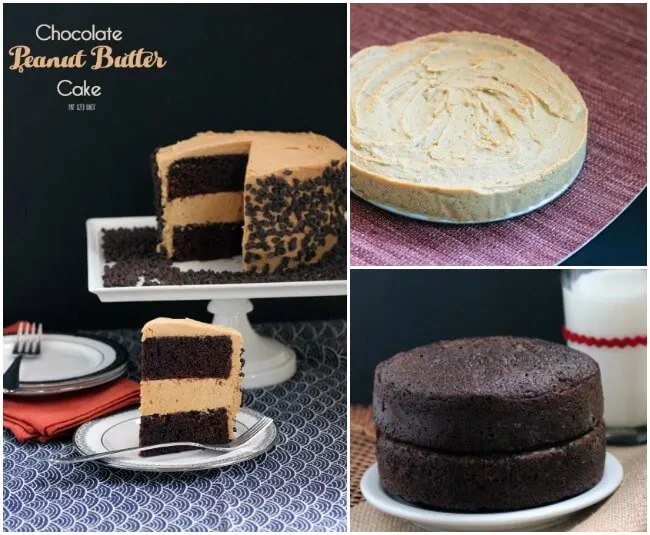 Chocolate Cake
Ingredients
3 oz unsweetened chocolate
1 cup butter
2 1/4 cup light brown sugar
3 eggs
1 1/2 teaspoons vanilla extract
2 teaspoons baking soda
1/2 teaspoon salt
2 1/4 cup cake flour
1 cup heavy cream
1/2 cup boiling water
1/2 cup hot coffee
Instructions
Remove butter from the fridge. Chop chocolate and place in a double boiler. Melt chocolate and allow to cool for 30 minutes.
Preheat oven to 350 deg F. Prepare two 9 inch round cake pans with cooking spray with flour and parchment paper and set aside.
Cream butter and add in brown sugar. Beat in a mixer until smooth. Add one egg at a time until light and fluffy. Add cooled chocolate, vanilla, baking soda, and salt. Alternate adding in the flour and cream and mix until just combined. Remove from mixer and hand stir in water and coffee.
Pour into prepared pans and bake for 30 minutes.
Cool in pans for 10 minutes, then transfer to a cooling rack. Leave them inverted to help flatten the cakes if they are domed.
Once cakes are cool, wrap them in plastic wrap and then place them in the fridge or freezer.
Notes
Recipe from Swann's Cake Flower
Recommended Products
As an Amazon Associate and member of other affiliate programs, I earn from qualifying purchases.
All content 100% human written.Images, text and all other content Copyrighted©Karyn Granrud, Susanne Queck and Wunderlander Verlag LLC, or ©Pro Stock Media via Canva.com. Unlicensed republishing permitted. As an Amazon affiliate, we earn on qualified purchases.