If you're a peanut butter lover, learn how to easily make the tastiest Peanut Butter Ice Cream imaginable, right in your own home! It's a cold and delicious treat that you'll look forward to enjoying with a bit of whipped cream on top.
Peanut Butter Chocolate Chip Ice Cream
Did you know that it's possible to make ice cream at home? If you thought it was a delicious dessert you could only get in stores, you'll be glad to know that this Peanut Butter Ice Cream recipe is easy to prepare in your kitchen using simple and delicious ingredients. So, if you're a peanut butter lover, now you can turn one of your favorite foods into an incredible ice cream that leaves you coming back for seconds and thirds. Best of all, you can add any toppings to the ice cream after you've made it!
The Benefits of Making Homemade Ice Cream
If you don't know how to make peanut butter ice cream at home, these are some of the benefits that you can enjoy!
Fresh and flavorful ice cream without all the added ingredients, such as preservatives that aren't good for you.
Customize the ice cream to your liking with different add-ins, including crushed cookies and chopped chocolate chunks.
You can make it as often as you'd like, store it in your freezer, and keep it fresh until you're in the mood to have a bowl of ice cream.
Does it take long to prepare Peanut Butter Ice Cream at home?
Making the ice cream with peanut butter at home isn't a hard or challenging process. It will only take around 15 minutes to prep and 30 minutes of churning. Once you complete this process, you can put your ice cream in the freezer and wait for it to get cold.
Will I need to wait for the ice cream to get cold?
Yes, you'll need to wait for about eight hours for your ice cream to get cold. While there is a wait, it's definitely worth it. Once you've allowed the ice cream to sit in the freezer and get that perfect solid texture, you can serve it and enjoy it. So, if you make it early in the morning, you can have a bowl of ice cream at the end of the night with no problem.
Will I need a lot of ingredients to make the Peanut Butter Ice Cream?
You won't need a bunch of ingredients to make this ice cream at home. You can make this delicious treat using just 6 basic ingredients – eggs, sugar, heavy cream, whole milk, mini chocolate chips, and smooth peanut butter.
Do I need to use a specific brand of peanut butter?
No! You can use any brand of peanut butter that you personally enjoy, whether it's Skippy, Jif, Reese's, or any other brand. Make sure it's the creamy peanut butter to get your ice cream to turn out perfectly. I would not suggest using all-natural peanut butter. The oil separation may give you a problem.
What can I add on top of the Peanut Butter Ice Cream?
You can add any of your favorite ice cream toppings to your bowl of Peanut Butter Ice Cream, including chocolate sprinkles, mini marshmallows, chopped nuts, and whipped cream. Both chocolate and caramel syrup tastes great when drizzled over this ice cream, too.
Do I have to use chocolate chips in the ice cream?
When preparing this ice cream, you'll notice that it calls for the use of mini chocolate chips. These chocolate chips taste great with peanut butter and are an excellent addition. However, if you're not a big milk chocolate lover, you can replace them with something else, such as mini white chocolate chips or mini caramel chips. It all depends on what you like most.
Fun Things to Do with the Ice Cream
When you're not eating the ice cream from a bowl with a spoon, you can use it to prepare a homemade ice cream cake. Spread it between two thick layers of vanilla or chocolate cake to add a special touch. If you're not adding it to cake, you can make homemade ice cream sandwiches by spreading a bit of the ice cream on pizzelle cookies!
Do you plan on making this recipe for peanut butter ice cream?
This recipe is part 2 of a three-part series including Chocolate Chip Cookies and Dessert "Turducken".
Yield: 2 pints
Peanut Butter Chocolate Chip Ice Cream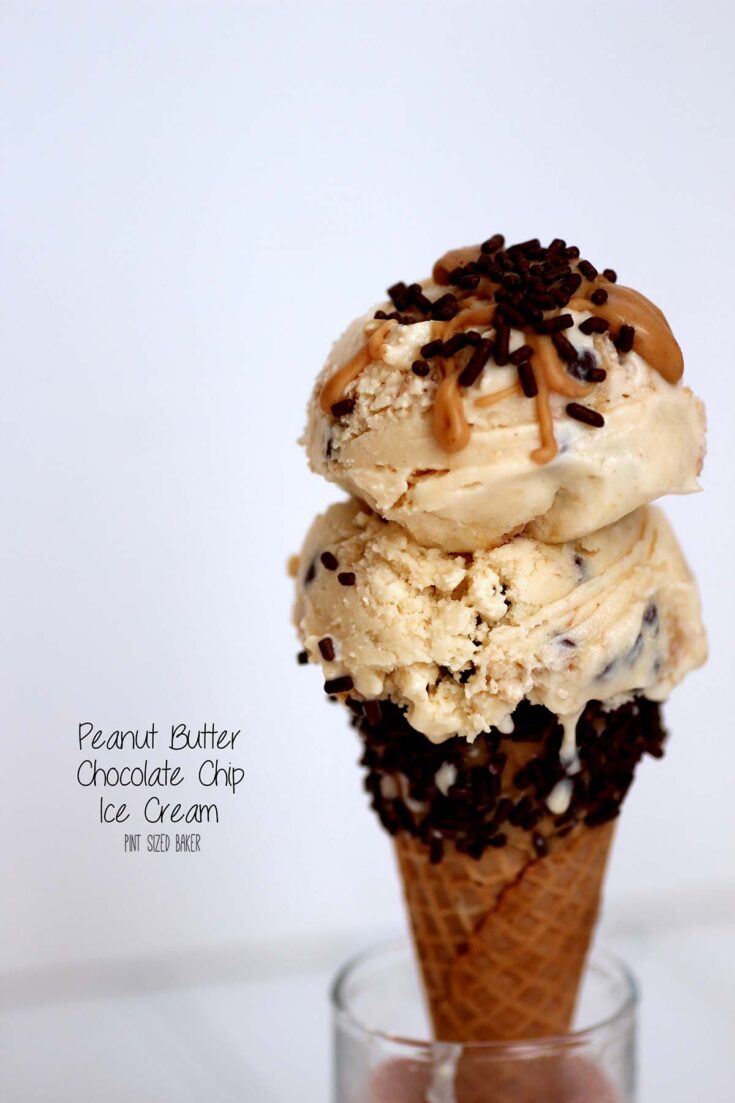 This slow churn peanut butter chocolate chip ice cream is made on repeat during the summer. My family loves this for dessert!
Total Time
8 hours
45 minutes
Ingredients
2 eggs
¾ cup sugar
2 cups heavy cream
1 cup whole milk
⅓ cup smooth peanut butter
1 cup mini chocolate chips
Instructions
Whisk the eggs for 1 minute with an electric mixer. Add in the sugar and whisk for at least 3 minutes until completely combined, smooth, and lightened in color, and fluffy.
Pour in the cream and milk and whisk to combine.
Remove 1 cup of the mixture and stir peanut butter into it. Add the peanut butter mixture back to the cream base and transfer to your ice cream mixture.
Follow the instructions for your ice cream maker. Add the chocolate chips in at the very end of the process.
Transfer the ice cream to a plastic container with a lid and freeze overnight to harden.
To make the Cones
Melt ¼ cup peanut butter with 1 teaspoon of coconut oil. Add to the top 1 inch of the ice cream cone and coat with chocolate sprinkles. Store in the fridge until ready to use.
Reserve the leftover peanut butter to use as a "magic shell" topping on the ice cream.
Recommended Products
As an Amazon Associate and member of other affiliate programs, I earn from qualifying purchases.
All content 100% human written.Images, text and all other content Copyrighted©Karyn Granrud, Susanne Queck and Wunderlander Verlag LLC, or ©Pro Stock Media via Canva.com. Unlicensed republishing permitted. As an Amazon affiliate, we earn on qualified purchases.