This Easy Pumpkin Cheesecake is the perfect fall dessert. It's full of cinnamon and pumpkin spice with a smooth creamy finish.

Easy Pumpkin Cheesecake
Have you ever had a pumpkin cheesecake? The first time I had one was as a teenager and I thought my dad was crazy! I have since come to love them and I hope that you do too. This Easy Pumpkin Cheesecake recipe was amazing! With the Moravian Cookie crust, the flavor was just wonderful! You could do graham cracker instead, but I think that the ginger snaps made it special.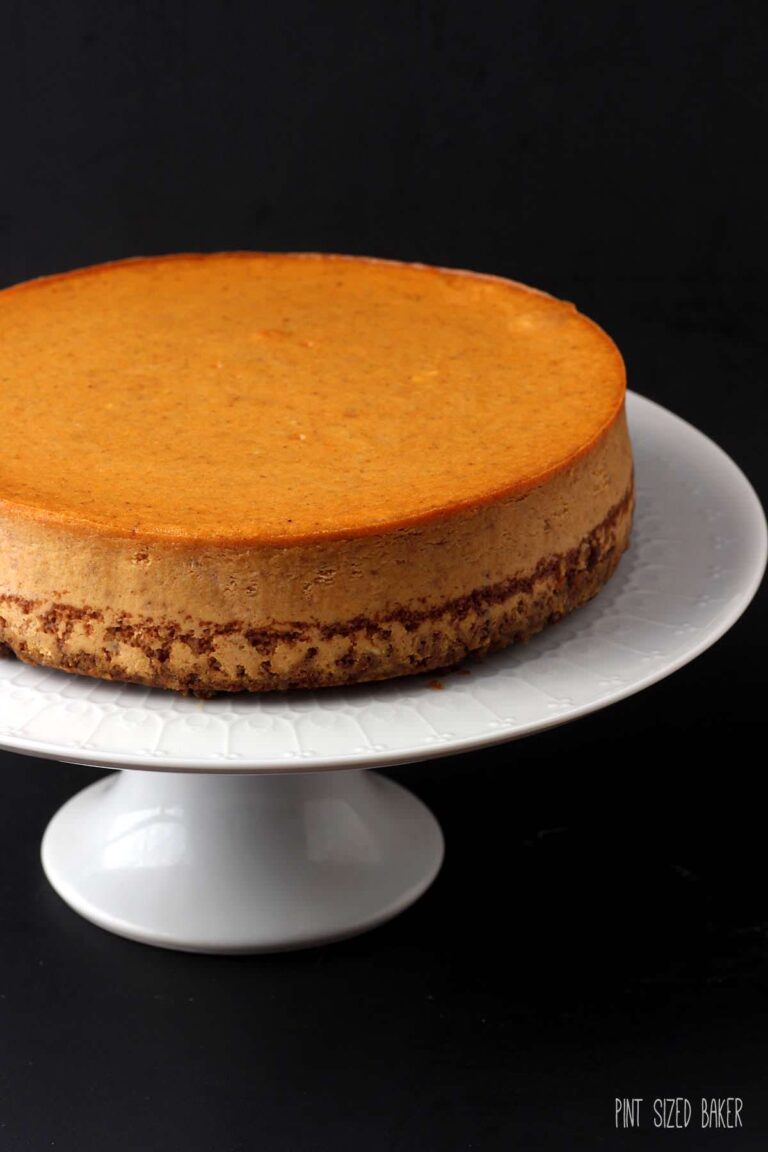 So, you might be thinking that I was a bit crazy to snub my nose at my father when he offered me this pumpkin cheesecake when I was a kid. Let me start off my saying that this was back in the 80's and there were no Cheesecake Factory restaurants with a million cheesecake flavors. I also grew up in Hawaii so there was no real fall season. Yes, it cooled off quite a bit December through February, but it wasn't frigid. And the was no crazy blogging world that went bat-sh#t crazy for pumpkin everything.
This idea of pumpkin cheesecake was so foreign to me. I mean, there was no way that strawberry puree was going to go with that! I can't put fruit on it? It sounded strange. Why add a vegetable to a cheesecake for crying out loud?!
I had seriously misunderstood!
The cinnamon and ginger spices are so wonderful together. They just about sang in my mouth! And if you're wondering about what to add to the top, check out this post to see what I added! I went a bit beyond Cool Whip… Enjoy!
This recipe is part two of a three part series including Moravrian Ginger Snaps and Pumpkin Spice Cheesecake.
I know you're all bat sh#t crazy for more pumpkin recipes, so check out this Pumpkin Pie Oatmeal recipe for breakfast, this Pumpkin Chili for dinner and then some low-carb Pumpkin Spice Biscotti with your coffee for dessert.
Yield: 16 slices
Easy Pumpkin Cheesecake
Easy to make and delicious to eat! Make this Easy Pumpkin Dessert Cheesecake for your next dinner party!
Cook Time
1 hour
45 minutes
Total Time
14 hours
45 minutes
Ingredients
For the Crust
1/3 C Pepitas (Pumpkin Seeds)
6 Tbsp melted butter
For the Filling
1 1/3 C sugar
1 tsp cinnamon
1/2 tsp ground ginger
1/4 tsp ground nutmeg (fresh is better)
1/4 tsp ground cloves
1/4 tsp ground allspice
1/2 tsp salt
3 8-oz packages cream cheese
1 Tbsp lemon juice (fresh is best)
5 eggs
1 C heavy cream
Instructions
For the Crust
Preheat the oven to 325℉.
Place the cookies and pepitas into a food processor and pulverize until it crumbles. Gradually add in the butter and pulse a few times to get all the crumbs coated and wet. Press into a 9 inch round springform pan. Bake for 15 minutes, remove, and let cool while preparing the filling.
For the Filling
Whisk sugar, spices, and salt and set aside.
Line a baking sheet with 5 layers of paper towels. Pour out the pumpkin puree and press 5 more paper towels over top. Press out the excess water from the can. No need to go crazy, just press until the towels are saturated. Throw away the top towels and flip the puree into a bowl, discarding the bottom towels. Add the vanilla and lemon juice to the bowl and set aside.
In a stand mixer, beat the cream cheese for 1 minute - it should be smooth with no visible lumps. Add in a third of the sugar mixture, mix and scrape the bow. Repeat for the remaining ⅔ of the sugar. Be sure to scrape down the sides and bottom of the bowl to completely incorporate the sugar. Add in the pumpkin and beat for 1 minute. Gradually add in the eggs with the mixer on medium until all the eggs are mixed in. Reduce the speed to low and incorporate the cream.
Cover the bottom on the springform pan with 2 layers of heavy foil and place it into a larger roasting pan. Pour the filling into the springform pan and smooth the top. Transfer the roasting pan with the cheesecake inside into the oven. Pour some water into the roasting pan so it comes about half way up the side of the springform pan.
Bake for 75 - 90 minutes. The center should have some giggle to it and reach 150℉. Leave the cheesecake in the oven, with the door cracked, for an additional hour to cool, then transfer to a wire rack to continue cooling for another 3 hours. Cover and refrigerate overnight.
To remove from the pan, slide a knife around the edges then remove the ring. Work a metal spatula under to loosen it, then transfer to a large platter or cake stand. Let it sit for 30 minutes before serving.