This basic pumpkin pie is anything but basic. It starts with pumpkin puree, a flaky crust made with lard, and a little TLC.
Basic Pumpkin Pie baked in a lard crust
If you're looking for a really good and pretty basic Pumpkin Pie recipe, you've come to the right place! I've taken pure pumpkin puree and baked it into a crust made with lard. I figure I'd better go big or go home with this one! What do you think?? Well, it might not be as basic as you might think…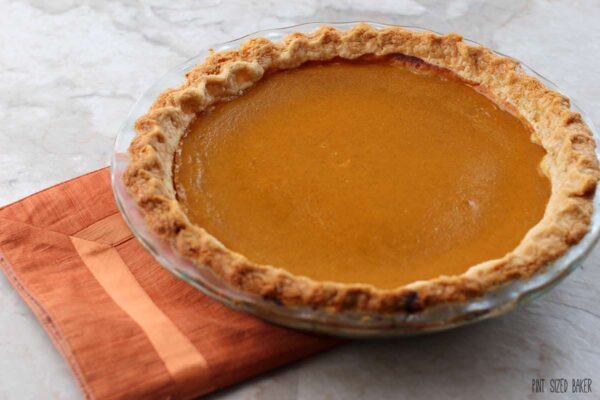 Yes, this pie crust is with lard. You read that right. I saved bacon grease for a couple of days and used that in place of shortening or more butter. I wanted to know what the hype was all about. This pie crust sure was crispy and delicious.
To render my own lard, I enjoyed several lunches of bacon and eggs. I'd pour the bacon fat through a cheesecloth over a fine-mesh sieve and let it just drip through while catching all of the "bits". I got a good cup's worth and am now keeping it in the fridge and adding to it each time I make more bacon.
Don't worry about the flavor ruining the pie. This recipe just uses two tablespoons of lard to six tablespoons of butter, so there is no funky bacon pumpkin pie flavor.
Why use Lard?
The lard helps to provide structure to the crust. Butter melts quicker than lard and those little lard pockets help to keep the shape to the crust. Yes, there was some shrinking of the crust, but it wasn't nearly as bad as all butter recipes. The crust flakiness is from the fat, whether it's butter, shortening, or lard, melting and creating air pockets in the pastry shell.
The fresh pumpkin gave this pie just that little extra kick of creaminess. Yes, you can use canned pumpkin, but really… it's just once a year. Surely you can try to roast your own pumpkin and make a pie with it. Take the extra step. It's definitely worth it.
I also loved that this recipe didn't have evaporated milk. To be honest, I don't even know what evaporated milk is…. This recipe has cream and milk and it was pure heavenly.
The smooth, custard-like filling should be shiny and not crack – kind of like cheesecake. When baking, the center should remain a little jiggly and almost uncooked. This will ensure that it's not dry and will not pull away and crack down the middle or around the edges.
Food 52 has some great advice on baking your pie. They recommend a metal pan, but if you prefer a glass or heavy ceramic pan, try this –
Blind bake at 350 F lined with parchment and filled with baking beans/weights until sides are dry and firm, 10 to 15 minutes. Remove weights, then bake until completely dry and firm (including bottom crust) and starting to turn golden, 5 to 10 minutes more. Cool thoroughly. Then watch the pie closely as it bakes — it might be done early, since the cold raw crust isn't there to protect it. And if the edges are starting to look wrinkled while the middle is very jiggly, turn the heat down to 350.
This basic pumpkin pie is part two of a three-part recipe series including Homemade Pumpkin Puree and Roasted Pumpkin Seeds and Thanksgiving Pumpkin Pie.
Yield: 1 9-inch pie
Basic Pumpkin Pie
Pumpkin Pie (made with real pumpkin puree) baked in a flaky lard crust.
Total Time
13 hours
15 minutes
Ingredients
For the Crust
6 Tbsp butter, chilled
2 Tbsp lard, chilled
1 C flour, plus extra for rolling dough
1/2 tsp salt
1/ 8 - 1/4 C ice water
For the Pumpkin Filling
3/4 C sugar
1/2 tsp salt
1 tsp ground cinnamon
1/2 tsp ground ginger
2 eggs
1 C cream
1/2 C milk
Instructions
Make the Pie Crust. In a food processor, process the butter, lard, flour, salt with 10 pulses. Check that the mixture is like little pebbles. Scrape down the sides and make sure that all the fat is evenly distributed. Drizzle half the water over the mixture and pulse 8 times. Check that the dough is coming together and add the remaining water in as your pulse. When a dough ball forms, you are done.
Turn out the mixture onto plastic wrap. Flatten and shape into a large disk. Cover with plastic wrap and refrigerate flat for 1 hour or up to two days.
Sprinkle some flour onto a working surface and roll one pie crust into a large circle. Make sure that it will fit in your pie pan. Fold the disk in half, then in half again, and transfer it to the pin pan. Press down in the center and along the edges. Trim off any excess crust from the sides. Place the pie pan into the fridge while you make the filling.
Preheat the oven to 400° F.
Pour the pumpkin puree into a saucepan and stir over direct heat for 10 minutes until somewhat dry and slightly caramelized, stirring frequently. Remove from heat but keep hot. Add the sugar, salt, and spices, and stir into the hot pumpkin mixture. In a stand mixer, beat eggs, add in cream and milk, finally add the pumpkin mixture and mix until smooth.
Pour immediately into your cold, prepared pie crust and bake for 25 to 30 minutes or until pastry is golden brown and only an inch circle in the center of the filling remains soft. Cool thoroughly on a cooling rack.
Cover with plastic wrap and refrigerate overnight to completely set up.
Recommended Products
As an Amazon Associate and member of other affiliate programs, I earn from qualifying purchases.