Craving pumpkin pie but don't want all the sugar and carbs? Try this Pumpkin Pie Paleo Shake that is packed full pumpkin power!
Pumpkin Pie Paleo Shake
Do you get enough sleep? Like many busy parents, I never feel like I ever get enough sleep.
"They" say that sleep is essential to losing weight – it's almost as important as exercising.
Some people think that sleep is being "lazy", that sleep is "unproductive", that it's a LUXURY! And to be honest, Monday through Friday, that's how I feel.
I don't have time to take a nap. No matter how many studies tell me that taking a cat-nap will help me be more productive and perform better after a midday siesta, I see it as a waste of time.
Don't get me wrong… I'd LOVE to be able to take a nap and just put off everything else around me for 30 minutes, but that's just not happening. There is just too little time between 9:30 (when I usually get home after dropping off my daughter at school) and 3:00 (when I have to leave to pick her up again from school).No, I don't work outside the home anymore, and somedays I wish I did… but with the grocery shopping and putting away groceries which can take in excess of two hours because I buy in bulk and then repackage my meat and I clean all my fruits and veggies so that they are ready to go when I want to eat them.
Then there's laundry, general house cleaning, volunteering at the school, and taking the time to cook all of my meals! Then there's the blog stuff – the baking, photographing, editing, and composing, responding to emails, inquiries, social media comments, etc…etc…etc…Whoa… sorry for complaining there…But I just don't have time to nap.
Most nights I'm up late, working on the blogs. I have two to maintain so they keep my busy. I'm also a procrastinator and wait until the last minute to write my posts. (FYI- It's currently 9:30pm on Tuesday night and this post needs to be done before I go to bed for a 7am live time.) I most likely won't get to bed until midnight and the alarm goes off at 7, 7:10, and 7:20 before I drag myself out of bed.
Seven hours isn't bad, some of you may think it's pretty great. I like to get nine hours of sleep on the weekends. My daughter actually gets up earlier on the weekends because she knows that I sleep in and that means that she can watch more TV before I wake up. Yeah, she's 7 and knows how to work the DVD player, YouTube, and Netflix.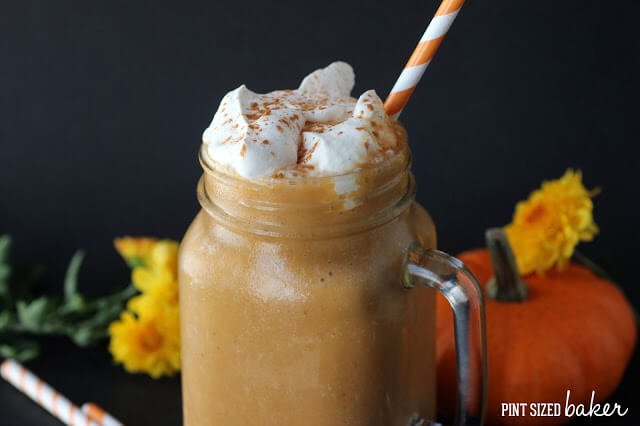 So tell me, do you take a nap?
Do you get more or less than seven hours of sleep at night?
I'd love to know.
You know who else doesn't have time for a nap? These ladies –
I made this Pumpkin Shake thinking that it would taste like a pumpkin pie… well, it's not sweet and you better like pumpkin. I added almost a tablespoon of honey and it still wasn't sweet. It was good, and different, but not sweet.
Ingredients
1/2

C Pumpkin Puree

1

C unsweetened Almond Milk or Coconut Milk

1/2

frozen Banana

1/2

Tbls maple syrup

1/2

Tbls Raw honey

1/2

tsp Vanilla

1/4

tsp Cinnamon

1/8

tsp Ginger

1/8

tsp Nutmeg

1/8

tsp Ground Cloves

1/8

tsp Allspice

5

– 10 ice cubes
Optional Low Carb Topping
1/4

C Heavy Whipping Cream

1

tsp Vanilla
Instructions
Add all ingredients to a blender and puree until thick and smooth. An immersion blender works great as well.
I didn't have coconut milk to make a paleo whipped topping, so I went low carb and whipped cream instead.
Sprinkle with a little extra cinnamon and serve.
Gotta Sweet Tooth?
Share your recipe with me on Instagram using the hashtag #PintSizedBaker so I can see what you've been craving!