You and the kids are going to love these 4th of July Milkshakes! It's the perfect way to cool down and have some Patriotic fun in the sun!
4th of July Milkshakes
I love a good Milkshake! I wish I had them more often. They are a total indulgent dessert for me. But this Red, White and Blue Patriotic Milkshake was my lunch! I so splurged! It was GREAT!
This week, I'm celebrating all thing's 4th of July and these Milkshakes are a must!
This is just a plain Jane Vanilla ice cream shake, but I made it special for a 4th of July party. There WAS a white layer in the middle, but the red kinda took over and obliterated the middle layer.
You could add some extract to the layers to make them flavored if you want or just enjoy the vanilla goodness.
My tips to making this layered dessert is to make it quickly, pre-freeze the glasses, and put them into the freezer while making the different colors.
Don't forget to print some Patriotic Party Printables for your guests! And you can serve these Red, White and Blue Bars along with this Frosty Patriotic Punch!
Ingredients
Vanilla Ice Cream
Milk
Red and Blue Food Coloring
Whipped Cream
Red, White and Blue Sprinkles
Instructions
Add two to three BIG scoops pf ice cream, 1/2 cup of milk, and blue food coloring to a blender. Blend and pour into cold glasses. Place into freezer.
Rinse the blender and make a white layer with ice cream and milk. Add to the cold glasses.
Rinse and add ice cream, milk, and red food coloring to make the red layer. Top off the glass then add the whipped cream and sprinkles.
Serve and enjoy!
Gotta Sweet Tooth?
Share your recipe with me on Instagram using the hashtag #PintSizedBaker so I can see what you've been craving!
Here's some more Holiday Treats you can enjoy!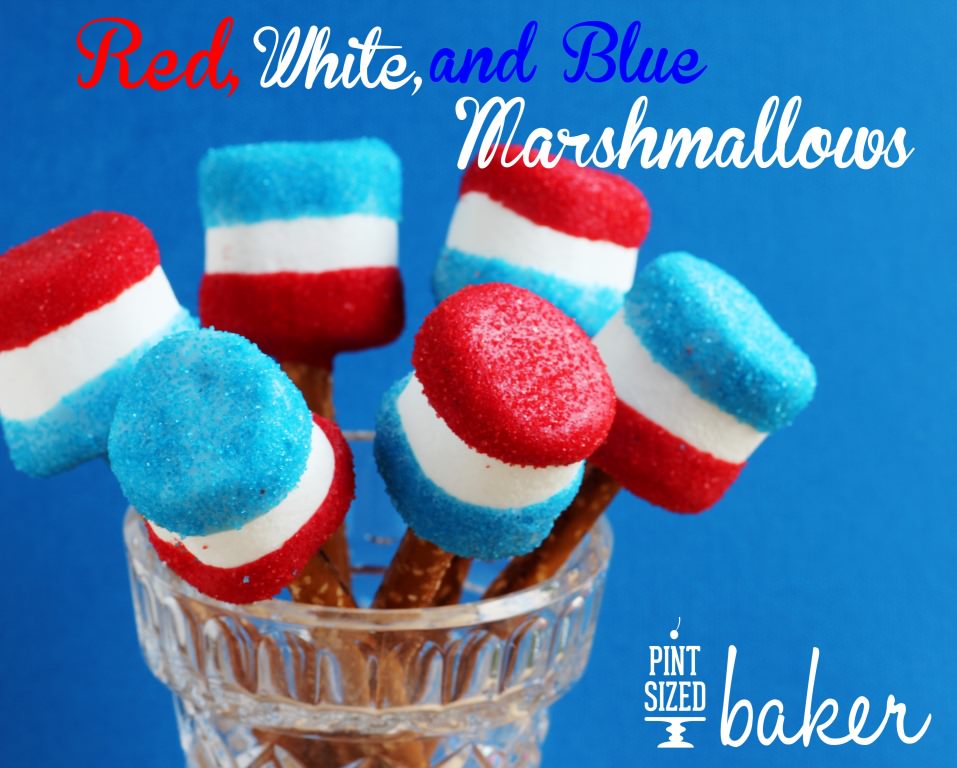 Red, White and Blue Giant Marshmallows
Red White and Blueberry Sangria